Make your visit educational and entertaining when staying at the Hyatt Place hotel in Washington D.C. / National Mall.
Guests are steps away from the Museum of the Bible, Smithsonian museums, and historical landmarks in the heart of the city.
Catch a concert at The Anthem, indulge in waterfront dining, or simply take a stroll along the nearby District Wharf.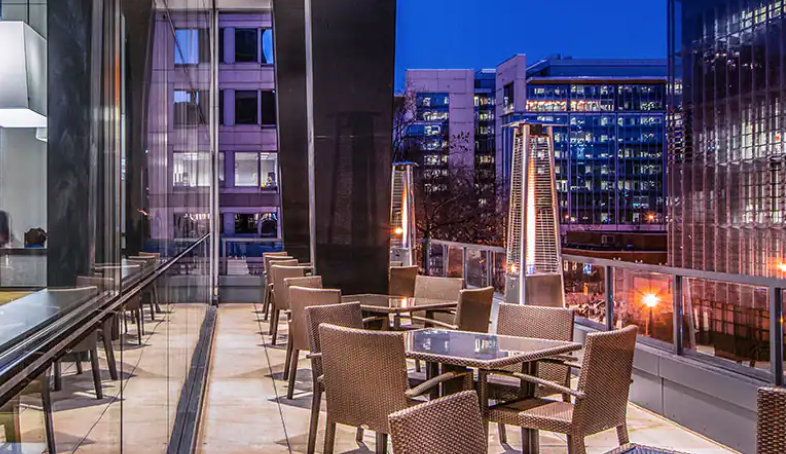 Wake up to breakfast served daily at Hyatt Place Washington DC/ National Mall.
Grab a snack from our 24/7 Gallery Market—and go!
Enjoy the incredible Washington D.C. views with delicious cocktails at our rooftop bar.
Breakfast Bar
currently featuring a selection of individually wrapped, pre-packaged breakfast items such as fresh fruit, yogurt, and more.
The Placery
When cravings strike, head to The Placery located at the lobby bar.
Here, you'll find a thoughtfully sourced, cleverly curated menu that has something for everyone. Try the popular burger, Chicken Caesar Salad, or Turkey Pesto Sandwich. And don't forget to pair it with one of their premium alcoholic beverages.
With comfortable spaces to lounge and seating at the bar, you're welcome to post up for the afternoon or grab something to go if you're just passing through.
The Market
Visit The Market for a selection of perfectly packaged grab-and-go items.
CityBar Rooftop Bar
Enjoy a cocktail and take in the stunning views of the Washington DC Skyline from our seasonal rooftop bar.
CityBar DC is expected to open for the 2021 season on September 1st.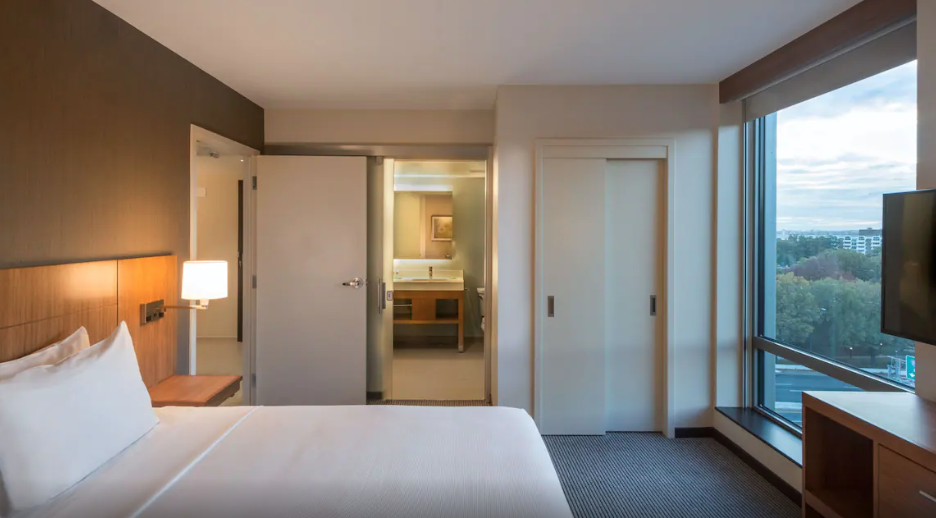 Your Spacious Hyatt Place Hotel Room
All of Hyatt's spacious hotel rooms in Washington, D.C. feature Hyatt Luxury Pillowtop Mattress, modern media and work centers, 42″ TV, Cozy Corner with sofa or sofa-sleeper, and bathroom with granite countertops and free amenities. Forget something? Hyatt Necessities have you covered with must-have items you can buy, borrow, or enjoy for free while you stay in the Washington, D.C. accommodations.
Enjoy this 770 to 880-square-foot suite featuring a separate bedroom and living area with floor-to-ceiling windows, including one king bed with a Hyatt Luxury Pillowtop Mattress.
Kitchenette with microwave
Dining area with seating for 4
Bathroom with dual vanity
Swiveling 42″ flat-screen HDTV
Oversized Cozy Corner with sofa sleeper
Coffeemaker
AM/FM alarm clock radio
Separate workspace
Cordless speakerphone with voicemail
Minifridge with freezer
Wet/dry bar
Iron, ironing board, and hair dryer
You Might also like
Incredible Weekend Visit In Beautiful Annapolis

Annapolis, the capital city of Maryland, is along on the Severn River where it meets the Chesapeake Bay, making it a perfect spot to venture onto the water spring through October.

A city with seasons

If you love a city with seasons, Annapolis has activities to enjoy, for every season a year-long. Whenever you choose to visit, here's how to spend an incredible weekend in beautiful Annapolis.

Things To Do In Annapolis

Famous as America's Sailing Capital, Annapolis is a place to spend time on the water — or just watch the waves from the shore — but there's also plenty of history, inredible dining, shopping, and nature in this very walkable city.

Take A Cruise Aboard The Wilma Lee

The Annapolis Maritime Museum, a sharity educational facility where you can learn about the maritime heritage of Annapolis, now offers a cruise aboard the Wilma Lee.

The Wilma Lee is a vessel listed on the National Register of Historic Places by the National Park Service.

She has been under restoration since 2018 and is now ready for public attention, including Heritage Tours, Sunset Cruises, Wednesday Night Race Watch Parties, and private charters.

Spend A Day At The Beach

Enjoy the 786-acre Sandy Point State Park on the northwestern shore of the Chesapeake Bay. Take in the views of this mile-long public beach and take a swim. Why not try your hand at crabbing or fishing.

If you're traveling with a boat of your own, there are more than 20 public boat ramps for easy access to the Chesapeake Bay.

Cruise The Annapolis Harbor Aboard The Harbor Queen

Watermark, in its 47th year of offering cruises, has a variety from which to choose:

A Fall Foliage Bay Lighthouse Cruise, a City Lights Cruise, and a Day on the Bay to St. Michaels are just a few of the options.

The Annapolis Harbor and USNA Cruise aboard the Harbor Queen takes you on a narrated cruise of the Annapolis Harbor and the banks of the U.S. Naval Academy, now offering tableside service, so you can dine during the 40-minute cruise.

Take A Guided Tour Of The William Paca Garden

Learn the history of this acre-plus 18th-century pleasure garden located behind the home of William Paca, a signer of the Declaration of Independence.

There's also a tour of Paca's home where you can learn about life in high society in the 1700s. The guided garden tour is currently limited to six people per visit.

Casino, Ocean City, National Aquarium: Summer fun in Annapolis

Maryland is a small state with a lot to offer. Whether you're a tourist visiting or a local, there's always something new to explore.

The state boasts many waterways and water parks where you can cool off when the outdoor temperatures become unbearable. And that's not all; there are also indoor activities, including several museums that provide an escape from the heat. Keep reading to learn more about the fun activities you can engage in around the state of Maryland this summer.

Visit a Casino

Taking a break at one of Maryland's many casinos is an excellent way to escape the hot and humid weather. The MGM National Harbor resort and casino features live entertainment, slots, table games, and a poker room.

While gaming in person can be a lot of fun, sometimes, you won't want to travel to a casino to play your favorite games. One alternative is to visit a website like Global Poker to play online poker from the comfort of your home, hotel room, or wherever you happen to be. Global Poker offers popular games, including Texas Hold'em, Omaha, Bounty Poker, and Crazy Pineapple. As if that weren't enough, the site also hosts weekly tournaments. Whether you want to get out of the house or stay cool at home, there are many gaming options for you to enjoy in Maryland this summer.

Ocean City

This beach is one of the most popular along the mid-Atlantic coast and attracts residents from the surrounding area as well as tourists visiting the state. The public beach extends for ten miles, so there's plenty of room to enjoy the sand and surf.

Plus, the Ocean City Boardwalk is a must-see tourist destination.

It's a classic wooden boardwalk that local shop owners built in 1902 as a walkway for visitors to the area.

Ocean City is home to the USA's oldest carousel, a US Coast Guard Lighthouse, and the Ocean City Life-Saving Station Museum. When you want to take a break from the sights, the area is lined with restaurants, hotels, and shops. If the heat is getting you down, you can take a tram between attractions. The city also hosts activities, including concerts and movies on the beach during the summer. So, it's unlikely you'll have a moment of boredom during a trip to this destination.

National Aquarium

An imposing building on the edge of Baltimore's Inner Harbor is home to the National Aquarium. The aquarium hosts replications of marine life ecosystems from around the world. As you walk around the vast space, you'll see award-winning exhibits that feature aquatic habitats with thousands of animals and species in one place. You'll learn about marine life from around the planet, including the rainforest and the deepest parts of the ocean. The aquarium also hosts conservation events around the city for those who want to do their part in protecting the environment.

National Harbor

From a wide variety of festivals to cruises on the water, summer is one of the best times of year to visit the National Harbor. You can get one of the best views of the Nation's capital from the Capital Wheel, a ride which lifts you 180 feet above the Potomac River and features breathtaking sites of the surrounding region.

You can also take a water taxi from the National Harbor to the National Mall or historic Mount Vernon. Nighttime is a great time to enjoy free concerts or a movie on the Jumbotron.

1000s of Great White Wines to taste, Wine Pro's Mike DeSimone and Jeff Jenssen's new book White Wine Book, available on Amazon now.

Summertime is hot weather, light meals and adventures outside.  All of which pair incredibly well with white wines.

That's why Mike DeSimone and Jeff Jenssen decided to write a book featuring 1000s of white wine grapes that wine lovers should try.  Some are very common, some are very obscure. But they're all worth a taste – seriously.

Today Mike DeSimone and Jeff Jenssen sat down (over zoom) for a conversation about wine, travel, food and more!

Note: the below interview has been edited for length and clarity.  The full interview is available on YouTube, with clips in this article.

We're talking about your new book "White Wine" today, available now on Amazon and we have a lot of questions. But first, welcome to the conversation and thank you both for being here.

Thank you. Thank you. We're thrilled to be here.

For anyone who's new to wine, these two are absolute wine GOATs. They're the experts. They've written some great books in the past, and their new book is absolutely amazing. Over the past week I've had the chance to show it to a lot of people in my life and what I've loved about it is everybody from the wine geek all the way down to people who are barely wine drinkers, have all found really interesting reasons to love the book.

In the book you mention the word "invitation" several times. You include casual tasting instructions, the food pairing index, the white wine checklist. You do such a good job of making the wine approachable.

How important was it when you were building this book, the idea of making it approachable?

Wine always is very mysterious to people. And it doesn't have to be. We really believe it. It's kind of like our mantra. Open up a bottle of wine, sit around a table together, and there's some conviviality and communal, you know, and, and communality in that bottle. So when you sit down in a circle and you're having a glass of wine together, all of a sudden, we're not so different.

So one of the things that we really wanted to speak to is to make wine approachable. One of things I really appreciate what you just said, is that people from all levels, from wine geeks to wine novices, we specifically set out to write this book with enough information that the geek will be really happy and enough information to intrigue the novice to wanna learn more.

We've always said this is the kind of book that you would buy for your Dad who happens to like wine, or you would buy it for yourself or buy it for a girlfriend or a buddy that wants to learn more about wine.

But I will tell you that we've been honored; our last book, Red Wine (amazon.com), was actually suggested reading list for people who were studying to become Masters of Wine. So we wrote this book with that idea in mind because we'd like this book to be a reference for Master of Wine students.

I think a lot of people may not realize just how much wine you might taste in an average year.

When we are tasting wine, whether it's for a book like this and we're trying to decide what gets include, or when we're writing our articles, it's very easy for us to open up 30 bottles in a day.

But there's also traveling, going to wine regions, and walking into a winery and visiting four wineries a day where people can pour you anywhere between 3 or 4, up to 20 glasses.

One of the things that we have to make a distinction is how much wine do we taste and how much wine do we drink.

Because when we taste wine, we may open 30 bottles, but you just have a sip, you swirl it around your mouth, you get your impression, and then you spit it out. So you can actually taste 30 or 40 wines in one sitting. The alcohol that you actually absorb in your mouth is probably equal to one glass of wine.

We really have to maintain our wits about us when we're writing books and tasting notes. And then out of those 30 wines, we'll choose one or two to put in the fridge and drink with dinner.

So the difference between drinking the wine and tasting the wine is a big difference. Our neighbors absolutely love us because we have these bottles with [2 inches] out of it and put the cork back in and give it to them. So they're very, very happy. But I think one of the things that we had to do for this book is taste.

There's about 2,000 recommended wines. I'm gonna say we we tasted close to 5,000 [wines]. Not everything made the cut.

That's incredible. So speaking of those 5,000, how do we prevent palette fatigue?

One thing for both of us is we both drink sparkling water.

Also, we eat very simple things just to clear the palette, wipe some of the tannins from it. We'll eat sliced baguette or plain water crackers. That kind of thing. Also, try to break it up. Don't drink the same style of wine over and over, because you'll stop noticing the subtleties between them.

It's training too. I can't run a marathon tomorrow because I haven't trained for a marathon, but I can taste 30 wines or 40 wines tomorrow because I've trained my palette to discern the differences. So it's kind of like an athlete, it has to do with training to prevent fatigue.

So staying on the idea of tasting for a second, how do we talk to a winemaker? Any tips for a less-experienced wine drinker?

One of the first, and an easy question to ask, is how much did you make of this wine? Because that actually gives you an indication of how special the wine is, right? If somebody says, 'Oh, we make a million bottles of this every year.' Maybe it's not so special.

If they say, 'Oh, we only made 2,000 bottles of this and it comes from one special vineyard, that sometimes opens up the question of how special it is.

Another question is, if it's a blend, if it doesn't say on the bottle that it's Chardonnay or Pinot Grigio, and you just know that it's a white wine, you can ask what grapes are in this.

But people who visit wineries should ask questions. Take that as an opportunity to learn. Read the book White Wine, get some knowledge, and then you go to a winery, go out to California, go to New York State, go wherever you go, and visit a winery and talk to the winemaker and talk to the people who are responsible for making the wine. They're very generous with their time. They want you to be informed and they want you to enjoy their wine. So do your homework and then learn some more in person, and then go back and read our book again, because you'll learn a little bit more.

Your White Wine book is a mammoth undertaking. There's a lot of information in there. How did you create all of this?

I think actually we were lucky in that we'd already written Red Wine. We worked with our publisher. We actually walked in, knowing that some of our prior books were a little bit text heavy, and said, 'Hey, we want to do some graphics. For the flavor profile, there might be a picture of a peach and a rose and a lemon. For the food pairing, you'll see a little plate of pasta and a pig and a steak.'

We worked with the same editor again. We had the structure already so that was a blessing.

When our editor came to us and said we want to publish this book, we were so excited. But then we looked at each other and said, we don't have a lot of time to write this book. Let's let, how, how are we gonna do this? You know? So we divided and conquered.

If you love wine, you're gonna love this book, whether you're a novice or above.

My old boss used to tease me because back then I enjoyed white more than red. Why doesn't white get the respect that red does?

You know, you're very right. We had to fight for this book.

I'm an equal opportunity white wine and red wine drinker and rose, because there are wines for different occasions. Sometimes when you're having a big heavy steak, you want a red wine, but a lot of times we're trying to eat lighter, more vegetables, lighter cuisine. It's summertime now.  Lighter white wines really go with those foods.

There's so many grapes in this book. Is there one lesser-known grape that you want the world to know about because it's an amazing discovery?

We have a holiday coming up this weekend. By the time this is posted, it will just have passed. This coming Sunday is International Pošip Day, and Pošip is a wine from coastal Croatia. It grows in Dalmatia and on some of the islands. It's this wonderful, delightful, fresh, crisp, citrusy white grape from Croatia that we don't see a lot of in the US. It's in more major urban markets. It'd really worthy of attention.

Were there any unexpected surprises as you created this book?

When we did Red Wine, we did single varieties and regional blend styles, like Rioja which can have three or four different grapes in a bottle and Bordeaux can be up to six different grapes. That actually includes sparkling wine we covered in Red wine.

We covered only nine regional blend styles and 41 single varieties in White Wine. I just did account. I believe we have 14 regional right grape styles. So things like White Bordeaux, White Rioja fall under a style that's not necessarily one grape.

Is there a message that you haven't been asked that you would love to share with a wine loving audience?

You can always learn something. Keep learning, keep asking questions.

Sometimes there are some really interesting questions that people come up with.

We are wine experts, we're authors of six wine books now. We write for different publications. We're mast head at two different magazines, so we really kind of know what we're talking about, but we don't know everything.

So, being able to understand that and admit that, wine is a continuous, ongoing journey and learning about wine is what makes it very exciting. So I'm really happy to have been on the journey so far and I hope have a lot more years on this journey to learn more about wines I've never tried.

So thank you so much for your time. Tell us where to find you, where to follow you, your social media websites.

We are on Facebook and on Instagram as World Wine Guys. We have a website, www.WorldWineGuys.com for a lot of our articles and videos we've done over the last 13 -14 years.

Go to www amazon.com and put in three words, white wine book, it'll pop up.

And then as you scroll down under, 'Usually bought together.' It's our white wine book and our Red Wine book.

We have some friends that have written some great books, Wine Folly, Jancis Robinson.

We're not the beginning and the end of wine knowledge. There are so many of our colleagues that we respect deeply. So there's a lot to learn from everybody.

All I can say is that's what we'd like for people to learn more, enjoy wine, open a bottle of wine with your family and friends and you know, we kind of drop all of our guards, we drop all of our pretenses and the world will be a lot better place.