Wine Pro Alan Tardi Returns to NYC for Beyond Bubbles Class December 13
Alan Tardi has worked as a chef, a restaurateur, a sommelier, a consultant to some of New York City's biggest and best fine dining restaurants.  He's also written for magazines and publications, such as Wine Spectator, Wine and Spirits, Decanter, of course, the New York Times.
This past fall, Alan Tardi taught his very popular Italian Wine class, The Many Faces of Sangiovese.
Today Wine Expert Alan Tardi returns for a conversation about his new Champagne, Prosecco and Lambrusco sparkling wine class on December 13 at New York Wine Studio.
Alan, thank you so much for coming back. You have a new class called Beyond Bubbles.
Can you just give us an idea of Beyond Bubbles about the class itself?
Alan Tardi:  The class is going to take place on December 13th. That's a Wednesday from 6 – 7:30pm. And the venue is  the New York Wine Studio located at 126 East 38th Street between Park and Lexington, so a couple blocks away from Grand Central Station in New York City.
It's going to be called Beyond Bubbles. I'm really focusing on three archetypal sparkling wines. Champagne, Lambrusco, Prosecco.
And I have to say Prosecco from the original growing area, Cornigliano Valdiviadene, not the extended one right now.
These are the sparkling wines that, to me, took their own path and they can, in the case of Lambrusco and Prosecco they're really ancient grape varieties that have been going on for a very long time. 
Champagne, they've been making wine for a very long time. But as we'll talk about, which is really fascinating, they're adjacent to Burgundy and they're both in close proximity to Paris where the King and the royal kingdom was. They were very competitive with their wine.
The counts in Champagne and the Dukes in Burgundy. They were really vying for their wine for the favor of the King. But Champagne, like Burgundy, began making it for a long time, hundreds of years, still wines. And when, and that was what they made for a long time.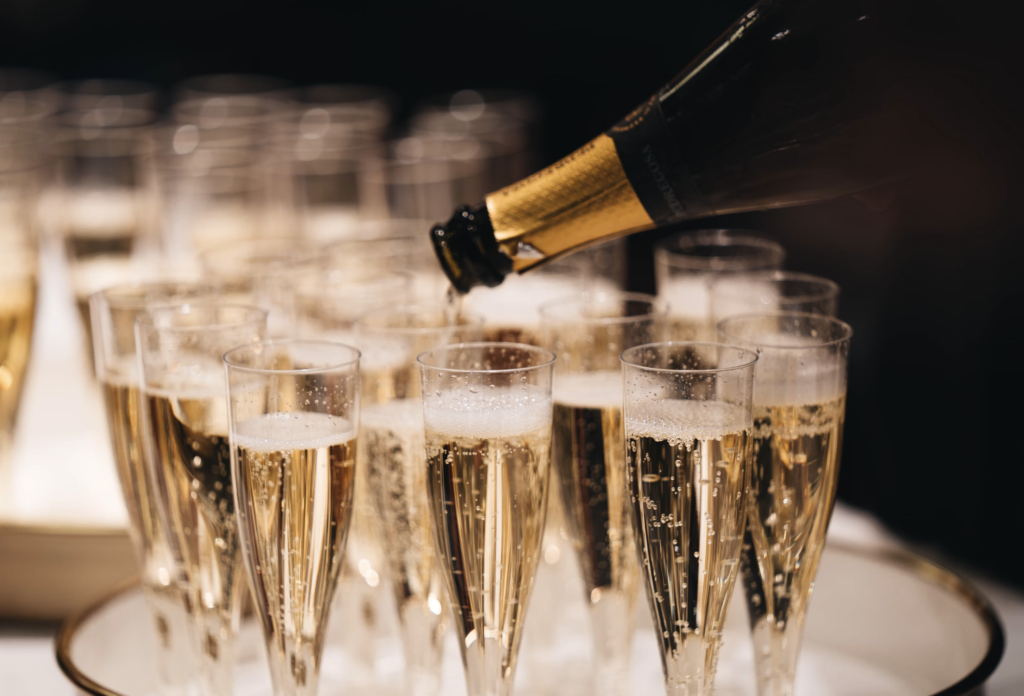 In your class Beyond bubbles, can you give us an idea of how many bottles are going to be tasting from and learning about, and maybe one or two that are extra special to you?
Alan Tardi: We're going to be tasting 10 wines. Three from Lambrusco, a very misunderstood wine.  The grapes for Lambrusco are wild. Prosecco and Champagne.
The class is Beyond Bubbles. Wednesday, December 13th, tickets are on sale. Now it's coming up very quickly. 
Let's really dive deep for a second and just get to know champagne's history.  The whole idea of sparkling wine was an accident.
Alan Tardi: Yes. It was originally considered a flub because they were trying to make still wines to be in competition with Burgundy and they were very good at it. The still wines of Champagne were highly regarded.
So it did happen by accident.  What happened is that Champagne is much further North than Burgundy. It's at the breaking point beyond 45 degrees North where grapes can't grow anymore. So they had a hard time making wine.  it got very cold after harvest. One of the big customers for champagne was England and they shipped a lot of wine in barrel to England.
They were put into barrels once the fermentation stopped, because it got very cold and then they would ship them to England eventually in the springtime..
Because they finished their fermentation too early because it got cold, the fermentation stopped. Once it got warm again, the ferment: the remaining sugar went to work on the remaining yeast and it created bubbles in a closed container. 
So when people opened up the barrel, it was fizzy.
When that happened in France, people did not like it because it was considered a flaw. England didn't have a problem with that. 
Eventually the producers said, wow, these people really want to have the bubbly wine. The King of France became very fond of this wine.  So it really took off from there, but it happened in England first. 
Talk a little bit about who "The Father of Champagne" was and how he tried to prevent this from happening.
Alan Tardi: It's a really great story. Dom Perignon is considered to be the father of champagne. He was a chef and while he was a monk, he took over as the steward.
The convent had a lot of land given to them as dues to the church. He was managing the winery there in order to sell wine to support the monastery. 
He would select different grapes from different places. He created fractional blending and fractional pressing of the grape so it's very gentle and soft, which is very important for the development of champagne. But this was a still wine.
He was trying to make a still wine. When it spontaneously started sparkling, he considered it a flaw.  He tried to avoid it with everything that he could possibly do. 
It became extremely popular.
He said, "Brothers, I see stars in my glass." And he was supposed to be blind by that point. 
This whole thing of Don Perignon being the the father of champagne and seeing stars was made up as a marketing ploy by Robert de la Vogue, who was the head of a major champagne house.  So they created this story around it.  It's a great story. I love it.
I wonder if that's one of the reasons why champagne does swell during the holidays. When there's decorations out and it really is a celebration.
Alan Tardi: I think it is. Sparkling wines bring something with them. There's this effervescence, It's like shooting stars. When they're in the glass and you're, you put them in your palate and they're tingling and that's all good.
Once the sparkling version was approved around 1725 by the King, it expanded throughout the world, it was a worldwide phenomenon.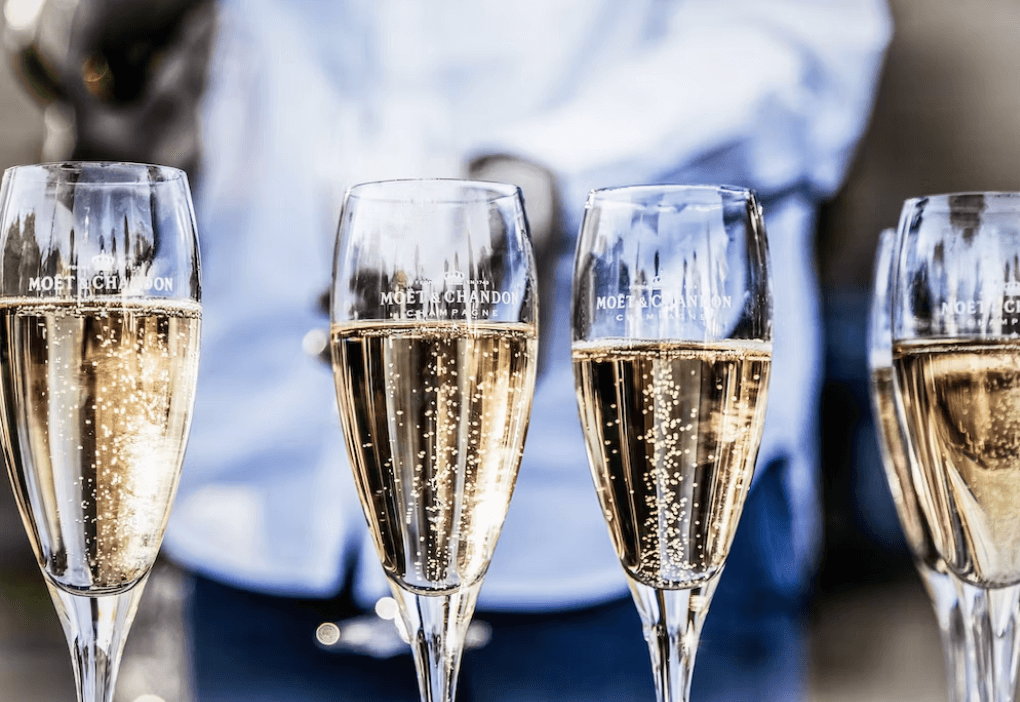 You've mentioned the words method and process, share more about traditional champagne method?
Alan Tardi:  It is a very stable process. You have to make a base wine. So you ferment grapes. They started sourcing different grape varieties from different areas throughout the extensive Champagne area. They would blend them together to make a decent wine.  That's the first fermentation.  
Then they add a liqueur, called the tirage in French, it consists of primarily sugar, could be beet sugar or cane sugar; and yeast. 
They're put in individual bottles and then the bottle is sealed with a crown cap to keep the wine in the bottle.  They would sit in a cellar for a period of time to create the secondary fermentation in a closed container. Like the initial fermentation process where the sugar goes to the yeast that is added to it. That creates a combination of sugar and yeast creates alcohol and carbon dioxide.
The carbon dioxide goes up, the alcohol stays in, and that's how wine is made. But because [in still wine] it's in an open container, the carbon dioxide goes out. 
In a closed container [like in sparkling wine], in this case, a bottle, the carbon dioxide that was given off from the second fermentation was trapped inside the bottle. So once you open the bottle, the carbon dioxide would come up and out. And that's where it comes from. That is what gives it the sparkle. 
In Champagne, their method is known as the Method Champenoise. 
They carry out the secondary fermentation in a closed bottle. Then, in the third part, they make the method Champenoise. It's removing the sediment from the wine.  There are many different ways to do it. 
The most important common grapes for sparkling wine are Pinot Noir, Pinot Meurnier, Chardonnay.  But your class reveals "lost grape varieties".  Tell me more about that.  
Alan Tardi: These were grape varieties, typical of the area, that were used initially, but then people just put them by the side. The most important grape varieties were Chardonnay and Pinot Noir.  Meunier was used as a workhorse, a filler, but it didn't have the same identity that that Chardonnay and Pinot Noir had.  Those are the three principal ones. Then [there was] these other varieties.
There've been major changes in the past 10 – 15 years in Champagne.  It was driven by the Maison.  Thousands of growers who supplied grapes to the Maison.  Many times they would actually press the grapes, vinify the wine and then send the wine to the Maison.
They produced it for the houses. They didn't have their own labels.  That changed. A lot of the grower producers started labeling and selling their wine on their own. They got a lot of attention.
Some of these people were very loyal to the old grape varieties that were left on the side – they like Pinot Blanc, Pinot Gris – not very rare grape varieties, but people are not aware they are part of the grape varieties of Champagne.
Some people are really trying to promote those because it's part of their culture. It's part of their history. 
There's two others, Petit Mellier and Arban. It brings a whole new aspect to Champagne.

So we're talking with Alan Tardi. On Wednesday, December 13th he hosts his new class Beyond Bubbles.
One of those bubbles we're going to be talking about is Prosecco. Frizzanti, Spumanti. Help us understand what these words mean, the region, how it all relates 
Alan Tardi: Prosecco is one of the most misunderstood wines out there. There's a lot more to it than most people are aware of. It's not just a base for a Bellini or a cocktail, or just a cheap fix. There's a lot more going on there than often meets the eye.
It's a very old wine growing area.  The original area is Conigliano Valdobbiadene. Fifiteen towns that make up the area in the hills just at the foot of the Dolomites in Veneto. They've been making wine there for a long time.
I have a feeling that the people who originally planted grape vines there were members of this  Celtic Ligurian tribe that were up in Northern Italy, like in the Botellina and over in Liguria. They have this amazing capacity to plant vines in places where it's very difficult.
Prosecco is very different from Champagne.  I was living in Italy. I was going to Prosecco a lot because I did a story for Wine and Spirits Magazine about the Cartice area in Val di Biadena.
It blew my mind away. At the same time, I was starting to go to Champagne to research my book and I spent a lot of time there. I was finding a lot of similarities between these two very different wines.
Champagne began as a still wine called Coteaux Champenois.  It had another wine in between. A sparkling wine, but a softer, lower amount of pressure called Cremant de Champagne. 
In Prosecco, the traditional way of making wine was fermenting the wine.  Then, they would put it in a container, either a barrel or a cement tank or in a bottle. The same thing happened. The fermentation would stop prematurely because it got too cold. Then, in the spring, when the temperature rose, the wine would wake up and the sugar would go back to work on whatever yeast was left.
Being in a closed container it would be fizzy. Now, in the bottle. The Italians had no problem with the sediment in the bottle. 
I remember going there in 2013, I heard about this kind of Prosecco where the sediment was left in the bottle and people were a little bit embarrassed to show it. 
This is actually called the Method Ancestral like they did in Limu. 
They left the sediment in the bottle. It was just part of the wine. m In 1895, someone at Vinicultural Research Research Center in Asti named Martinotti, figured out they had a lot of sparkling wines in that area like Moscato.
Martinotti invented a system instead of having to do this process in the bottle, he created a large container with a top under pressure where the second fermentation could take place under pressure and then bottle it from there. It's called the Martinotti Method that he created and patented in 1895. 
Then 15 years later, in France he applied a sterilizing system.  It's referred to as the Sharma Method. That is the typical Way to make Prosecco not the traditional way.
Most producers in the area did not advance their methods until after World War II happened.
Mionetto, a very big Prosecco producer, only started using autoclaves in 1987. 
At my tasting in New York on December 13, we're going to taste three Prosecco's. One is a still version from a winery called Bortolomeo, one of the most significant wineries of the area
After World War Two, he was very instrumental in creating a small group of producers and protecting their tradition of making wine in the area. 
Now their daughters are running the winery. They're still making a Prosecco. It's part of the disciplinary of the rules for Prosecco Cornigliano Valdobbiadene. 
That used to be the same with Coteau Champenois, the still wine of Champagne. You would not find those around. 
While we're talking about Prosecco, tell us about their growth —  between the DOCG and the DOC?
Alan Tardi: One thing I want to say is that in the very small area of Corneliano, Corneliano about to be out in a Prosecco, DOCG.  In about 2009, because of the large demand for Prosecco, and because of the fact that people were growing grapes and making wine outside 
That appellation covers the entire region of Friuli and three quarters of the region of Veneto. So it's a huge area, mostly flat. Higher yields, most of the vineyards can be worked, can be harvested mechanically. It's a very different wine and that accounts for the vast majority of the 500 million bottles that are being produced.
The little area up in the hills has a much more complex growing area, soil to topography. 
It hasn't really been touched since the earth rose when that, when the sea and the sea receded on the other side of Cornigliano, there was a glacier that happened up in the north and it came down and just took all the land with it.
If you look at the map, the part is very narrow and the Cornelia part spreads down and is very wide and lower altitudes.  So you have two very different soil makeups and different sections within the area.  So it's much more complex. 
In 2009, they created the DOC and that's when the original area, called Prosecco, changed its name to Corneliano Valdobbiadene and they were elevated to a higher level, a DOCG category.
They created subzones within this very small area. 43 different areas within the overall territory. If grapes come from one of those areas, they can have the name of that on the label. 
At Beyond Bubbles on December 13, we're going to be tasting the Tranquilo Prosecco from Botolomeo.  We'll taste a Colfondo from a young guy who's been carrying on his family's winery.
He always made wine in the cofondo method, and he just also started using the method traditionnel as well.
We're going to taste his Cofondo, and then we're going to taste Prosecco, Brut Nature, no sugar added, from the Cornigliano side, different softer, denser soil, lower altitude.
You can taste the difference.
That sounds incredible. We're celebrating Beyond Bubbles, Alan Tardi's new class coming up December 13th. One of the bottles, the Lambrusco. Can you talk a little bit about its reputation? 
Alan Tardi: I think we should feel very excited.  In the United States people still think about Lambrusco as a sweet, red, bubbly wine.
Lambrusco has really changed and it's very complex.  Usually wines don't do well in flat areas, but in the Po Valley, that's where they come from, they started out as wild vines.
They were cultivated by this old ancient tribe who lived in the area from about 12 to 6  BC, and then they just disappeared  There are 12 different Lambrusco grapes. Three of them are really the most important because they have their own distinct identity and growing area. 
Sorbara comes from the town of Sorbara, takes its name after it, and it has its own appellation. 
Grasparosa di Casavetro, down in the south, it's flat, but it starts to go up a little bit into the hills. 
And then Salomino, in the north, which is the powerhouse of the three.
It's really fascinating.  They're considered to be the most elegant because they're all red grapes. In Champagne, it's mostly white grapes.  in Prosecco, the grapes are also predominantly white. There's Pinot Noir that was one of these international grapes. It was permitted but only as a 
The Sorbara is very light, transparent, elegant.  There's a lot of finesse to it.
The Graspa Rosa is dark red, juicy, fruity, floral, intense, foamy.
The Salomino is the workhorse, Sorbata is not self pollinating. And Solomino is often the pollinator for Sorbata.
At Beyond Bubbles on December 13, we're going to be talking about unusual bottles.  Tasting a Salomino wine from a winery called Lini 910,  a wine is made using the method Traditionnelle.  This wine is going to be 2006 vintage, and it's spent nearly 14 years on the lees.
At our Beyond Bubbles class, I'm going to start with the Lambrusco, the oldest of the wines. Then the Prosecco.  Then the Champagne. So there's a buildup to that. 
After the champagne, there'll be a still champagne from the Valley de la Marne from the Mounier grape, and the Philipponat Champagne vintage.
After that, I thought it would be really interesting to look at two wines from made by people who went to the champagne area in the turn of the 20th century and they fell in love with champagne and they were compelled to go back to where they came from and make a wine using the champagne style method in their own way.
A wine from Trentino, Giulio Ferrari.  And the other one is RTOs in in Catalonia in Spain, compare.
Alan Tardi's class Beyond Bubbles will take place December 13, 2023 at New York Wine Studio.  126 East 38th Street New York, NY 1001. Readily accessible between Park and Lexington Avenue, just minutes from  Grand Central Station.
For tix and more information visit NewYorkWineStudio.com