Estadio delivers Festive Spanish tapas & Playful Bites
Welcome to Estadio, a fun, convivial restaurant serving contemporary Spanish cuisine in the Logan Circle neighborhood of Washington, DC.
Estadio Northern Spanish cuisine
Executive Chef Dimas Mendoza offers a small plates dominated menu focusing on Northern Spanish cuisine, consisting principally of the chefs' interpretations of classic dishes found in the country's Basque and Catalan regions.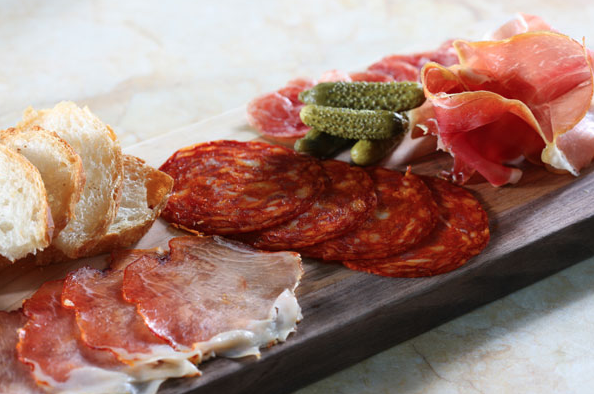 Estadio's wine program
Estadio's wine program includes over 150 labels, more than 90% of which are Spanish, with a smattering of South American, Portuguese and domestic wines, all housed in custom temperature controlled wine vaults that greet guests upon entry into the restaurant.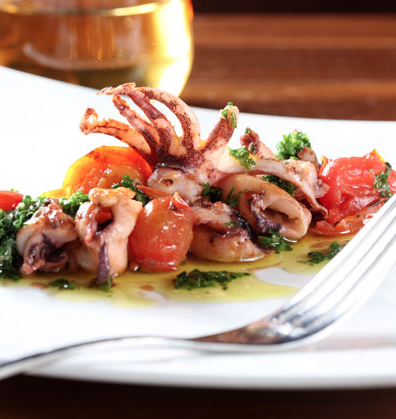 Affordable selections of Cava, Txakoli, Rioja and Sherry dominate the list, while a few high-end offerings from wineries such as Lopez de Heredia, and Vega Sicilia complete the selections. An inventive cocktail menu that includes frozen alcoholic "slushitos," Sangria and Sherry concoctions, as well as a thoughtful selection of Spanish and domestic craft beers, round out Estadio's beverage program.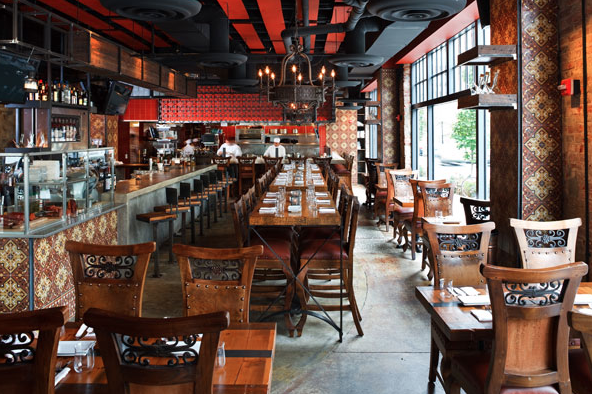 Estadio's design shows love to the space with 19th century Spanish tile, Spanish marble, and custom steel and wood chairs and stools.
Brushed with a terra cotta palette, Estadio's walls play on the restaurant's theatrical name with bull fighting and flamenco murals.
You Might also like
Sofitel Saigon Plaza Celebrates Its 25th Anniversary, commemorating a quarter century of Joie de Vivre in Vietnam.

Sofitel Saigon Plaza is delighted to commemorate a significant milestone this October with the celebration of its 25th anniversary.

Drawing inspiration from local Vietnamese culture and traditions while embracing life with a French zest is what the hotel successfully stands for a quarter century.

Since its establishment in 1998, Sofitel Saigon Plaza has consistently delivered a 5-star luxury experience marked by heartfelt service and hospitality excellence in the heart of Ho Chi Minh.

Globally acclaimed through the decades, Sofitel Saigon Plaza has welcomed dignitaries and political figures, from the former French President Francois Hollande to the US Secretary of State John Kerry.

On October 5th 2023, Sofitel Saigon Plaza hosted an enchanting Anniversary Dinner at its opulent Diamond Hall in presence of Mrs Maud Bailly, CEO of Sofitel.

At this extraordinary soirée, the hotel had the privilege of hosting esteemed guests, ranging from international diplomats and government officials to renowned celebrities, CEOs of prominent corporations, and dedicated Heartists (Accor team members) who have passionately served Sofitel Saigon Plaza for over two decades.

The honoured guests were thus invited to enjoy a sumptuous six-course dinner crafted by Michelin-star and celebrity chefs from Asia and France. This exquisite evening was topped off with spectacular performances blending these two cultures. To mark the occasion, Heartists whom are within the property since the opening have been highlighted and recognized for their exceptional commitment and remarkable work.

"Founded almost 60 years ago, Sofitel was the first French luxury hotel brand to develop an international network of hotels and resorts…

Maud Bailly

CEO of Sofitel

"…Each of the establishments now artfully blends the French art-de-vivre with the essence of the local destination, offering chic design, the best of culinary arts, and exceptional personalized service. The 25th anniversary was truly an illustration of the cultural link between France and Vietnam, exemplifying the symbolism of the Sofitel logo, which signifies the seamless blending of French and local cultures. Over these two and a half decades, we have not only celebrated the excellence of Sofitel but also the enchanting partnership of Saigon's vibrant spirit with the elegance of French heritage. At Sofitel, we want to inspire people to celebrate life and its beauties with joy, impertinence, and, most of all, pleasure! This celebration embodies the essence of our vision, where the rich traditions of Saigon meet the sophistication of French savoir-faire, creating a world of endless delight and unforgettable moments", commented Maud Bailly, CEO of Sofitel.

 "It is a privilege to be part of an establishment that has redefined luxury, elegance, and service in Ho Chi Minh City. Our gratitude goes to our valued guests, passionate team, and partners who have been unwavering supports in this journey. This anniversary not only pay tribute to our past but also reaffirms our dedication to offer unforgettable experiences to our guests in the future", said Mr. Mario Mendis, General Manager of Sofitel Saigon Plaza.

The festivities will continue during the 5th Saigon Gourmet Week, taking place from October 6th to 8th at Sofitel Saigon Plaza.

This event promises a delightful array of culinary experiences, including immersive cooking classes, exclusive lunches and dinners, and an unforgettable brunch featuring renowned chefs.

The lineup includes Sébastien Voelker (French Pastry Chef), Truc Dinh (Vietnamese Chef), Shozo Tsuruhara (Japanese Chef), Victor Savall (Spanish Pastry Chef), Sakal Phoeung (French-Cambodian Chef), Keiko Nagae (French-Japanese Pastry Chef), Vuong Vo (Vietnamese Chef), Adrien Guenzi (French Chef), and French Michelin-Star Chef Thierry Renou.

Sofitel Saigon Plaza

Sofitel Saigon Plaza harmonizes the sophistication of French art de vivre with the vibrancy of local Vietnamese culture, delivering a luxury hospitality experience enriched by genuine heartfelt service. Conveniently located in a tranquil enclave on Le Duan Boulevard, Sofitel Saigon Plaza places you in the heart of Ho Chi Minh City's business, cultural, and shopping district.

The hotel boasts 286 rooms and suites adorned with refined décor and deluxe amenities, a fitness center feauring advanced exercise equipment, and an outdoor swimming pool with breathtaking city views.

Sofitel Saigon Plaza also features five dining establishments serving local and French cuisine, seven polished meeting rooms, and an opulent ballroom equipped with state-of-the-art facilities, making it the ideal destination for business, leisure, meetings, and gatherings.

Sofitel Hotels & Resorts

Sofitel Hotels & Resorts is an ambassador of modern French style, culture and art-de-vivre around the world.

Established in 1964, Sofitel is the first international luxury hotel brand to originate from France, with more than 120 chic and remarkable hotels in many of the world's most sought-after destinations. Sofitel exudes a refined and understated sense of modern luxury, always blending a touch of French elegance with the very best of the locale.

Sofitel also includes a selection of heritage luxury hotels under the Sofitel Legend banner, renowned for their timeless elegance and storied past.

Some notable hotels in the Sofitel portfolio include Sofitel Paris Le Scribe Opera, Sofitel London St James, Sofitel Dubai The Obelisk, Sofitel Legend Old Cataract Aswan, Sofitel Mexico City Reforma, Sofitel Legend Santa Clara Cartagena, Sofitel Legend Metropole Hanoi and Sofitel Ambassador Seoul.

Sofitel is part of Accor, a world leading hospitality group counting over 5,400 properties throughout more than 110 countries, and a participating brand in ALL – Accor Live Limitless – a lifestyle loyalty program providing access to a wide variety of rewards, services and experiences.

sofitel.accor.com | all.accor.com | group.accor.com

DC Deserves Amazing Summertime wine! Trivento launches #TheFirstWhiteMalbec with Winemaker Maxi Ortiz

There's plenty of "other" product launches and then there's Trivento's Sunset Cruise launch for The First White Malbec.  Clearly, Trivento is very excited.

 

A handful of NYC and East Coast wine and food experts board a luxury yacht, built in 1919, at Manhattan's North Cove Premier Mega-Yacht Club & Marina.  On-board, best-selling wine authors, top wine media, and NYC's food and wine critics.

As we set sail, our wine glasses are filled with The First White Malbec in the world, produced by Argentina's Trivento and Winemaker Maxi Ortiz.

It's easy to be taken by the moment.  You look up and see the majestic NYC coastline.  Look around the yacht, even the most local New York cynics have their jaws agape.  It's just breath-taking to see.

 

Moments later, the crew aboard the Ventura Sailing Team are passing out delicious seafood and chicken-based appetizers to pair with Trivento's White Malbec.

We sail through the bay, passing the Brooklyn Bridge in the distance, coming up on Governor's Island and of course, The Statue of Liberty.

Why Trivento's White Malbec is a world-class Innovation

For over 150 years, Malbec has been grown widely throughout Argentina. Its deep purple color, rich aromas of plums and red berries.  It's perfect for smooth, supple red wines.

The fact that Winemaker Maxi Ortiz dares to take an incredible red wine and turn it into a white wine, shows world-class innovation, confidence and vinification prowess.  But as we'll learn further below, it wasn't an easy process.

Ortiz later explains in detail, it took 4 years of trial and error.  Getting closer and closer, but not perfect enough for him.  What we taste today is a culmination of his efforts and lessons.

What does Trivento's White Malbec taste like?

 

By now most of us on the yacht have had a second taste of the wine.  It's opening up and blossoming beautifully.

The color is surprisingly clear, crystalline.

The nose has aromas of white peach, grapefruit, subtle hint of red fruit.

It's a very easy-drinking wine.  Especially in the summer.  The mouth has a refreshing acidity, light body. Notes of green apple.  Pairs beautifully well with the seafood and light chicken dishes served here.  I could also see it with a garden salad, caprese or sushi.  Be daring and try it with BBQ as the acid will cut into the fatty meat.

Hearing from Trivento's Team, Juan Jose Gil

Juan Jose Gil directs the Trivento brand in the United States. 

He explains that Trivento was founded in 1996 by the group Concha y Toro.  It was the first time they left Chile to make an investment outside of their origin when they chose Mendoza, Argentina.

They started with a very small vineyard of 154 hectares. Today these Malbec experts have 12 vineyards in four different valleys and over 1,764 hectares of vines.   They offer Malbec at every price point and every value tier.

The company has three pillars: Innovation. Sustainability.  Excellence.

From Juan Jose Gil's explanation, all 3 pillars are thriving together as we sip their most innovative wine, from grapes farmed on their sustainable vineyards, enjoying its excellent quality.

Winemaker Maxi Ortiz Reveals His White Malbec Process

Ortiz has been working at Trivento since 2006, helping to build it into the fourth biggest winery in Mendoza.

2019 was their first vintage of Trivento White Malbec.  But it's come a long way from what the world is tasting today.

However, for him, it's a very special wine for more that just the innovation it represents, but also a positive impact on society:

"Sales from this wine

go to a scholarship program that helps students

with low economic resources and high academic performance to finish schooling."

How did he create the white Malbec?  

He revealed parts of his 4-year process.  He picked the grapes the last week of January, 40 days earlier than regular.  Then they quickly pressed the grapes in order to separate the skin from the pulp.  However it's not "white" yet.  Then it was more of a rose.

Then he revealed the biggest secret of the process.  A winemaking method that is common with red wines, but not whites.  Ortiz got creative, invented and daring – and it worked.  And unfortunately, we're not going to share it here today.  As competition is already growing!

"We were the first winery [back in 2019] to make a white wine with a red grape, which is the Malbec.

And it's fantastic because nowadays you can see at least 10 different wineries making White Malbec.

So this is the first White Malbec and

in a way Trivento creates a new category of wine in Argentina."

The quality is clearly there,  As Ortiz explains further:

"The grapes came from the same region, from the same vineyard,

from the same places that we use for our [traditional Malbec] Reserve." 

For those who follow NYC weather, it was supposed to be thunderstorms the day of the Sunset Cruise.  Bravely and happily, the launch decided to move forward anyway!

The weather was dramatic and cloudy (but dry) all throughout the cruise.  Then, as if anointed by a higher power, just as Ortiz finished speaking, the rain started.

A slow, steady rinse that grew stronger.  By the time we returned to dock, it was a heavy downpour.  But no one was complaining.  Wet smiles all around.

If Trivento White Malbec has a way of brightening your day even amidst a heavy thunderstorm, imagine what it can do for your backyard barbecue?

Find more on the Trivento website

Follow Trivento on Facebook and Instagram.

Mary J. Blige: Good Morning Gorgeous Tour DC at Capital One Arena on September 17

One of Time magazine's icons listed in "The 100 Most Influential People of 2022" and the recipient of the 2022 "Billboard ICON Award," the undisputed Queen of Hip Hop Soul, Mary J. Blige, announces her

Good Morning Gorgeous tour

presented by Hologic in partnership with The Black Promoters Collective (BPC).

GRAMMY Award-winning and Oscar-nominated Blige will perform in 23 cities with special guests, platinum-selling, GRAMMY Award-winning artist Ella Mai and platinum-selling rising star Queen Naija beginning on Saturday, September 17, in Greensboro, NC, and ending on Saturday, October 29 in Atlantic City, NJ.

The tour also stops in Los Angeles, New York, and Atlanta.

"Mary J. Blige has been one of a select handful of artists

at the top of our desired list to partner with

since the initial construction of The BPC.

Having her support in our mission so early in the process is a testament to the hard work

we have put in to bring superior cultural experiences

powered by black business

to the masses.

We firmly believe this is a match made in heaven and are honored to partner with the Queen,"

states The BPC Co-Founder and President

Shelby Joyner.

the tour follows Mary J. Blige's early 2022 album release of Good Morning Gorgeous. The album was released leading into her energetic Super Bowl Halftime performance.

The title track rose to #1 at R&B radio for 9 weeks and the song became a viral backdrop for many expressing self-love, with over 40,000 users creating videos using the song on TikTok.

A deluxe version was dropped just ahead of her wildly successful "Strength of a Woman" festival that took place last month in Atlanta.

Locations, venues & dates for the Good Morning Gorgeous tour presented by Hologic can be found below:

| | | |
| --- | --- | --- |
| Saturday, 9/17                          | Greensboro, NC              | Greensboro Coliseum |
| Sunday, 9/18                            | Washington, DC              | Capital One Arena |
| Wednesday, 9/21                      | Charlotte, NC                  | Spectrum Center |
| Thursday, 9/22                          | Philadelphia, PA              | Wells Fargo Center |
| Saturday, 9/24                          | Detroit, MI                        | Little Caesars Arena (Not listed – Queen Naija) |
| Sunday, 9/25                            | Chicago, IL                      | United Center |
| Wednesday, 9/28                      | Birmingham, AL                | Legacy Center at BJCC |
| Thursday, 9/29                          | Atlanta, GA                      | State Farm Arena |
| Saturday, 10/1                          | Houston, TX                    | Toyota Center |
| Sunday, 10/2                            | Fort Worth, TX                  | Dickies Arena (Not listed – Ella Mai) |
| Thursday, 10/6                          | Oakland, CA                    | Oakland Arena (Not listed — QN or EM) |
| Saturday, 10/8                          | Las Vegas, NV                | Michelob Ultra Arena |
| Sunday, 10/9                            | Los Angeles, CA              | Kia Forum (Not listed — QN) |
| Wednesday, 10/12                    | St. Louis, MO                    | Enterprise Center |
| Saturday, 10/15                        | New Orleans, LA              | Smoothie King Center |
| Sunday, 10/16                          | Memphis, TN                    | FedEx Forum |
| Wednesday, 10/19                    | Cleveland, OH                  | Rocket Mortgage Fieldhouse |
| Thursday, 10/20                        | Brooklyn, NY                    | Barclays Center |
| Saturday, 10/22                        | Hampton, VA                    | Hampton Coliseum |
| Sunday, 10/23                          | Newark, NJ                      | Prudential Center |
| Wednesday, 10/26                    | Nashville, TN                    | Bridgestone Arena |
| Thursday, 10/27                        | Cincinnati, OH                  | Heritage Bank Center |
| Saturday, 10/29                        | Atlantic City, NJ                | Boardwalk Hall |