The New Orleans Wine & Food Experience 2023 runs June 7 – 11 Uncorks Grand Plan and New Venue
The New Orleans Wine & Food Experience announces that a limited number of exclusive ticket packages and all individual event tickets are now on sale for the five-day event set for June 7 – 11.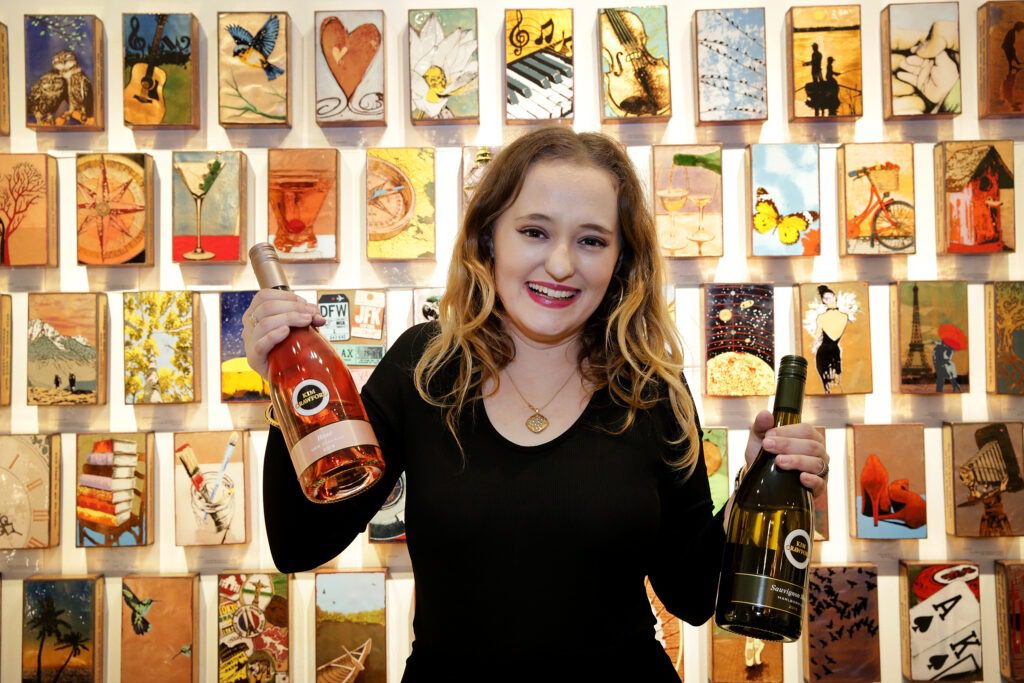 "This year, we have enhanced our three big events—

Vinola, Tournament of Rosés, and our Grand Tasting…
making them bigger and better than ever before and moving them to new venues," said Aimee Brown, NOWFE Executive Director.
"In response to high demand, we have added special ticket packages for those attendees looking to spend a few days with us.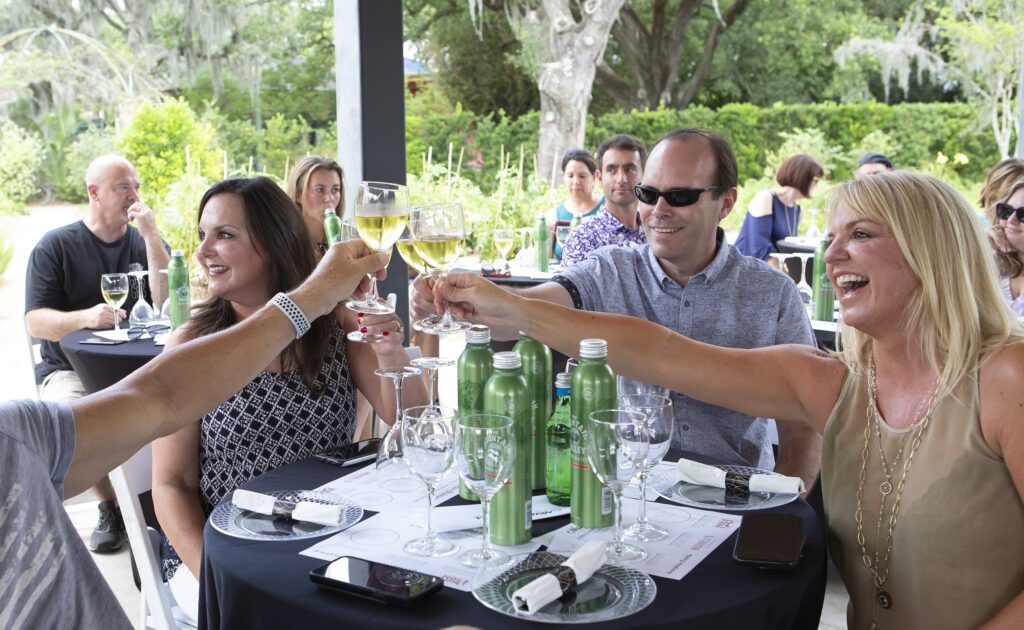 And, for the many locals that love to attend our events, we offer the individual ticket option to fit personal schedules and lifestyles."

Vinola at the The New Orleans Wine & Food Experience

Vinola, the highest-level tasting event NOWFE offers, kicks off at the historic Orpheum Theater on Thursday, June 8, at 6 pm.
Foodies and oenophiles of all experience levels will sample rare and highly valued wines expertly paired with delectable foods crafted by local chefs. Winemakers will present elite wines from around the world, and award-winning chefs will serve and talk about their food and what inspires them in its creation. Guests will have the chance to have one-on-one conversations with winemakers and chefs. Tickets are $215 each. VIP tickets are $280 and include 30-minute early entry and VIP lounge access.
Tournament of Rosés
Back for the fifth year, the Tournament of Rosés is moving to The Fillmore on Friday, June 9th, at 7:00 PM. Tickets to this special event are $129 per person.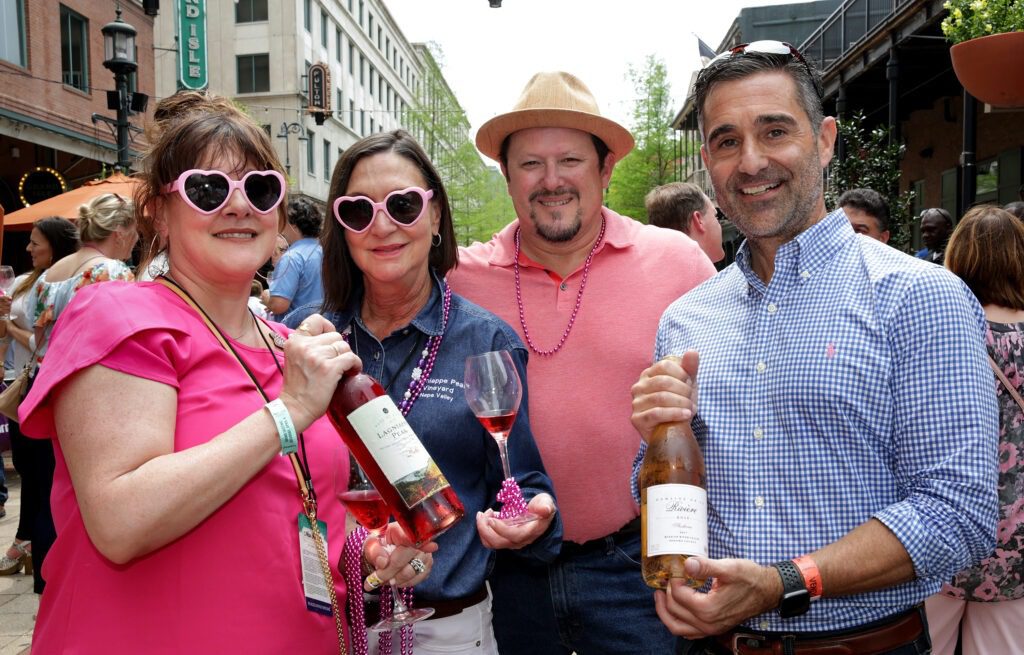 The Tournament of Rosés offers guests a unique opportunity to taste premier rosés, both still and sparkling, from France, Spain, Italy, the United States, and the Southern Hemisphere, and then cast a vote for a favorite.
Best of Show, Gold, Silver, Bronze and the People's Choice Award will be announced.
New this year, a specialty sparkling sector featuring bubbles beyond the Rosé realm and a spirited cocktail garden. Tasty bites will accompany each wine served. Guests are encouraged to come "dressed to impress" with a touch of pink. VIPs gain 30 minutes of early access to this event.
Grand Tasting
at the The New Orleans Wine & Food Experience
Also, new this year, NOWFE will host one Grand Tasting on Saturday, June 10, from 3 – 6 pm at Generations Hall. General Admission tickets are $149 before event week when they increase to $169. The Grand Tasting VIP a la carte price is $215 per person and includes early admission at 2:30 pm and access to a VIP lounge. The Grand Tasting at NOWFE showcases wines from around the world and food served by New Orleans' finest chefs.
NOWFE once again closes its 5-day event with Burlesque, Bubbly & Brunch on Sunday, June 11, from 11 am – 1 pm at the Omni Royal Orleans. Tickets to this titillating event are $95 each.
Join Trixie Minx and her Burlesque Beauties for a one-of-a-kind NOWFE experience with a plated brunch prepared by the chefs at the Omni Royal Orleans, bottomless sparkling wine by Luc Belair, and a burlesque performance you are sure to remember.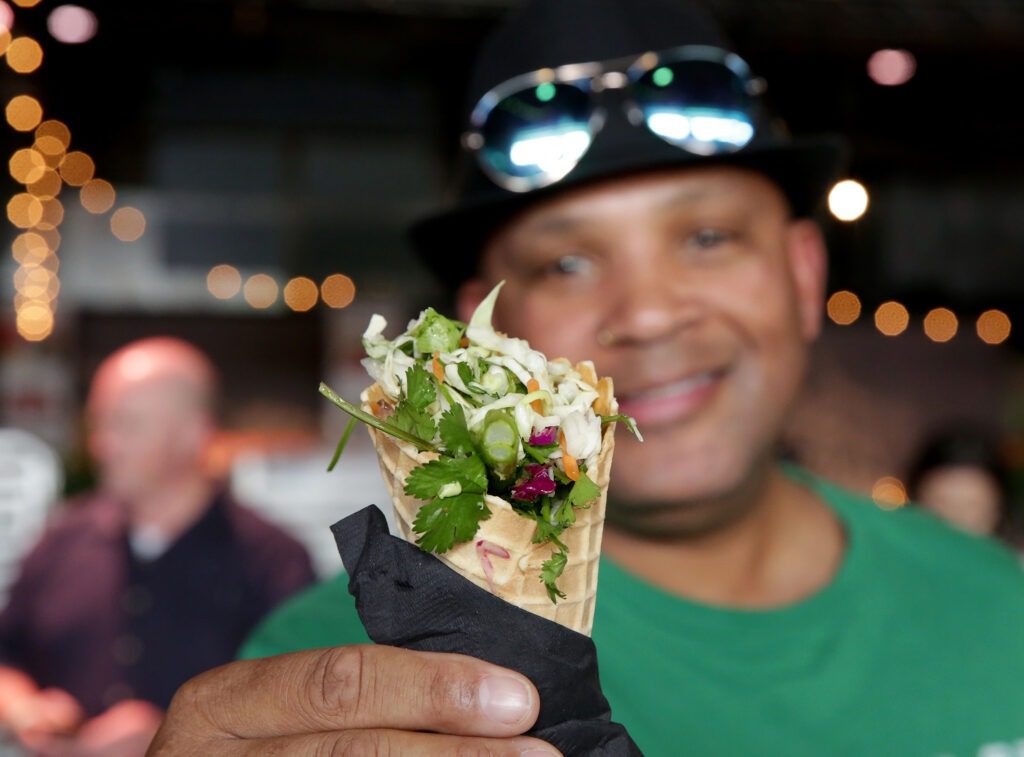 In addition to the special events, NOWFE presents its Labs and Experiences on Friday and Saturday. Five Labs will occur each day at the New Orleans Culinary & Hospitality Institute at various times, while five boutique Experiences will occur over the two days throughout the city. Ticket prices vary for the Labs and Experiences.
The three levels of event ticket packages available this year are:
The Tasting Package — $258 per person
This package gives a "taste" of the main events this season. It includes entrance to:
·       Tournament of Rosés
·       The Grand Tasting
The Connoisseur Package — $793 per person
This package is for the wine and food enthusiast looking to be a part of the entire NOWFE experience. It includes 30 minutes of early entry and the following:
·       Vinola 
·       Tournament of Rosés
·       The Grand Tasting
·       Choice of four (4) Labs
·       10% Discount on Additional Labs 
·       $20 Voucher to Use at NOWFE Merchandise Store

The VIP Package — $1000 per person
Upgrade to the VIP Package! This ticket allows you to experience the event at the highest level. It includes 30 minutes of early entry, access to VIP areas, and the following:
·       Vinola 
·       Tournament of Rosés (early entry)
·       The Grand Tasting (VIP)
·       Choice of five (5) Labs (with priority seating)
·       10% Discount on Additional Labs 
·       $20 Voucher to Use at NOWFE Merchandise Store
For more information or to purchase additional tickets, visit nowfe.com.
About the Author
Joe Wehinger (nicknamed Joe Winger) has written for over 20 years about the business of lifestyle and entertainment. Joe is an entertainment producer, media entrepreneur, public speaker, and C-level consultant who owns businesses in entertainment, lifestyle, tourism and publishing. He is an award-winning filmmaker, published author, member of the Directors Guild of America, International Food Travel Wine Authors Association, WSET Level 2 Wine student, WSET Level 2 Cocktail student, member of the LA Wine Writers. Email to: Joe@FlavRReport.com
You Might also like
Yum!  Jordan's Skinny Mixes Reveals Tasty New Flavors in Exclusive Interview for ExpoWest 2023

Say yes if you love coffee.  Say yes again if you love cocktails.  Say yes a third time if you love 'em, but wanna be healthier and save some money.  

If you said yes to *any* of the above, you're going to want to listen, because we just had twenty minutes with the woman who makes all those things happen for you.

This week at ExpoWest 2023 Jordan's Skinny Mixes has a lot to share!

Their Naturally Sweetened line of margarita mixes is made with real lime juice and sweetened with agave and contains 75 % less sugar and calories than other leading brands. The four margarita mixes flavors are Classic, Peach, Spicy, and Strawberry Key Lime, and they do not contain any artificial sweeteners, flavors, or colors. 

Their natural line of skinny syrups is available in 4 guilt-free flavors, including Vanilla Bean, Salted Caramel, Cinnamon Dolce, and Chocolate Mocha, for your coffee, tea, protein shakes, baking, or just about anything. 

Jordan's Skinny Mixes was founded in 2009 by female entrepreneur Jordan Engelhardt. The beverage brand was created with the simple desire to enjoy a margarita that wasn't loaded with sugar and empty calories. Now with over 100 products, this female-led team is on a mission to craft beverages that cut the sugar and keep the fun from coffee 'til cocktails. 

Skinny Mixes can now be found in over 13,000 specialty retail locations across the United States, Canada, Australia, and Europe, including Target stores, Skinnymixes.com, and Amazon.

Jordan Engelhardt is an impressive person, so when I had the chance to meet up and have a conversation, it was an easy yes.

Just to give us some background, what were you up to before launching back in 2009?

Back in 2009 I was a recent college graduate working in real estate as an appraiser. I launched this product [Jordan's Skinny Mixes] right when the recession was basically at its peak. It had just started and the market crashed pretty heavily in Florida where I was living at the time.

So I found myself without work, and this idea that I felt pretty strongly about. 

What are some of the biggest changes you've navigated in the industry over those 10 years?

Oh, there's been a lot.  The world has evolved much more to natural products, which is why we're here at Expo West as we just have launched our new natural line so this is pretty big for us. 

Also,  the customization of flavors over the years have just gotten more and more prevalent. 

Millennials, and the population in general, really like the variety of flavors, and being able to customize everything. And then Covid really drove at-home consumption of coffee. So I think all of those trends over the last 10 years have really helped drive this company's growth.

When Covid forced everyone to stay home, did that become a "lucky opportunity" for the business and boost at-home coffee drinking?

It was certainly fortunate in some ways, but in many other ways  [not as much].  We were selling to many grocery accounts. We're selling to a lot of specialty stores which had no choice but to close their doors. So we lost quite a bit of distribution during that time, but were able to make up for it online [with website e-commerce].  So [with market] penetration and trying to drive consumer growth, in that capacity, yes, it was fortunate.   But it was also a little bit scary [for us], like many other businesses at the same time.

What is the biggest misconception in general about skinny mixes?

People don't necessarily understand the versatility of our syrup and how you can not only use it for coffee, but you can use it for baking and protein shakes, and just anything. 

Flavored syrups are great for iced teas.  You can simply just add a dash to water and transform your water.  

Once we got the samples this week, the amount of random things we've tried [the skinny mixes] with just to see how it'd go.

I love it!  It's part of the fun and part of the great relationship we have with our consumers.  They

have so much fun experimenting and making these recipes, and then including us on that.

So [experimenting with the syrups on different foods]  just became a benefit over the years. It's certainly something we think about now.

We have this really amazing closed Facebook group that has really active members. It's called "Skinny mixes. Share your recipe".  You can see the amount of creativity that our users come up with and then they share their recipes.

One person put it with sweet potatoes, they used it on egg sandwiches. Interesting wild things that you would never think about.

Can you share a little bit about the inspiration behind the line and how you develop the flavors?

Yes, of course. We have a great relationship with our consumers, and they asked for it.   When they ask, we listen.  We do a lot of innovation. We launch a lot of flavors.

So that's where it came from and it's really done. We've gotten into Target with this line.  We take a lot of pride in listening to what our customers want, and this is what they wanted

What's the development process like for these flavors?

We have several partnerships with different food labs and beverage labs.   We start by verbally explaining to them what we're looking for. We have a big panel at our company and we just do a lot of tasting. It often takes quite a bit of time because we take a lot of pride in making sure it tastes exactly what we were visualizing. 

We can come up with anything from "Mermaid" to "Unicorn".   The different food labs across the country are amazing and they make it happen. 

 

It's a slow, methodical approach.  Then we have a larger tasting panel and we keep going until we find just the right mix.

That's incredible.  What's the timeline from concept to finished product? 

It varies widely.  It could take a couple of months or it could take over a year. Probably on average, about 4 to 6 months.

Do you ever try to create flavors and they don't end up working out?

Oh, it happens all the time, especially in the beginning.  We're innovating constantly.  Trends change fairly quickly.   We've been fortunate with a robust website where we can test things quite easily and pivot. 

Are there any teases as to what flavors might be next? 

Well at the show we're launching our naturally sweetened flavors. French vanilla, caramel, peppermint, mocha and pumpkin spice. Maybe some new seasonal offerings after that. We're constantly innovating, constantly looking at new categories. 

Switching over to coffee, what inspired you to launch coffee syrups?

12 years ago the company started with cocktail mixes.  With the popularity of Starbucks and people going through the drive through and having what they thought was guilt-free drinks but was not necessarily guilt free. 

They didn't realize how many calories they are consuming with their Frappuccino or their latte.

It immediately seemed like another way to really help people not have such a sugar laden beverage every single day.

That's why the coffee syrup was developed.  Since cocktail mixes are so seasonal, coffee syrup is something that consumers consume daily. So it was a natural extension for the product line with the coffee syrup

You have some new coffee flavors launching as well 

Listening to the trends and looking at the popularity of the most popular flavors just through our [tasting] panel. and you know, just having a great team that's out and about, and looking at menus, and using some common sense, if you will, and reading up on trends, it's then a 3 prong process.

You're getting a lot of positive attention at ExpoWest. What in your opinion, makes for a successful trade show?

Taking the step to take the risk to be there and have your branding there; and be open to meeting consumers and buyers in the trade. We try to make it fun. So we serve cocktails, and we're going to be serving espresso Martinis today. Yesterday we served Margaritas, and we had a speakeasy happy hour.  It helps people really understand the brand, and come by and see us.  I think that's most important, really put your brand out there and your brand's personality and just have fun with it.

Can you talk a little bit about the mission behind Jordan's Skinny Mixes?

Our mission summarized is crafting beverages that cut the sugar and keep the fun for a healthier, more flavorful lifestyle and to make everyday moments simply sweeter.

What is your biggest call to action for the audience? 

I'd love the consumers to experiment at home. I'd love for them to make their latte at home.  Make that morning coffee at home. So many people will say it's going to be a better experience.

Try our products.  You're going to save calories. You're going to save time. You're going to save money.

Shop Jordan's Skinny Mixes products online and view recipes at https://www.skinnymixes.com/ 

Check out Jordan's Skinny Mixes latest and greatest recipes by following on Instagram – @skinnymixes, Facebook- @skinnymixes, TikTok – TikTok , and Pinterest – @skinnymixes 

Fathers Day is coming up and every family is searching for Dad's perfect gift.  Chris Jankulovski's book Near Death Lessons offers story of family, adventure, motivation, and life lessons.

I had the opportunity to sit down with Chris Jankulovski (via zoom) to talk about his Father's Day wishes, business success, family, health concerns, empowerment and more.

The conversation has been edited for length and clarity.  Watch the full conversation on our Youtube channel.

Congratulations on your new book, Near Death Lessons. 

Thank you. Been a journey to get it out there, but I am so honored and privileged to do this work. 

It is an inspiring and a motivating book, and I would say equally important is not only is it inspiring and it's motivating, but for somebody who wants to break-through, you actually give us the lessons that you use to accomplish it so we can follow those lessons as well.

What was the hardest part of writing the book for you?

Friends tell me, Chris, you gotta write a book, man. Seriously, you've got some wild stories. It almost killed me when the tumor bursted in my head. I couldn't walk, couldn't talk. I was in bed for three months.

I knew that the moment I could stand upright, I wanna write a book for my sons. I want them to know who their father was.  Because yet again, I just confronted a serious adversity where 60% of people normally die on the operating table. I somehow survived it. I'm the lucky 40%, and I just had my operation one month before the birth of my second son, Billy.  And I wanted my six year old and my new son to know who their father was.

I'll give you a timeline.  We'll plot it all, and then we're gonna give it to a ghost writer who's gonna somehow be able to direct our story. Then we'll put the muscles in it, and then we'll build it all up.

And that's the journey I went on until I gave it to an editor who completely shut it down and it took me about a a year to correct everything. No kidding. 

Okay. So how long from the moment you started with your writer through the editing process, what was the timeline from inception to on the shelf?

Oh wow. So the first year after my brain operation, I'm still writing this book. A year later, I'm in the pool, rehabilitating [with the book notes] still in front of me.

I've got this diagnosis of doctors telling me, Chris, you gotta have these cancers removed asap. They've taken off. I don't know if your kidney is gonna survive removing six cancers. You might be on dialysis. Doom and gloom.

I've just gone on a journey of learning how to walk and talk for eight months. I've got so many defects going on. 

My tongue didn't half work. I couldn't even talk. It was affecting my speech. So I'm there in this scenario and at the height of my worst moment in life, I've got this outlook. That's a disaster. 

I'm trying to run in the pool because I'm learning how to walk properly and I'm about to confront this adversity again.

I'm thinking: Why am I buying a future that no one knows? This is all just estimates, predictions, guesswork. I don't have to accept this. What if I dare hope that the best is yet to come? Why don't I look forward to the life ahead of me? That it's the best? 

And that was the most pivotal moment in my life because, I went from a $4 million house to a $16 million house.

Eight months later, I go off to double my business from 8 million to 16 million. I go off to do all these things, and now I'm in America taking it to another level. 

I was in the hospital room, that's year one by the way.  I bargained for my life because things were not looking good, that's when I decided to take my story public.

And since the moment I've taken the story public. I wrote the book initially because I didn't want to give any advice to my sons because I didn't want them to hate me from the grave. I didn't wanna just share my story. I wanted to share the lessons.

I wanted to share the things that have transformed my life. So I hired a resilience consultant, and I said to her, can you please read my book? Put a spotlight on how I respond to adversities compared to a more common response because I just keep bouncing back stronger.

She read my book five times. We ended up having 26 zoom sessions, and then from that we unearthed 11 distinctions. We gave those to instructional designers which then they came back to me with the five life lessons that I shared in the book.

That's a heck of a journey. Tell us about some of the diagnoses you've had all the way back from your teenage years.

So at the age of 19, we went to a specialist clinic to understand what was causing tumors in my eyes. The doctor was puzzled.  There was this new genetic testing going on. So I had the genetic test done.   I [was diagnosed] with Von hippel-lindau syndrome. A hereditary condition, means maybe your mom and dad have got it. I go, no one's got it, okay?

The average life expectancy is 30 years, so you're probably gonna have a short life and you've probably got cancers now. 

I was like, what? I'm gonna be dead by 30. What do you mean? That was my brutal wake up call and I went to my car and I cried.

I couldn't relate to anyone with this problem. I told my parents, I told my friends, I couldn't connect with anyone about this. I just decided to ignore it. I thought if I pretended deep down I never got this, perhaps it would disappear.

So that's what I did. I ignored it from the ages of 19 to 32 when my first brain tumor finally caught up. And when it did, it almost killed me. It was so big –  five centimeters. I had to contour my body to go to the toilet and had these weird electric shocks running down my spine.

When I got the operation, I transformed. I looked at the sky and I said, God, kill me. I've had enough of living this victim life. I've had enough of being disempowered, always reacting to my circumstances.

I choose to focus on life. I choose whatever happens. I'm gonna choose to make the most of whatever life I have, but I'm not living like that anymore.  So that was a pivotal moment. 

I'm now 50, so I've had a good run for the last six years. At age seven, my appendix burst, almost killing me. Two weeks in hospital. At the age of 21, I almost drowned. 

But one of the first times I crossed over, out of body kind of experience and a different time dimension was a few years later, 25, when I woke up [during] an eye surgery, I felt the needles sliding on my eye, like on an egg, and they're poking in.

I woke up and flatlined. I was looking down at myself.  I could see the machine flat-lining until everything went white. And then I felt like I was in a different time dimension. I just felt 'Whoa. Where am I? Let's go. Hey, I'm not going anywhere. It's my sister's wedding soon. And then I snapped back into life again with the nurses all about to zap me.

So that was at 25 and then at 32 is the brain tumor. And then two months later was the removal of my right kidney because it was occupied by cancers. Some as large as four and a half, five centimeters. Which is way too dangerous. They're all very aggressive..

The reason why I called that a near death experience as well is because I survived my cancer battle and it didn't spread. It killed my dad, it didn't kill me. And then two years later, I had to remove four large cancers from a remaining left kidney. 

A decade later, another six cancerous kidneys.  Before that one was the second brain operation to remove two tumors in my head, and that was the most serious. 

Let's talk about a deliberate life. You mentioned it in your book, what does a deliberate life mean to you and what are the main steps? How do we get there?

I have nearly died, came back to life, and every time that happens, it's like a reset button in my heart.

Everything's up for grab: my values, my behaviors, my patterns. Because I'm back again. You go through many of these experiences.

Everything you've been holding true gets re-evaluated, and therefore, all of it – fears, insecurities, all gets washed away. And what remains is what's most important and true. For me, every time I go through these experiences, I get an onion layer experience. I get more to the core of who I am and who we are.

All of us, including me, are remarkably powerful. I can't believe the more I get to me and the core of my authentic me, the more energy, the more light, the more vibrancy, the more drive, the more of everything is there. 

I've always been spending money looking for advice and solutions outside myself.  Deep down, the biggest lessons I've learned in my life was when I meditated in silence for three weeks in India.  Silence. Every time I nearly died, I'd go into this black void. Vibrancy, energy, and I don't understand why I'm still consciously pressing, but then when I return, now I know I'm gonna say something really taboo, but life and death coexist in my mind because when I close my eyes and I'm in this black void, if I can meditate to a point where I'm outside of my sense of skin, brain patterns, feelings, and just be presently alert of my awareness.

Man, that's the same space I go to when I'm in a different time dimension. Hence why I believe that life and death coexist and that fuels me. That just fuels me even more because our mortality is what should fuel all of us. Why? Who are we to take our time for granted here? 

This drop of time that we have here, how selfish of us to be caught up in our own doubts and fears and insecurities. We are so much more than that. 

There is just this magic and energy in us that wants to drive. Follow that drive, follow that energy. Don't restrict it.  It communicates in feelings and glimpses of vision.

I live a deliberate life because of these adversities, and I keep coming back to life.  I wanna optimize. If I've got anxiety. If I was to listen to Steve Jobs, live as if it's your last day of life. I get anxiety. I can't be strategic, I can't plan. I'm always challenged every year with my scans.

So the way I play this game is every year when I get a MRI scan for my brain and spine and kidneys and all this stuff. When I get the results of those scans towards the end of the year, I see them as a certificate to go live life to the fullest. So I get this scan results. I go, yes, I've got a free run.  Then that following year, I'm bolting. I'm a hundred percent, I've got one more year to live. I see every year as if it's another year to live. 

What I've realized over 30 years of doing this is,  I can't live deliberately, so I can't live my life to the fullest every year unless I'm living deliberately and I can't live deliberately unless I have clarity with what I wanna do, because otherwise I'm spending time on all these things that aren't important.

I linked my goal to an image and I put it on a board because visually I know that the only way my subconscious relates to this is by image and feeling. Now, I know people call it vision boards, but they've got it all wrong. You gotta really link an image to a goal.  That image needs to excite you.   That simple solution allowed me to focus my energy throughout the whole year towards these things. 

You offer a 'free gift' in your book.  Can you give us a sneak peek of what it is?

Since I'm talking about life so much and living life to the fullest I wanted to show people the 10 things that were often affecting me and stopping me from living a life to the fullest.

What does success mean to you? It's different for everyone and so is living life to the fullest.  But, for people who are driven, success-oriented, ambitious people,  they would relate mostly to this because that's who I am.

I wanna spend more time with my family. I wanna smell the roses. I wanna see how far I can go and I wanna see the kind of impact I can make because I don't wanna just pass and it never even be known that I even existed.

So living life to the fullest means you are embracing your true power. You are embracing and optimizing your most important resource,  your time. You are embracing the fact that you've got an ability to create. 

So if we can do these simple things, we can achieve our dreams. That's as simple as that. If we've got the right mindset, if we stop responding to life as if we have got no control, if we are always victims of it, I've been thrown these incredible blows from the universe.

So many battles outside of my control. I refuse to not take responsibility. I actually take responsibility. Look, the tumors happen genetically, but I take responsibility. It's a game. Okay? It's just a game. It's a game of self-empowerment.

Chris Jankulovski's book, Near Death Lessons on sale at Amazon now.

If we want more from you, where do we find you? What's your website? Where do we find you on social media?

I'm building ChrisJankulovski.com and then you'll be able to access other things. 

What does the future look like for you?  What are you gonna be up to next?

I'm developing my personal brand and what that represents to the world.  What that represents to the American people.  What I strive to do in terms of impacting.. 

I'll be working very heavily on my business, but I'll also be putting myself out there to meet people, to talk to people and more media of course.

When I said I'm gonna inspire millions, this is the deal. And that deal isn't just writing a book. That deal is to connect with people. One-on-one or in groups or to speak, and not because I'm looking to become a speaker, but because I'm looking to deliver this incredible energy, this incredible passion, this incredible lessons and distinctions with no bullshit on what gets results and how what you gotta do to optimize your most important time here on Earth.

Chris, I wish you huge success with the book Near Death Lessons. I think there's so many lessons about either launching a new life or breaking through.  It's a great New Year's. Gift and a great Father's Day gift.

 

Thank you mate. 

DC is celebrating this summer, Give Champagne Jeepers a Taste.

It's easy to fall in love with champagne.  Life celebrations.  Work success.  Life's best memories (hello weddings, anniversaries, babies, birthdays).  If you're ready to try a new champagne, this is for you.

Today we had the amazing opportunity to talk (via zoom) with Jeeper Champagne's Camille Cox.  This conversation has been edited for length and clarity.  For the full conversation, visit our YouTube channel.

Can you share a favorite memory where you celebrated with champagne?

Oh, there's, God, there's so many. I can't even begin to tell you. But the one thing I can say is that you always should carry champagne because in victory you deserve champagne and in defeat you need it. That was Napoleon Bonaparte, if I'm not mistaken? 

I think my most memorable toast with champagne are personal victories  And, of course, business victories as you can imagine. I've been selling champagne for a very long time, and I can name a couple that come to mind. One of them a few years back was getting business at the Delta Airlines lounges. Putting another maison there.   At the time, the house that I was working for at the time that was a big victory in itself. And just little victories in life each and every day. Every day is a celebration. 

It's all relative in how you look at it and how you live your life, but I think every day calls for champagne, to be completely honest with you.

I love that,  'Everyday calls for champagne'. Jeeper has an interesting story behind it based on the end of World War II.

Can you give us just a very brief history lesson of Jeeper that brings us up to present day?

So, as you know, many champagne houses have great stories, and that's the great thing about Champagne. Every Maison has their story and the fact that you get to go back and find out how it became is super fascinating to me.

When I had the chance to join Jeeper, I went back to look at the story.  A family started  making champagne in the 1800s.  It had its heyday and then it floundered. It changed hands for quite some time. Then a gentleman by the name of Armand Goutorbe, who was working his family vineyards, had to be called to war and ended up in a house in an undisclosed location because everybody was fighting against the resistance at that time.

He happened to be holed up in a place with some American soldiers and they were being bombed and consequently they were all trying to help save each other's lives. History tells us that Armand was a gentleman who took it upon himself to risk his own life, to pull some American GIs away from the building that was going to be bombed, possibly losing their lives.

In doing so, he impeded his leg and went back to looking over his vineyards in Champagne. The hills aren't high, but they're steep. His leg impeded his day-to-day operations. The US army got ahold of the story and some of the soldiers that he saved wanted to pay tribute to him and in all humbleness to thank him for saving their lives. So the US military gave him a Willie's Jeep, and he rode around in the villages and he became known as "Mr. Jeeper Man". Two years later, he said, I think I'm just gonna name my vineyards Jeeper. So there it was born Jeeper in 1949 because of a wonderful gift that the US Army bequeathed to him.

We still have the Jeep today on property.

Can we talk about the terroir of the region?

We are located in Faverolles et Coëmy, a commune near Reims in the north-west of the Champagne region.  In the Montagne de Reims, the Côte des Blancs and the Marne Valley.

We are mostly a chardonnay house and we use Chardonnay as our primary grape.

We make eight different wines under the Jeeper label. We  have two great certifications for being biodynamic and organic.  Our flagship for the winery is our Blanc de Blanc. Our bottles are color coded in terms of the labels so that they stand out significantly to consumers.

That area has cool nights. A little bit of frost, but beautiful, pristine, crisp grapes from those regions, from the sub regions in Champagne. We own about 80 hectares. We don't buy any grapes. We use our own grapes. We have the capacity to make 3.5 million bottles, but we hope to make more with some partnerships that we've kind of acquired.

Having Michel Reybier as a new partner with Nicholas, the current owner of and partner, who makes the wines too. Nicholas Dubois makes us stand apart from that we're not right in the middle of Reims. We're out there, believe it or not.

So when you come to Reims, you're not gonna see us. You're gonna have to get on the train or take a little cab and make it to Jeeper. 

I love talking about process.  Our audience is a mix of very basic drinkers up to connoisseurs.

So can you share a little bit of the process and how, how, what, what makes your champagne so unique?

What makes us a little bit more unique is a lot of champagne houses only use steel vats. We're still kind of old school. We do use some Burgundy barrels.  We have one of the biggest barrel rooms behind Krug and Bollinger. We have about 1200 barrels that we use. So for instance, our Grande Assemblage, which happens to be our brut non vintage, we age 20% of the chardonnay that we use in that blend for two years in used burgundy oak barrels and then we do the aging of the lees. We lay it down for about four years. So that's two years for the 20% Chardonnay laying down for two years. Then the four years makes it a total of six years. So you get a totally different taste. There's a little bit of maturity there with the oak barrels. 

It's something completely different. I've worked for houses that were stainless steel, so this is something new for me as well too. The aging process, there is some lactic, it just depends on which cuvee we're speaking about.

Withholding our wines a little bit longer. We're not big production, we're not a grower champagne house by any means. We're just over the hump as a boutique champagne house. We're just getting started here in the United States. Our biggest production and where we sell the most champagne is in France.

But opening up the United States, it's tough to build a champagne brand in the US, believe it or not. It's super tough.

You have to find a way to differentiate yourself, what makes you stand out. I think that's Jeeper having the name and the story and the total difference of not having stainless steel aging, and that we're malolactic and that we do use oak barrels in some of our cuvee's.

One of the reasons I wanted to talk to you is a few weeks ago when I had the chance to actually taste through the bottles, they did have such a unique taste.

So let's talk about the actual bottles.

I've mentioned the Grande Assemblage, which is our brut non-vintage. It's a green label, and I just told you a little bit about that. But the one that is our flagship is our Blanc De Blanc.

I think our bottles are beautiful. We have a patent on the bottle.  People notice how easy it was to take off the foil.

So there's still a little label underneath the foil that says Jeeper, which is kind of neat for us and it speaks volumes because it doesn't leave you a mess or end up getting paper cuts from the foil cuts. 

The Blanc de Blanc is big, full-bodied, rich.  Also super elegant. It's clean. It's crisp, even though it has a big mouthful. 

Our champagnes are the categories in the last 7 to 10 years that have really ended up getting some traction. I think people are walking away from the norm. They're walking away from big commercial houses because they wanna see what else is out there. 

Their curious is curiosity's sake and I think it's really helped the champagne business. I think the champagne business has always been cyclical, but in the last 7 to 10 years, it's really gotten a hold and people are really embracing champagne to great success 

Because there's so many beautiful wines out there, so many different styles and so many cool things that you can learn. I think the more the people, because of the terroir, I always say that champagne is a reflection of the mood of the terroir.

Champagne, the terroir from where we are, its chalky soil limestone. It lends itself to so many different characteristics in the wine. We're not a big vintage champagne house. 2008 was probably one of the best vintages of the century.  It was gone in a flash. With our 2008, we age it for 12 years on the lees. It's 88% Chardonnay and 12% Pinot Noir. So there's that wonderful characteristic and it has a little maturity on it, a little oxidation. 

I'm a vintage champagne girl and a no dousage champagne girl so this one fits the bill for me, but it may not be for everyone's taste profile. 

I can always tell at the beginning when I'm doing a tasting with the two lead wines that you start off with in Champagne, what someone is gonna like in the rest of the range.  It never fails me. It's always about 95% full proof. 

It's so subjective. The 2008 for me is interesting. We're getting ready to release a new release of Blanc de Blanc coming in May, which I'm super excited about. It'll be no dousage.

We also now have a partnership, as I mentioned, one of our owners, Michel Repier. There's a gentleman by the name of Tony Parker, who's a former four-time NBA champion. A hall of famer. I was just with him a couple weeks ago. Super, super person. He told us his story about where he came from and how much he loves gastronomy.  He's French.  A lot of people don't realize that.  He's from Lyon, and I'm sure the Parisians would beg to differ, but Lyon is supposedly now the gastronomy capital of Paris. So we have him as an ambassador; a gentleman who really loves wine and is very enamored with it, wants to roll his sleeves up.

He's helped us with our Rose project that we have in Provence, but helping me with Jeeper as well. It's a great collaboration. It's been great for me, for the brand, for helping us build the brand here in the US because we're building our distribution network.

Which is not an easy thing to do, as I can tell you having done it for many years. So we're looking for new partners that want to build a brand with us who we want to be on the ground floor with.  I feel like the people that bring you to the party are the people you need to stick to.

It's easy to be a fair weather friend, but I am all about loyalty and building a brand with someone. And making it happen. The wine business is exploding, so there's a lot of opportunities out there. It's just finding our niche and letting people know the story and taste the wines.

I don't know that champagne gets enough love when it comes to food. Let's talk about food pairings.

A previous maison I worked for didn't want us to suggest pairing champagne with chocolate or strawberries.  I think that fallacy of Pretty Woman when she's having her "floor picnic" as she called it in the movie.  She's drinking champagne and having strawberries – they are very acidic. But I think it's really what you want to do.

Do I think it's the best pairing? Absolutely not. 

I've gone through this with many chefs in the past where I've asked them not to use chocolate or strawberries, and [while they weren't happy with that] luckily they did talk to me at the very end of it, but they weren't very happy. But there's so many great things out there that you can pair champagne with and the new thing is, Champagne and chicken fried chicken.

As a southerner, I'm a fried chicken lover. It's an incredible pairing. 

I also think sea salt potato chips with a non-dosage champagne are absolutely fabulous. But let's look at the classics. What about ratatouille from France? You know, something that you don't really ever think about. It's always the ones that are there that you can think about.

Gratin potatoes are an amazing pairing if you're a big potato lover as I am.  It's just great. So I think the sky's the limit depending on what it is you're drinking. Of course, no dosage champagnes aren't gonna be great with everything. I also love Dim Sum and champagne, to be completely honest with you.

So all the pairings that are non-traditional, if you will, kind of thinking outside the box. Really making it an opportunity to see: where you can take it? Are you gonna push the limit? I'm all about pushing the limits on a lot of things.  Nobody should be chastised for that on any level.

So if somebody likes what they like, they like what they like. I think the traditional [concept] many years ago: Are you having chicken for dinner? You can only have white [wine]. I love the fact that that's out the door now.

People learn more and more about wine every day. They're so enamored with it.  I think the pandemic gave us all an opportunity to stop, take a minute, take a breath, slow down, maybe enjoy things or get into things that we didn't have the time to do. I think gastronomy is one of them.

People now love to make food at home. People love to drink wine at home. We saw that with the pandemic. There's a lot of opportunity, everywhere you look. I like the classics.  I'm a foodie.

But I love food and I think drinking it the way you want to drink it and the way you want to enjoy is paramount. Paramount. I don't think there should be any rules put around that on any level. 

As everyone's hearing the Jeeper story and getting to know your bottles, what can our audience do for Jeeper Champagne?

Helping Jeeper is to buy some [bottles] where we're distributed. Give something new a chance. Wherever you buy wine, take an opportunity to just treat yourself to something completely different because you never know what's gonna happen.

It could end up being your favorite wine and you just don't realize it. Expand your opportunity and your horizons, and that's what life is all about. 

Think outside the box. Live a little, okay. You, you bought a bottle, but there's some great champagnes out there that are really economical. We know we've taken a little bit of a price increase, but treat yourself, you'll be glad that you did. I think it, it expands your horizons and makes you see so many other things you didn't see

Where can we find Jeeper Champagne on social media to follow?

Jeeper is on most major social media channels.  Please give us a follow and visit our website at: https://www.champagne-jeeper.com/

https://www.facebook.com/ChampagneJeeper/

https://www.instagram.com/champagnejeeper/

https://twitter.com/ChampagneJeeper

Camille, thank you so much for your time. I loved hearing the stories.

Thank you so much!