Motto by Hilton Washington DC City Center offers Need-to-See Rooftop Whiskey Bar
Whether you're a solo traveler or arriving as a pair, you'll be sure to have a precisely comfortable stay.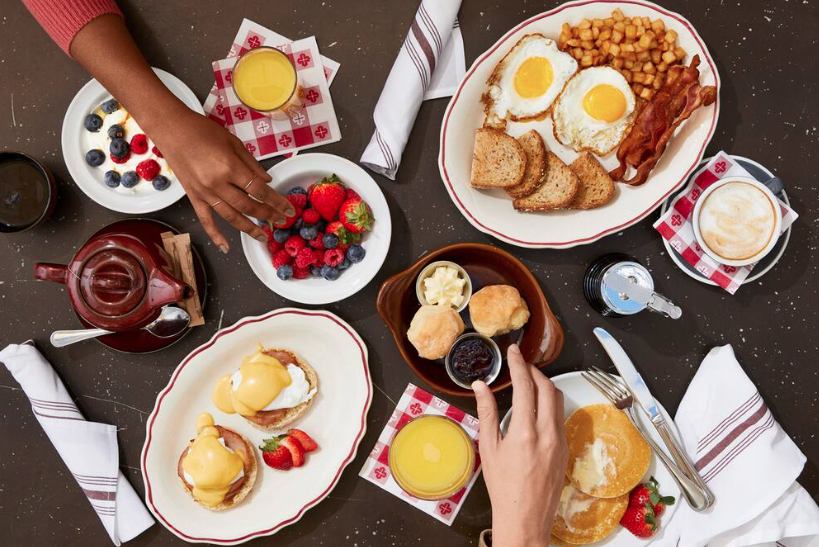 Motto by Hilton has The DC Food Scene
DC's food scene is on full display at Crimson, with rooftop bites and drinks, our subterranean whiskey bar, and refined Southern fare in a sophisticated diner. Contact us to book a private event.
Motto by Hilton is Located Close to Everything
Motto by Hilton Washington DC City Center is across the street from Gallery Place/Chinatown Metro station with links to Reagan National Airport, Capital One Arena, the Walter E. Washington Convention Center, and museums are within a few blocks. The White House, National Mall, and Union Station are a mile away.
Enjoy smart tech with a smaller, more efficient footprint in our Travel-Sized rooms.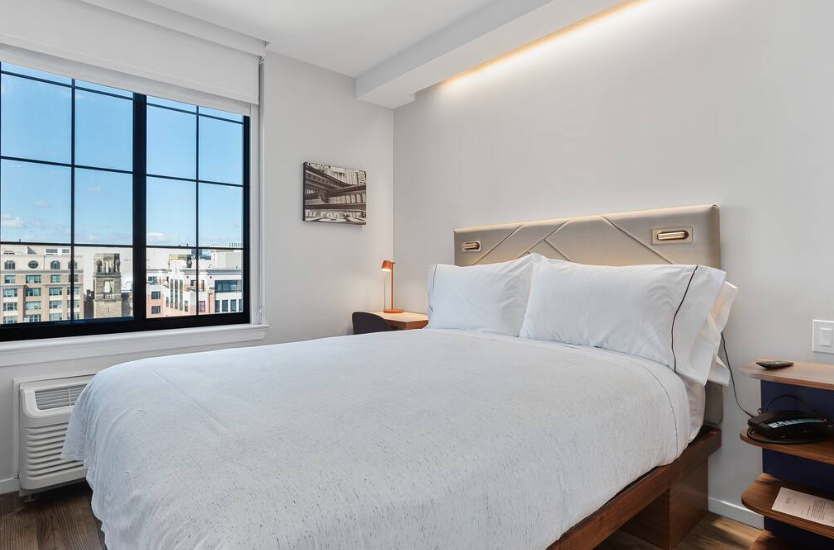 Travel-Sized rooms
Travel-Sized rooms are the ultimate launchpad into a new city averaging at 150 square feet. The Full room is cozy and modern with a smaller, more efficient footprint and elevated sleep experience.
Stream your favorite shows to your 50-inch TV through our smart room technology and set the vibe with lighting and temperature control through the Hilton Honors app. Every room has a private bathroom with premium bath amenities and is equipped with a working surface, vanity, wardrobe, and safe.
You Might also like
Oregon Wine shares incredible new vintage with Winemaker Aaron Lieberman from Iris Vineyards

Sure, Oregon Wine is world-famous for its Pinot Noir.  And rightly so, as the area produces incredible expressions of the varietal.  But that's not all they can do. 

Award-winning winemaker Aaron Lieberman wants the world to taste and discover all of the incredible wines from the area including Iris Vineyards's new Pinot Gris which has won acclaim several years in a row.

Today, Winemaker Aaron Lieberman from Iris Vineyards sits down over zoom to talk about his inspirations, his favorite wines, food pairings and what's next for Oregon Wine.

The conversation has been edited for length and clarity.  Find the whole conversation on our YouTube channel.

There's so much to go over with you because you're in a great area of Oregon.

Last year we had the privilege of covering the 2022 McMinnville Wine Classic, your Pinot Gris won Best in Show and Best White varietal.

According to press announcements it's the first time ever for a Pinot Gris. What was it about that bottle and that year that brought you so much acclaim?

 

The vintage we won that on was the 2020, and I think our Pinot Gris is fairly consistent. So I actually personally felt that the 2021 vintage was better than the 2020. What I think is going on there is that in our growing area Southwest of Eugene we have our vineyard in what's called the Lorane Valley. We're a relatively high elevation vineyard compared to the rest of the Willamette Valley. We get a lot more hang time on our Pinot Gris, which allows more flavor development and preservation of acidity, as well as slower and lower accumulation of sugar.

So we ended up with a higher acid, lower alcohol wine that's very expressive in terms of fruit flavors.

I wanna let our audience know a little bit about your background and what brought you to where you are today. Your education in soil and winemaking, but I hope you'll touch on your Peace Corps time, and your work in Guatemala with soil education.

As I was finishing up my Bachelor's Degree at Oregon State University, I became involved with a couple of different grad students, helping them with their research projects, basically. At the beginning of my junior year [I had already] switched my major from Pre-Vet to Crop and Soil Science.

So the projects I was working on with these grad students involved soil research. One of these grad students had been in the Peace Corps and talked about it frequently and also had a professor who had been in the Peace Corps. They both inspired me to look into it and do it.

I ended up going to Guatemala. The project I worked on was called Corn and Bean Seed Improvement and Post Harvest Management. We were trying to counteract the invasion of commercial corn seed into Guatemala and Latin America. It's replacing the land raise varietals or the traditional varietals of corn. We were working with those traditional varietals to improve their performance in the field by selecting the plants that were growing well and were the most disease resistant.

The program started four years before I got to Guatemala, so I was the third volunteer and we were really showing some really good results.

Something I love about winemaking is such a mix of science and magic, or science and artistry. And it sounds like science is very strong with your background and the magic that you bring to the bottle.

Yes, I would agree with that.

 

So let's switch back from Guatemala. You've got some great soil types. Let's talk about how you use the soils in your region to bring such delicious flavor, characteristics and aromas.

In our vineyard, we do have some Jory soils, and I think most people who know about the Willamette Valley know that Jory is the preferred soil in the region particularly for Pinot Noir.

Our vineyard is dominated by Bellpine soil. Bellpine is kind of an analog of Jory, but it's formed in sedimentary rock rather than basaltic rock or volcanic rock. So there's some significant differences in the chemical makeup of the soil that contributes to the flavor difference in our Pinot Gris compared to some others.

The last time I visited, what I heard overwhelmingly from the winemakers is you have to be okay with inconsistency year after year.

 

I want my wines to represent the area that they're from and the varietal from which they're made and different weather during each growing season as part of that representation.

So based on the weather and the level of ripeness of the fruit and what we're tasting in the grapes before we bring them in, we will make some adjustments to how we do the vinification to try to push it in one direction or another, to be at least somewhat consistent.

 

Let's talk about the wines themselves.

 

Let's start with the Pinot Gris. The comment I hear the most is white peach. That's new. I usually hear pear, red apple peel, quite a bit of citrus.

Commonly I get stone fruit comments on our Chardonnay. Whether it's our still Chardonnay or our Blanc de Blanc.

Then there's the Brut Rose, the Pinot Noir 2021, the House Red Blend. A lot of people will remember 2020 and how that vintage went for us. I refer to that year as the worst year of my life.

Let's talk a little bit about what made it such a bad year.

We had beautiful weather during bloom. I started to feel like it was going to be a really great vintage. We're seeing a really modest crop load and smallish berries, which leads to more fruit forward. Right around Labor Day, the major fires started. Smoke came into the valley for about two weeks which was extremely disheartening.

In the Willamette Valley that was really our first experience with that level of damage to the fruit. So a lot of people were scrambling, worried, and ultimately didn't produce Pinot Noir in 2020.

We made less than we had planned. We applied some techniques to mitigate the smoke effect.

Can we talk about what you did to mitigate?

 

Well, there are two things that helped the most. One, we sent some grapes to California to go through a process called flash.  It's a kind of thermovinification method where the must is heated to 80 degrees celsius and then pumped into a vacuum chamber that boils at a much lower temperature. The water and the skins of the grapes "flashes" to steam in the the vacuum chamber. That steam carries away a lot of bad things. Those things are responsible for the bulk of the smoke effect that you might find in a wine.

Then following vintage and some aging, we did some reverse osmosis to remove the smoke effect from the rest of our wine.

At the tail end of vintage, I had surgery for appendicitis. As I was about recovered from that, I got covid right at the end of 2020.

Fortunately '21 and '22 were very similar to 2020 and how the vintage started and ended up, we had some really beautiful fruit and beautiful wines. I'm really excited about '22 based on what we have in barrel right now.

 

Some people approach wine from a food and wine pairing point of view. I'm not sure if you are a chef or a home cook, but do you have any suggestions for great food pairings for some of your bottles?

I think with our Pinot Gris, I really enjoy seafood.

It's really good with salad. Brut Rose, I always say if you're making a dinner and you're not quite sure what wine to serve with your dinners sparkling wine is always a a crowd pleaser. It'll go with dishes from salad to steak or pizza. The acidity of sparkling wines makes them really versatile in any kind of food. Fatty foods in particular pair well with more acidic wines, kind of a palette cleansing.

For our Pinot Noir, traditional pairings like salmon and chicken.

When you're going through a year, from growth to harvest, what are the traits or elements that get you excited saying it's gonna be a good year?

Last spring we had a couple of fairly severe frosts after bud break and it was an interesting year because of that. We ended up, to everyone's surprise, with a vintage that was quite nice and yields that were not really affected by the frost. The vines bounced back with their secondary and tertiary buds set fruit, set a really good crop. We got a nice batch of wine out of it.

If we get into harvest in the rainy season, sometimes your hand is forced and the grapes start to get ripe, the skin softens an they become more susceptible to botrytis and other bad things that you don't want.

But '22 was nice. We weren't really forced right up until the end. Around October 20, we had the first big rainstorm come in. 20% of our fruit still hanging. We brought most of it in before that big rain.

But I think we had really good ripeness even at that point.

You've been doing in-person and zoom wine tastings, do you have a favorite part of that wine tasting process?

My favorite part, without a doubt, is just when I see somebody tasting my wine and the look on their face shows me that they're really enjoying it. That's a big reason why I'm in this industry, what we do makes people happy.

Do you have a certain memory of including either your wine or someone else's wine in a great celebration?

Several memories. My father and I had a wine business of our own from 2002 to 2015. [A few years in] we had a celebration at a steakhouse in Portland. I ordered a Puligny Montrachet off the menu. I still remember that wine quite vividly and how impressive it was. That changed my mind about chardonnay in some ways.

In Oregon, there's a lot more chardonnay coming out of the Willamette Valley now is a good thing, but it's still been an uphill battle for producers to get that chardonnay wine passed the gatekeepers, the distributors.

You go to a distributor and they're like, "Everybody drinks California Chardonnay or white burgundy. They don't know about Oregon Chardonnay. And when you say Willamette Valley, everybody thinks Pinot Noir, which is great. But we've kind of pigeonholed ourselves with that. There are a lot of other nice things that can come out of this valley like Pinot Gris and Chardonnay. So we have some work to do on the marketing and publicity to let people know.

Any lessons your winemaking team has learned this past vintage that you can share?

 I think that happens every year. Let's not assume that I know everything because I learn stuff every year as well.

One of the things that I really stress with people who are working for me during harvest, is the importance of fermentation temperature.

It's with white wine, with aromatic whites in particular. You really have to keep the temperature under control. Yeast likes to get hot and ferment fast, so you have to keep those ferments cool, whatever the method is if you're in stainless with jacketed tanks or if you're in barrel and you're taking the barrels outside at night or wetting them down to keep the temperature down. It's super, super important.

With the white wines, you get a temperature or a fermentation that's too hot and you end up with a wine that's like generic white wine. It doesn't have varietal character left in it, that's something I stress a lot.

Then when you talk about red wines, the style of red wine that you're making is so dependent on a lot of things, but temperature is a big thing. So if you do a cool ferment on a red wine, you're going to have a red wine that's fruit forward and aromatic, but it's not going to be very extracted. It's not gonna have a big tannic backbone to it. In that way it would be out of balance.

Like with our Willamette Valley Pinot Noir, we do a couple of different fermentation methods that end up having different peak fermentation temperatures and then we blend them together to get a wine that is crowd pleasing, easy balanced. So one of my big things is temperature.

Are there any topics in winemaking that you wish got more attention?

 

The fact that I don't do this alone. If I didn't have a team behind me doing the right thing and supporting production in the winery, starting with our vineyard and our vineyard manager, who is amazing, grows amazing fruit, all the way through to the marketing team selling the wine or promoting the wine and the sales team selling the wine. I think it's really important for people to understand that it's really a team effort. I'm the winemaker, I get the publicity, I get the recognition but there's no way I could do it by myself.

I'm sure you talk to young winemakers all the time. Is there one huge piece of advice you would give a young winemaker from all your experience?

A big thing would be, and I've made this mistake when I was a young winemaker, if you're about to do something to a wine and you think you know what you're doing, but you've never done it before, make a phone call.

Ask another winemaker that maybe has had the experience and has done that. You've got a 5,000 gallon tank of wine and you're gonna do some kind of adjustment that you've never done before. Get some information first.

Building network, building community, reaching out to those with either more experience or more diverse experience.

Yes. And in most wine regions, it is a community and people are happy to share their information to help the next guy out. Because ultimately, if we're all making really good wine in the Willamette Valley, that enhances our reputation as a region. So I think it would be a big mistake for us not to share information.

Let's talk about where people can find more information.

 

On Iris Vineyards website and social media. Our website is IrisVineyards.com and our handle on every social site is @IrisVineyards.

So thank you again for your time, and it was, it was great to have this conversation.

 

Thank you, Joe. I really appreciate your time.

Your summertime adventures deserve a refreshing taste, with healthy results and supporting a good case, taste CaliWater.

This summer many families are going on adventures – from a fun night out, to local road trips to traditional vacations and everything in between.  Families are looking for flavor, looking for healthy options, when possible choosing to support social good.

Recently we tasted a solution that solves all of this and more.

CaliWater is the latest celebrity-driven brand on an already crowded grocery shelf to promote flavor, fun and health.

Before you judge it, have you tried cactus water?  If not, honestly it's worth a taste. 

Open your mind (and your mouth) to the world of cactus water. Try the taste of CaliWater.

CaliWater Flavor

CaliWater comes in two subtle, but very different flavors:

Ginger + Lime

It's a drink that adds a pop to your tongue.  

Tasting-wise, on the nose is heavy lime that for me became a palette cleanser.  Got a funky taste in your mouth?  This can will save you.  The lime notes carry over on your palette and the ginger adds a refreshing zing.   The linger lasts, leaving a pleasant and refreshing taste.

Wild Prickly Pear

Tasting-wise, on your nose its a bit sweet and even floral.  As you taste, it's giving your mouth a sweet, refreshing bath similar to a bite of watermelon.  

But How Healthy is CaliWater?

The simple answer is: very healthy.  

Caliwater contains 5 naturally occurring electrolytes to boost hydration and is packed with skin fortifying antioxidants, anti-inflammatory properties, and 200mg of Prickly Pear Extract which is a proven hangover relief. 

Prickly Pear Cactus has shown to lower cholesterol, regulate blood sugar levels, and provides natural anti-viral properties. Known as a "superfruit", the Prickly Pear Cactus has been the health solution go-to for many all over the world.

Proven Hangover Relief

Let's repeat an important part.  The drinks include 200mg of Prickly Pear Extract which is a proven hangover relief. 

Cali water also serves as a fantastic mixer for your favorite cocktail.

CaliWater Created with passion, love, and a clear mission in mind

Earth-friendly activists Vanessa Hudgens and Oliver Trevena bonded while enjoying a prickly pear margarita.

They launched CaliWater, California cactus water that goes beyond just hydration. 

Created with passion, love and a clear mission in mind CaliWater hopes to promote healthy eco-friendly lifestyles and to make the world a better place. 

With up to 75% of Americans being considered chronically dehydrated CaliWater offer the tasty yet healthy alternative to water that also presents benefits for health and well-being. 

Giving Social Good

CaliWater's goal is not only to provide health benefits to their customers, but also to raise awareness about the fight against childhood hunger. 

Partnering with No Kid Hungry a charity working to stop hungry children, Cali Wter pledges to donate $0.05 for every can purchased with the goal of donating $1,000,000 by April 2022.

Read for a Taste?

You can shop CaliWater here: https://drinkcaliwater.com/

You can also browse your local Erewhon, Alfred, Bevmo,  Blueys Market & Cafe, Sunlight Organics, The Pie Hotel, Vintage Grocers.

 

Club Glow Presents: Steve Aoki 4th of July Weekend Party

Echostage brings the festival experience indoors year-round, allowing fans to enjoy full-scale music production. Currently ranked #1 Nightclub in the World by DJ Mag.

ADDRESS: 2135 QUEENS CHAPEL RD. NE WASHINGTON, DC 20018

E-MAIL: INFO@ECHOSTAGE.COM

Steve Aoki 4th of July Weekend Party

Steven Aoki has collaborated with artists such as will.i.am, Afrojack, LMFAO, Linkin Park, Iggy Azalea, Lil Jon, blink-182, Taking Back Sunday, Laidback Luke, BTS, Monsta X, Louis Tomlinson, Backstreet Boys, Rise Against, Vini Vici, Lauren Jauregui, and Fall Out Boy and is known for his remixes of artists such as Kid Cudi.

Aoki has released several Billboard-charting studio albums as well, notably Wonderland, which was nominated for Grammy Award for Best Dance/Electronica Album in 2013.

He is the founder of the Steve Aoki Charitable Fund, which raises money for global humanitarian relief organizations.

In 2019, Aoki published a memoir, Blue: The Color of Noise