Italy's Trentodoc has a history of producing incredible sparkling wine, Giacomo Malfer reveals their tasty secret.
We had the chance to sit down with Revi Trentodoc's Giacomo Malfer to talk about the Italian Trentino region, their multi-generational family business, favorite foods, and of course their legendary sparking wines.
Listen to the podcast here:
Giacomo, Can you share some of your favorite memories that include a wonderful sparkling wine celebration?
I'm very happy to talk about Revi and my family and my world. One of the best memories that I remember with sparkling wine Trentodoc was my 30th party. I invited a lot of friends. The bottles, one by one [were poured and put] on the floor [lined up] around the house. But, the most important thing was the joy, the happiness, to enjoy that party.
In history, Trentodoc sparkling wine is the best product for celebrations. So celebrating my birthday or other important things in life is one of the best things that we produce of that kind of product can make because We work our life to produce something people enjoy the best highlights of the life. So what's better? And one of my best memories is my 30th birthday party.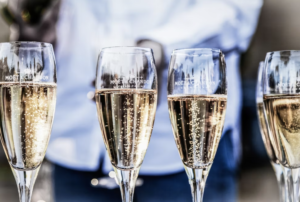 You mentioned celebrating with your family. Tell me what it's like growing up in a winemaking family.
Paolo, my father, for me is a common star because when I was young, I never wanted to go on with the winery. It's funny to know because today it's my life. Sometimes [I feel like] it is my girlfriend. Francesca is my real girlfriend. So it's matches perfectly now with my life and with my private life.
Someone said that if you love your work, you'll never work a day in your life. I think that idea is very important. As I said earlier, there is something very beautiful about making something that people used to celebrate.
I remember when my father Paolo would talk about wine and producing wine, his eyes would shine. That shine was one of the first things that was useful for me to start and work in the wine industry. I remember that Paolo said to us to do what we wanna do, not follow the winery. Because it was his passion, not his first job. He said, 'this is my passion. I want to work with Revi as a passion.' In fact for 30 years that was not his job. He started when he was 13 years old.
He was in a classroom with only females.  He found a book with an article on Dom Perignon. He came home and asked my grandfather [for] some white wines because we were an agriculture family. And he said, I wanna make champagne now. And my grandfather laughed, because my Dad was just a young boy. But you know what? He said, okay, you can try a very small batch.
My grandmother made bread each week, so Paulo asked my grandmother for some yeast, and put it inside with the sugar.
And on Christmas of 1963, my family enjoyed the holiday with methodic champagne noir. Because in Italy at that time we could name the methodic champagne, the classic method with the second fermentation in the bottle. And so after that, he studied at school, and then he started with Revi in 1982. And for 30 years it was his hobby.
I believe it was one of the most important things, to grow up with passion, in my father, in my brother Stefano and in me, because he's never forced us to follow that.
We both studied economics. But I remember many memories about when my grandmother would take the broth to the people who helped my father in the winery. I have some memories that is between the brain and the heart. I believe that premise was the first seed to grow the passion. After that, my brother Stefano, the producer and manager; we followed because we were tasting all the time with my family together. We are looking for a very clean, very fresh identity wine of our region.
The best thing that I believe our father gave us is a way to read the wine world. This is the identity. We always want to find in Revi our territory. He was one of the first to produce the zero dosage. We have been producing zero dosage or pas dose, you know, that is the same since 1983. The first harvest of the first vintage of pas dose Revi was 1981. It was very, very uncommon for that period, even just five years ago it was uncommon. But 40 years ago.
I believe inside that particular label is the philosophy of our winery, and we want go on with that. So the second generation, me and my brother Stefano, for sure, we wanna follow that.
There's a lot less magic in economics than there is in sparkling wine. Was there a moment when you realized, 'I need more magic?'
Yes, I remember. When I was 13 or 14 years old, and I was helping my father in the vineyard, I didn't like it because it was very warm and some activities were very slow. My friends would go to the swimming pool, and I was with my father. So I said, I want my office, with my shirt and air conditioning and not be here.
But at the end, I really love the people and finding magic. Because it all starts from a piece of wood and arrives at the end in a bubble, in the most beautiful moment that you put that wine in a glass and enjoy with your friends and your family.
There was not a very clear moment when I changed my mind and said no economics, but wine making for sure.
I made the commercial part of the winery. So economics is important and now it's the economics of a winery. I found a very good way to have a little bit economics and stay in the best [wine] world.
I always tell my friends and my girlfriend, we are working for something that others work for the Saturday night or the Friday night. That is super beautiful, because celebrating is the best thing. To enjoy life is to celebrate the big things and the small things. The small things could be simpler, pizza with friends.
I think the theme that I'm learning is the magic of celebration. Let's seque to the magic of your region.
Yes, for sure. The [Dolomite] mountains area is one of the important things. And thanks to the mountain region, we can have the freshness, the aromas that come up from the difference in temperature between day and night.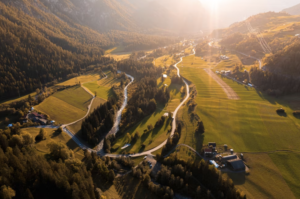 At the same time, we have a region that goes from 200 meters in altitude over to 700 meters. More than 70% is over 1,000 meters in altitude. So it's a very mountain region. And the valley also is a mountain valley, because the fresh air comes down from the mountains and goes through our vineyards. That's increases the performance and the structure we find in our glass of trentodoc.
Wine Enthusiast awarded us as one of the best wine areas for Trentodoc because we can have the maturity of the grapes, and at the same time we defend the freshness. So we have a balance between the complexity, the perfumes, the aromas thanks to the mature grapes. We don't forget and lose the freshness, the acidity freshness, very important to enjoy, because at the end, one bottle, one glass, you have to drink to enjoy it.
Another thing that is important here is the soil, limestone, there are different soils. And that gives us some different shades about Trentodoc. This is one of the most important things not only here in Trentodoc, but in the wine world.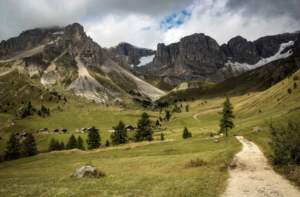 Drinking is a way to take a trip in your life. It's very nice to drink the same wine, the same grapes in the same area, but at the same time, find something different. Not only because its comes from different wine growers, but because the soil, the terroir.
For example, Albano, the small village where I come from, where Revi was born.
Re Vino [translates to] "king wine", because it was one of the best areas in Albano, my village, to produce grapes for wine. Albano was named from Veronelli, one of the best and most important, wine journalists in Italy.
Why? Because many private people in the area made their own classic method, sparkling wine. It was an agricultural village, but they didn't make only still wine. They made sparkling wine. So that is the terroir. That is the the know-how, the idea of one place, not only the type of soil or the wind.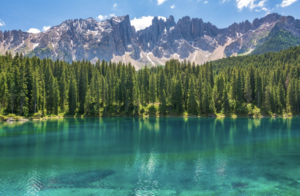 Here in Trentino, in our vineyard we have some of the best soil, Cavaliere Nero.
Cavaliere Nero is 100% Pinot Noir, it's clay and red marble. Now red marble was the motherstone. And we have clay. It is a very important Pinot Noir. It is a very important red pinot noir dressed by the bubbles.
Sticking with the region for a moment, tell us about what's it like living in that area today?
It's a mountain region so we have ski slopes we can enjoy in the winter season. But the mountains are really magic during the summer. On my summer holidays, I want to go to the sea. We have one of the best lakes in Italy, Llago di Garda.
A few weeks ago there was the Gambero Rosso event, where I tasted your sparklers for the first time. Let's talk about the bottles.
You tasted the classic one, Revi Brut Trentodoc, the Revi Reserve 2012.
Revi Brut Trentodoc has 40 months on lees. Both are Chardonnay and Pinot Noir.
The Chardonnay grown here in Trentodoc gives very good aromas, good acidity, good freshness. Pinot Noir in more in altitude, gives us the body.
In the Pinot Noir of the brut, it's only for the body. Not for the structure.
With aging, the wine comes out with notes of Pinot Noir. In fact, in the Reserva 2012 or other Revi, when it stays many months on the yeast, you find the perfumes of the Pinot Noir, we have the classic line: Revi Brut, Revi Rose, Revi Dosaggio Fero. They are all made with a cuvee of Chardonnay and Pinot Noir. 20% white and more in the rose, because we have 70%, helps us to give a lot of structure and body.
Chardonnay is a major part of it and that is very important for the Brut as for the Reserva, because it gives us the freshness in the Reserva.
People always ask me which is my favorite, the Brut or the Reserva?
It really depends. It depends on the time of day and my mood. In the summer when it is warm, I like really a glass of fresh Brut classic, because it's simple. I want to chill out a little.
Then on the same day at dinner we drink a glass or a bottle of Reserva tasting and pairing with some foods.
With the Brut, the tasting notes are apples. One of the classic notes. Toasted nuts. All very light and delicate.
If you ask me what to expect if you taste a glass of Revi Brut, you have to expect some fresh apples, some flowers, a little toast, and freshness and joy on the palate.
For the food pairing, some salami or fromage, very simple aperitivo that you can have in your house.
One of the best pairings that I really love is with pappardelle or a pasta with white ragu and parmesano, because it's delicate and a little bit salty. Parmesano's taste is not so aggressive, it's also delicate. And with the Brut I love a lot.
I love pappardelle, I love pasta for sure. I'm Italian, you know, so… I'm a pasta lover.
Thinking about Reserva, you can really go all over the world with the taste. You can also pair with fusion cuisine, you can have some more taste.
In our Reserva, we have the structure, the body, the complexity at the same time, the very freshness. So you can enjoy that glass with some fatty foods, because it'll clean up your mouth and have structure. Carpaccio, branzino, fresh fish.
Is there a unique or surprising food that you wouldn't traditionally think pairs well with your wines and yet it did?
I love surprising myself with pairing foods. As you were talking, I was thinking of risotto with porcini, with gouda.
During the [pandemic] lockdown I stayed with my family and during our Sunday meals, we had a violet rosemary [herb sprig] inside a glass was amazing.
I believe, one of the best important things, if you are in a winery, in a restaurant, you have to taste and try. Be curious.
Something we really aim for with our audience is helping someone who's curious and eager, helping them understand what they're trying so they can have more appreciation for the taste and the flavor.
Can you walk us through the process of the classic method?
The first part, it's common, like still wine. You grow the grapes. It's very important to have high quality raw materials at the start. Then you have harvest after one year. Then you press, you have the first fermentation, that is the vinification.
The very important different thing about sparkling wine and a classic method, for example, in 100% Chardonnay is when you want to have a chardonnay for a base of sparkling wine, you have to have more acidity. So your harvest is a couple of weeks [earlier]. It depends on the velocity of the maturation.
But we can say between one and two weeks before, because you have to preserve the freshness, the acidity.
Then after harvest, you have a different vinification. It depends if you want to, to make a rose or a white wine. In that case, you have a maceration on the skin of the grapes of Pinot Noir. If you want a Blanc de Noir, a white wine from Pinot Noir, you have to separate the skin of the grapes, from the juice.
After the first fermentation we make the cuvee. We sit with my family and taste, and discuss which kind of chardonnay goes inside with some percentage of Pinot Noir.
For example, we talked about the Revi Brut and 80% of Chardonnay, and 20% Pinot Noir. So [a blend of] Chardonnay 1-2, and 7 with 20% of Pinot Noir or a [blend of a] couple of Pinot Noirs, it depends on the vintage of the year.
After that, we put inside the Liqueur de tirage, so yeast and sugar, like [if you] make bread. You put all inside a bottle and you cork. So, the yeast starts eating the sugar and give us the bubbles.
That activity let's the yeast work.
One important thing for Trentodoc it it's made with only grapes of the Trento area: Chardonnay, Pinot Noir, Pinot Meunier and Pinot Blanc.
First of all, we use Chardonnay and Pinot Noir. In Revi we use only Chardonnay and Pinot Noir.
To be Trentodoc, it has to stay on the lees, for a minimum 15 months. To be Vintage Trentodoc, it has to stay for two years, 24 months. We have two years on the grapes of just one harvest.
For example, the 2018, to be Reserva Trentodoc has to stay minimum three years on lees, so 36 months with just one harvest.
After that, we have the bubbles inside the bottle, also the yeast. So we have to make the. [Years ago] we made it all by hand, today is automatic. It's useful to clean up the wine from the yeast to have at the end of this activity a brilliant sparkling wine. Then we have the disgorgement. The isgorgement is made with glass, so we freeze that part of the yeast.
And with the pressure between six and seven bar with the disgorge. So we open the bottle, the pressure pulls out that cork freeze of yeast, and we have a very brilliant, sparkling wine.
If we don't add [anything] because, sparkling wine is special wine, because we can add sugar, and with the sugar, we can define the type of Trentodoc sparkling wines who had, for example, de Natura, de Dossagio Ferro, after we have the extra Brut Brut, and go on with more sugar wine.
We can add something to create a very secret recipe of each winery. At the end, a couple of month minimum to recalibrate the sparkling wine, with this liquor disposition. We have the magic done. From some grapes to a glass full of emotional, nice moments and full of bubbles.
Outstanding. The magic and the science involved,.
Our payoff is when magic and technique meet, because that is sparkling wine.
As we wrap up, where can we find Revi, browse and shop?
I wanna ask your audience to be our ambassador. You have to go and ask [restaurants and shops] about Revi. When you find Revi, you have to try Revi.
When you don't find Revi, you have to ask for it.