Club Glow Presents: Steve Aoki 4th of July Weekend Party
Echostage brings the festival experience indoors year-round, allowing fans to enjoy full-scale music production. Currently ranked #1 Nightclub in the World by DJ Mag.
ADDRESS: 2135 QUEENS CHAPEL RD. NE WASHINGTON, DC 20018
E-MAIL: INFO@ECHOSTAGE.COM
Steve Aoki 4th of July Weekend Party
Steven Aoki has collaborated with artists such as will.i.am, Afrojack, LMFAO, Linkin Park, Iggy Azalea, Lil Jon, blink-182, Taking Back Sunday, Laidback Luke, BTS, Monsta X, Louis Tomlinson, Backstreet Boys, Rise Against, Vini Vici, Lauren Jauregui, and Fall Out Boy and is known for his remixes of artists such as Kid Cudi.
Aoki has released several Billboard-charting studio albums as well, notably Wonderland, which was nominated for Grammy Award for Best Dance/Electronica Album in 2013.
He is the founder of the Steve Aoki Charitable Fund, which raises money for global humanitarian relief organizations.
In 2019, Aoki published a memoir, Blue: The Color of Noise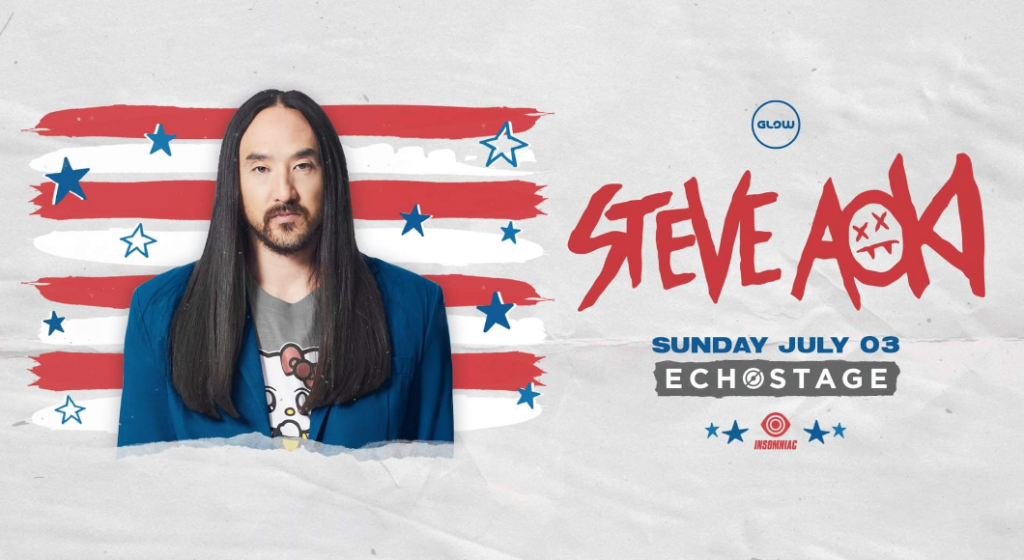 You Might also like
Steve Lutz of Oregon Wine's Lenne' Estate sells his iconic vineyard as he eyes: what's next in wine career.

Steve Lutz, vigneron and founder sells his iconic estate after 22 years
Peavine soils certified worst in Yamhill County, proved to yield distinctive Pinot Noirs
Lutz is said to be setting up next phase of his idiosyncratic wine career
Purchasers Jory, LLC will release next stage brand name and concept for the estate

Lutz's wine career spans 4 decades and includes hospitality management for part of the Mondavi Wines Group in Napa Valley among other Napa brands and heading up hospitality at Chateau Benoit (now Anne Amie) in Carlton, Oregon culminating in the discovery of his unique 20.9 acre estate vineyard.

Lenné is French influenced wordplay of Lenny, Steve's father-in-law

The brand name Lenné' was derived as a French influenced wordplay of Lenny, Steve's father-in-law who reportedly was a chicken farmer in a suburb of London.

Having achieved cult wine status for over 20 years

Lenné' produces only estate wines, with annual production ranging from 1,600 – 2,000 cases, most of which is allocated to local wine club and out of state wine enthusiasts. Having achieved what is essentially cult status over 20 years as a craft producer

Lutz quips:

"…Most people think that wine is a lifestyle business,

it most assuredly isn't, although, of course,

we do enjoy some perks!"

When queried about what's next, Steve offers "Lenné's unique programs and experiences will exist in new formats for years to come, although you'll have to get on our mailing and membership lists to take advantage of what's coming up next."

you'll have to get on […]

mailing and membership

lists to take advantage of what's coming up next

The Lenne' tasting room closes at the end of 2022.

Jory, LLC had been searching for a bespoke Pinot producing site and were delighted when approached by Steve.

Jory intend to further develop the existing property with a new brand name, marketing concepts, and larger facilities. Co-owner Eugene Labunsky has admitted to being thrilled to finally acquire a property he has had his eye on for years.

Lenné' Estate

Lenne' Estate grows death-defying Pinot Noir vineyards on steep slopes in the Yamhill-Carlton AVA. Steve Lutz planted his first vines in 2001, expanding the vineyard property to 20.9 acres. The estate is planted with five clones of Pinot Noir (Pommard, 777, 115, 114, and 667), and most recently Chardonnay.

Jory, LLC

Jory, LLC is a partnership between grower and wine enthusiast Eugene Labunsky and Jared Etzel, winemaker and co-founder of Domaine Roy, and son of Mike Etzel of Beaux Frere fame. The partnership was formed with the intent to grow a portfolio of fine wine brands produced from singular estates of Willamette Valley Pinot Noir and Chardonnay.

Additional information will be released in the upcoming months.

DC concert-lovers: Bonnaroo announces 2023 lineup with Kendrick Lamar, Foo Fighters, Odesza, Paramore.

Bonnaroo Music & Arts Festival has shared the lineup for this year's edition of the internationally acclaimed camping festival, taking place June 15-18, 2023 on the Bonnaroo Farm, located just 60 miles southeast of Nashville in Manchester, TN.

Bonnaroo 2023 will once again present a wide-ranging bill featuring a spectacular selection of top artists performing around the clock across more than 10 unique stages over the four-day festival, with live music and much more through the night and into early morning with special sunrise sets.

Highlights will include performances from:

Kendrick Lamar, Foo Fighters, Odesza, Paramore, Lil Nas X, Baby Keem, Tyler Childers, Vulfpeck, Marcus Mumford, My Morning Jacket, GRiZ, Rainbow Kitten Surprise, Portugal. The Man, Korn, Louis the Child, Zeds Dead, Alesso, Subtronics, Three 6 Mafia, J.I.D., The Revivalists, Pixies, Girl In Red, Fleet Foxes, and more.

The legendary Bonnaroo Superjam will take place on Saturday, June 17, with more details to come.

The complete Bonnaroo 2023 lineup is below.

Early Access On Sale beginning Thursday, January 12 at 10 am (CT), exclusively via www.bonnaroo.com/tickets; sign-ups are available now.

A public On-Sale will follow if tickets remain.

Options include General Admission (4-Day), GA+ (4-Day), VIP (4-Day), Platinum (4-Day), along with a limited range of 1-Day tickets (including General Admission, GA+, VIP, and Platinum), General Admission Camping & Parking, premium and pre-pitched glamping options, and more.

Bonnaroo's General Admission tickets include over 150 performances on more than 10 stages, access to the entire campground, food for purchase from over 150 vendors (including vegan, vegetarian, and gluten-free options), bars, concessions, free water stations, and more amenities throughout the park and campground.

GA+ tickets include all of the above along with unlimited access to the "Centeroo GA+ Lounge," with relaxed seating, air-conditioned restrooms, and concierge to assist with all festival needs; a full-service bar, a dedicated premium entrance lane at both gates into Centeroo, and more.

VIP and Platinum guests will enjoy a further number of exclusive upgrades, including dedicated close-in and on-field viewing areas; unlimited access to VIP and Platinum Lounges; express lanes at the Festival Store, commemorative festival gifts, and so much more. To learn more about GA+, VIP and Platinum, please see www.bonnaroo.com/premium-experiences.

A wide range of Camping & Parking options will be available, including Primitive Car Camping, Glamping, RVs, Backstage Camping, Accessible Camping, Groop Camping, Community Camping, and more. Premium Outeroo Camping Accommodations include pre-pitched Souvenir Tents, cool and comfortable Darkroom Tents, weatherproof Luxury Bell Tents, and spacious 2-person Wood Frame Safari Tents for the ultimate Bonnaroo camping experience. Premium "Power RV" slips are also available. Day Parking will be available for ticketholders not camping. For details, please visitwww.bonnaroo.com/accommodations.

Hulu will return as the Official Streaming Destination of Bonnaroo this summer. Catch select performances exclusive to Hulu subscribers at no additional cost. Additional special footage and behind-the-scenes looks will also be available. Stay tuned for specific livestream schedules announced in the weeks prior to the festival.

Bonnaroo Music & Arts Festival is generously supported by Verizon, Toyota, PayPal, Allegiant, Corona Extra, and Hulu.

# # #

THE COMPLETE BONNAROO 2023 LINEUP IS BELOW:

THURSDAY, JUNE 15

Zeds Dead

Liquid Stranger

070 Shake

Abraham Alexander

Big Freedia

Briscoe

Celisse

Cimafunk

CVC

Daily Bread

Dehd

Diarrhea Planet

Elephant Heart

Ezra Furman

JP Saxe

Mersiv

Molly Tuttle & Golden Highway

Neighbor

Petey

Suki Waterhouse

FRIDAY, JUNE 16

Kendrick Lamar

Baby Keem

Vulfpeck

GRiZ

Portugal. The Man

Noah Kahan

Subtronics

Three 6 Mafia

Fleet Foxes

AFI

Sylvan Esso

Rina Sawayama

Charley Crockett

Morgan Wade

Alex G

MUNA

Diesel

Destroy Lonely

The Midnight

Knocked Loose

Matt Maeson

Peekaboo

black midi

Apashe

Emo Nite

Christone "Kingfish" Ingram

Madison Cunningham

Sampa the Great

Boogie T b2b Dirt Monkey b2b SubDocta

Maddy O'Neal

Jupiter and Okwess

NotLö

SATURDAY, JUNE 17

Odesza

Lil Nas X

Tyler Childers

My Morning Jacket

Louis the Child

Korn

Rainbow Kitten Surprise

JID

Sheryl Crow

STS9

Sofi Tukker

Big Wild

The Band Camino

Jenny Lewis

Yung Gravy

Remi Wolf

Bob Moses

Cory Wong

Ken Carson

Elderbrook

Andrew McMahon in the Wilderness

Colony House

Walker & Royce

Devon Gilfillian

The Beths

Danielle Ponder

Giolì & Assia

Thee Sacred Souls

Night Tales

SuperJam

SUNDAY, JUNE 18

Foo Fighters

Paramore

Marcus Mumford

The Revivalists

Alesso

Pixies

girl in red

Umphrey's McGee

Rebelution

Jacob Collier

Hippo Campus

Jauz

Peach Pit

Franz Ferdinand

Men I Trust

MK

Drew Holcomb & The Neighbors

Amber Mark

Wax Motif

Kip Moore

Makaya McCraven

Sammy Rae & The Friends

Hermanos Gutiérrez

Paris Jackson

Rome In Silver

Perfect for DC: Valentine's Day wine chosen by Sommelier Jaime Smith

It's that time of the year again and Valentine's Day is right around the corner.  

How should should you celebrate this holiday with your partner? 

There is always a ton of pushback on these kinds of consumer targeted holidays, a new gripe is thrown in every year but why not just embrace it? The news cycles are dire, the world is changing so quickly, why not just grab ahold of this silly tradition and go with it, have fun, the other 75% of the world is.

Let loose, grab a bottle and relax. 

While we are at it, why not visit some of the country's most dynamic wine spots and the fab people who run them and let them help you choose that bottle of wine this year?

Not only are these wine stores and bars dynamic but their philosophies of inclusion & acceptance should be something we all should be aligning with ourselves.

We all struggle sometimes to find that perfect bottle for ourselves, these pros can guide you to your sweet spot.

Cheerful, friendly and quite bad ass, these stores are female/minority/handi-capable run and offer terrific selections from well-priced bottles of sparkling/still or dessert wine along with some distilled choices and the non-alcoholic too.

Valentine's Day Wine in New York City

NYC- big city of dreams and a place where everything is possible. 

Yannick Benjamin and his wife Heidi Turzyn have recently opened Beaupierre in Hells Kitchen.

The store is a "…barrier-free wine store that supports social sustainability to enrich the quality of life for people living with disabilities as well as members of the BIPOC, LGBTQIA, and other marginalized communities…

…an 'open-door' establishment

where everyone, regardless of race, gender, sexuality, or disabilities,

is always welcome." 

Not only are they the most inspirational couple you will ever meet but they will help you pick that special bottle for Valentine's Day. 

If you are ever in Harlem, you should most definitely visit their restaurant Contento (it practices the same philosophies as the store).

A fave bottle these days: 2020 Maison Chantereves, Aligote, Les Chagniots, Bourgogne, France

Visit Beaupierre in Hells Kitchen

Visit their restaurant Contento

Valentine's Day Wine in Las Vegas

Las Vegas- the city of lights and luck

Las Vegas is a terrific wine city and 2 places to visit for expert advice are Ada's Wine bar and Lamaii. 

First up Ada's, run by the utterly fantastic human Ms. Kat Thomas and her infectious positivity. Ada's has a global selection of well curated and socially conscious selections.

 

A fave bottle of sweets for the sweetie:

2018 Sauternes, Château Gilette 'Les Justices', Bordeaux, France

Next up in the neon city is a Thai sommelier/chef named Bank Atcharawan and his growing empire of hot wine centric spots.

Lamaii has some of the best Thai food in the US (he is part of the Lotus of Siam alums, the wine brain behind them) and his wife Pimmie are the consummate hosts, go chat about Burgundy and Germany!

A fave V-day bottle of bubbles:

MV Rolland Champion, Champagne 

Shop Lamaii here

Valentine's Day Wine in Washington DC

Washington DC- The nations capital is a hot bed for natural wines and inclusivity. 

Two spots to not miss are Domestique Wine Shop and Vitis Wines.

Domestique is hands down the best natural wine shop in the country and Eric Moorer is part of the reason, an encyclopedia of all things natty and a proponent for the culture.

Fave natty selection:

2019 Domaine Dupasquier, Mondeuse, Savoie, France 

Shop Domestique Wine Shop

Vitis Wine Bar is located in Union market and run by one of its owners, Vanessa Phillips, a Kansas transplant and she-boss. The store has female & BIPOC centric choices with a great value all tightly wrapped in a small footprint. 

Fave store pic:

2019 Beaujolais Villages, Jean Foillard

Visit and shop Vitis Wine Bar

Valentine's Day Wine in Charleston, SC

Charleston, SC- The gem of a city along the Atlantic coast

A simply amazing wine store called Graft and run by one of the owners Mr. Femi Oyediran. Femi is a well renowned Sommelier and probably one of the most affable folks in the wine biz. The store is a treasure trove of wines, from nerdy to classic.

Fave domestic red:

2021 Trousseau, Phelan Farms, Cambria, CA (a Rajat Parr production)

Visit and shop at Graft

About Sommelier Jaime Smith

a drone in the Sommelier Brain Collective.  Jaime Smith loves wine. He's currently in DC causing havoc.