DC gets Flavor: Chilli No. 5 Unveils Hunted Alba White Truffles for Limited Time
Chilli No. 5 launches a new batch of 50 bottles of magnificent White Truffle Hot Sauce to compete with Truff, the industry leader and USA truffle sauce master.
The only difference is Chilli No. 5 ses real white truffles from Alba in the Piemont and has won the Great Taste Award in 23.
Priced at £25/30€/$ per 100ml, it solidifies its position as one of the priciest and fanciest hot sauces in the global market.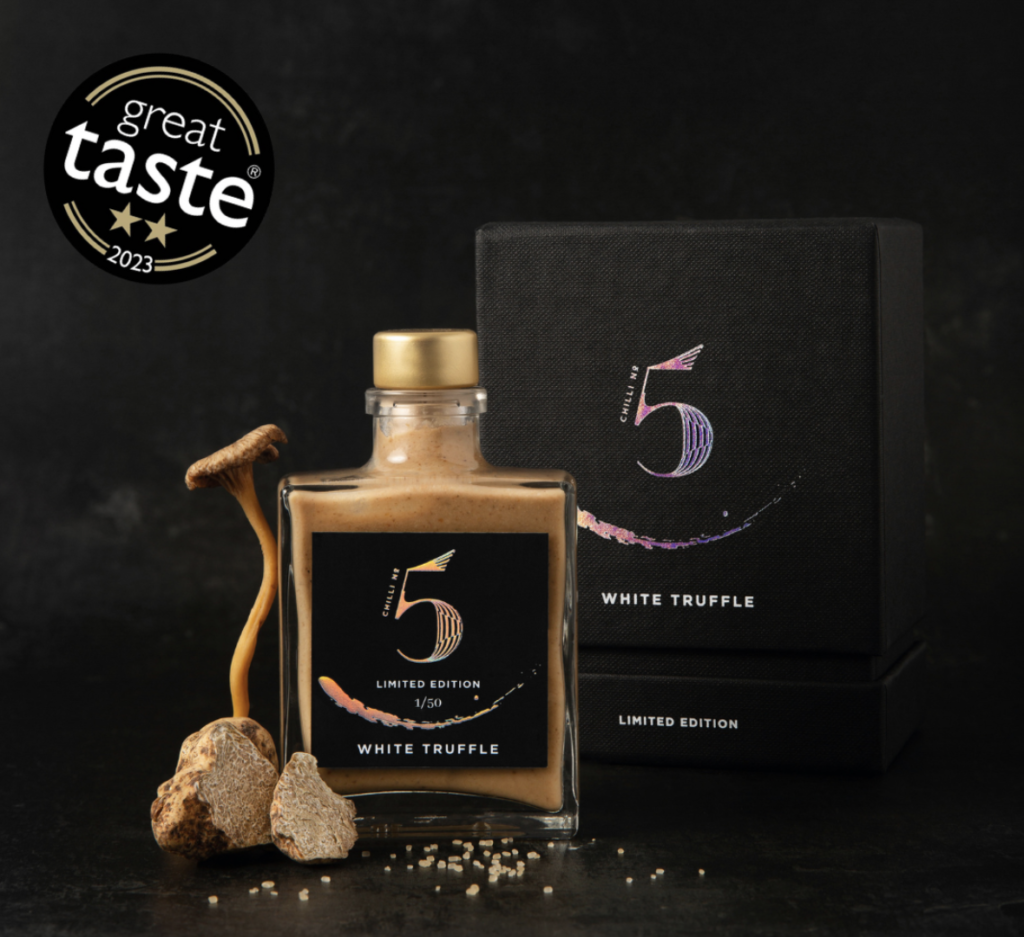 Every October, Chilli No. 5 founder Rumble Romagnoli visits Alba in Northern Italy to hunt and handpick white and black truffles that are used to make a yearly batch of the Chilli No. 5 White Truffle Hot sauce.
The team has a dedicated Truffle Hunter – Renzo, and Lagotto Romagnolo truffle dog – Charlie to find the best truffles in the world. They also benefit from access to the truffle forest that has belonged to Renzo's family for generations.
"Truffles are like diamonds. They cannot be made.

You have to find them.

Rumble Romagnoli

founder
"…Each one is unique. Close your eyes and bring the forest to life with this uber-umami white truffle sauce unmatched so far in the industry." – Rumble Romagnoli founder says.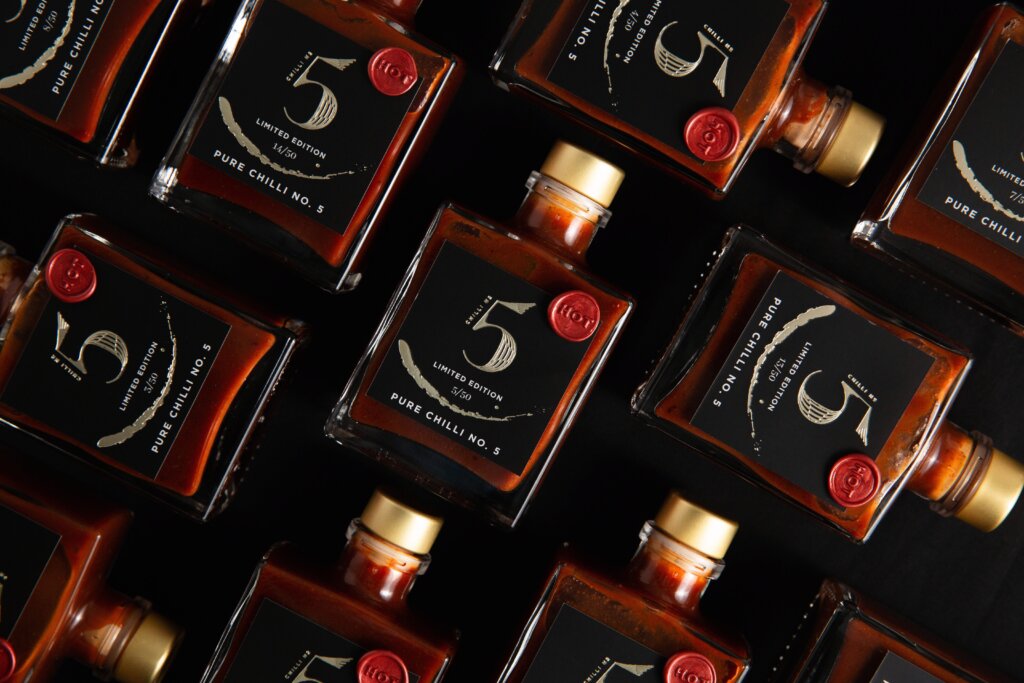 Romagnoli adds "You can understand that no expense was spared in sourcing the finest white truffles, carefully handpicked to ensure their unparalleled quality and aroma. Blended with a mix of fresh mushrooms such as Porcini, Ceps, Chantrelles, Girolles, and Morilles, this creation is a true culinary gem."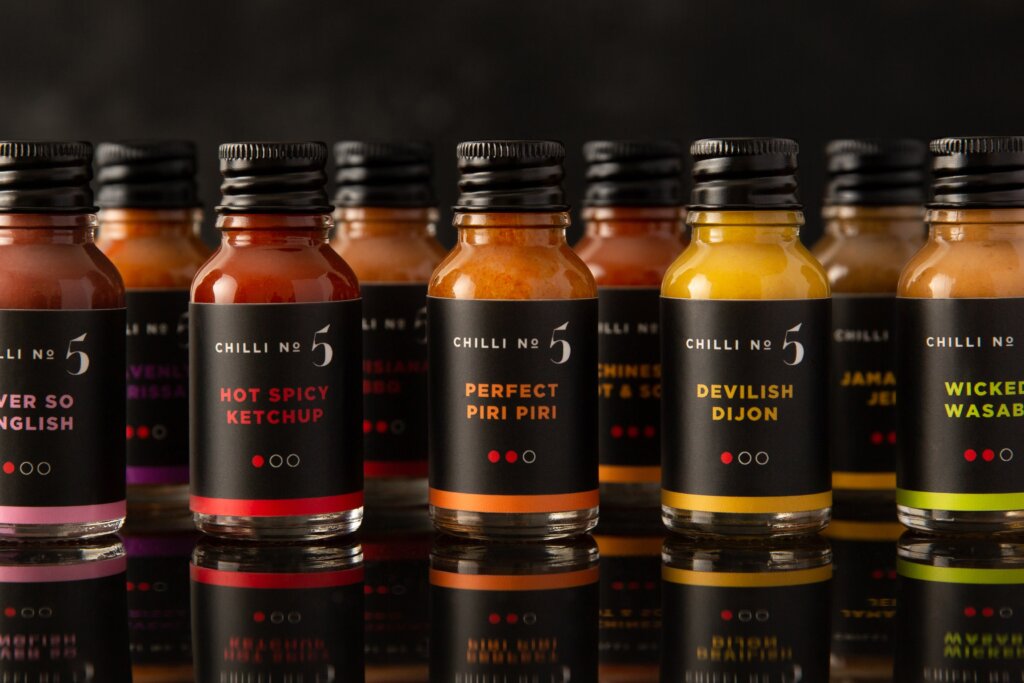 According to the Great Taste Award Judges "It becomes clear very quickly that this sauce has been made with real skill. The truffle is very much present but tamed at all times. The additional mushrooms combine for a really characterful sauce that offers umami in spades but has some acidity, tang and sweetness too. On top of all this artistry, there's the late and subtle arrival of chilli heat to round it all off. This is a very complex sauce, but very accessible too."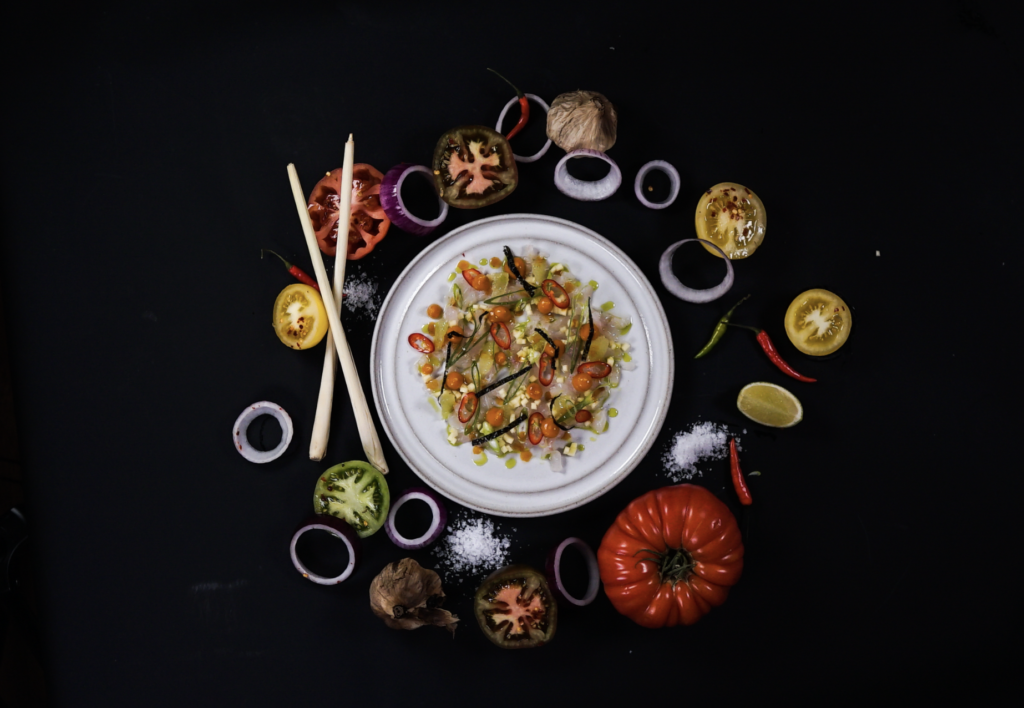 This unique White Truffle Hot Sauce will be a versatile addition to kitchens, grills, and BBQs all over the world used not only as a condiment, but also as marinade, and a BBQ sauce. Traditionally, truffle is used on plain pasta, risotto, or grilled meats to enhance the complexity of this unique flavour. The intoxicating aroma and robust, earthy flavour of white truffles create a truly sensory experience that will transport you to a world of culinary luxury.
Chilli No. 5's White Truffle Sauce is a limited-edition offering, available for a limited time as only 50 bottles are produced each season. This new batch left the Chilli No. 5 kitchens today, so don't miss the opportunity to add this rare delight to your upcoming culinary repertoire.
Chilli No. 5's White Truffle Sauce is the perfect choice for discerning home cooks, food enthusiasts, and those seeking to impress guests with a touch of decadence. Whether you're celebrating a special occasion, hosting an intimate dinner party, or simply indulging in a gourmet home-cooked meal, this sauce will leave a lasting impression.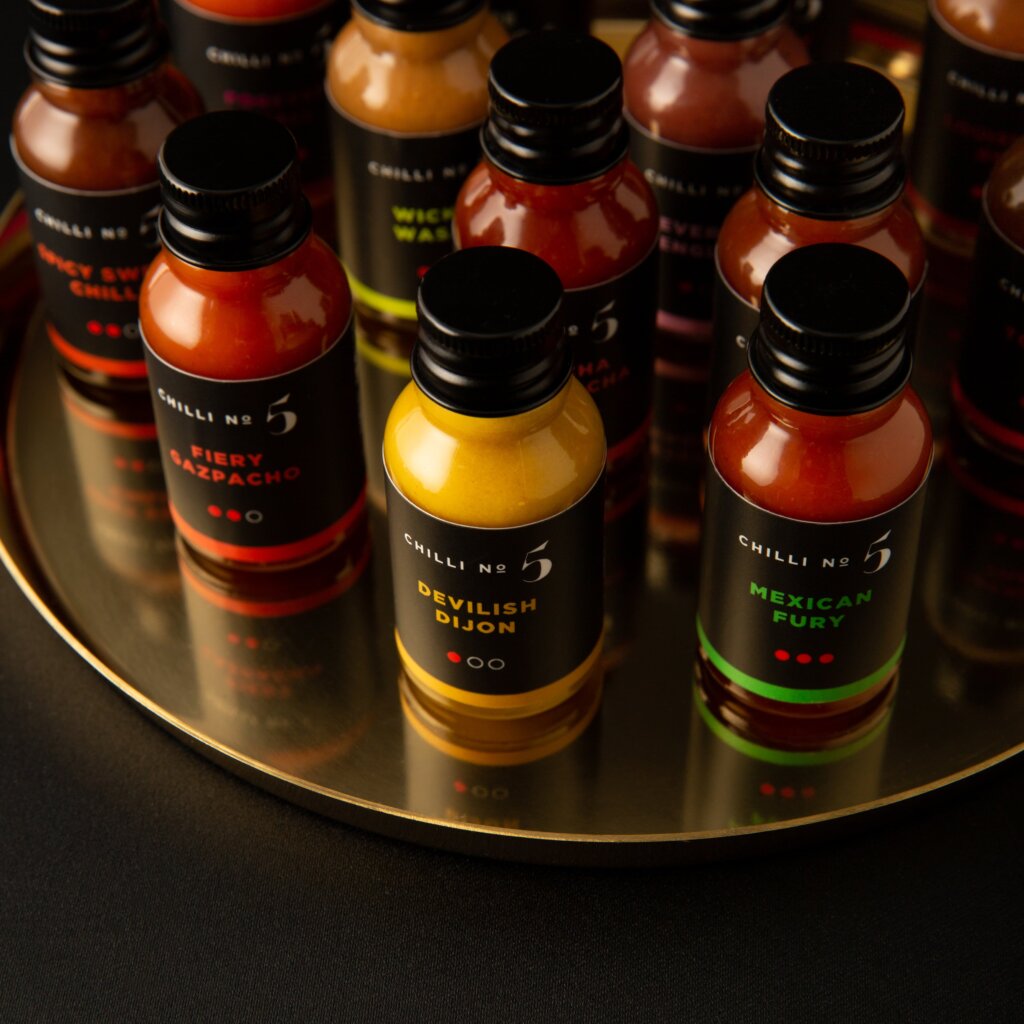 This limited-edition White Truffle Hot sauce goes with everything and is perfect for a chilli sauce gift in its designer sustainable packaging.
To explore the rich flavors of Chilli No. 5's White Truffle Sauce and elevate your culinary creations, visit Chilli No. 5's Website.
You Might also like
The Future of Coffee has More Flavor, reveals Maurice Contreras at Volcanica Coffee

Just about everyone has their coffee preferences.  But the truth is, most of us aren't enjoying coffee the best it can be and we don't even know it.  The beans, the grinding, the flavor (or lack thereof).

And before you ask, nope, good coffee doesn't need to be expensive.  Actually most great coffee is more affordable than the bad stuff you're currently drinking.  True story.

But I wanted to get answers and advice from a coffee expert, so I had a conversation with Maurice Contreras from Volcanica Coffee.

Native Costa Rican Maurice Contreras started Volcanica Coffee to import excellent-tasting coffee from volcanic regions, such as his homeland, to consumers. He started the company in his garage and now operates a coffee plant near Atlanta with 20 employees, including his wife and two adult children.

What is your favorite thing about coffee?

My favorite thing I like about coffee is really the flavor. That actually was how I got started. I'm from Costa Rica and for a long time I would do annual trips with the family. It was a family vacation. One of our trips we did a coffee farm tour. And just got to learn about coffee. And this is back in 2004. One of the things that dawned on me is how coffee in Costa Rica was so much better than coffee in the United States. I just didn't understand why a 3rd world country had better coffee. The quality of coffee in the United States has really come down over several decades. So that's when I thought that there was an opportunity to bring better tasting coffee or specialty coffee as it's known today to the United States. That was really how it got started. It really was more about the flavor and just enjoying the richness of a Costa Rican coffee.

Is there a simple reason why first world coffee just isn't as good?

Yeah, the general sense was because it became more of a highly produced, big production, big coffee house; and I'll tell you a quick story. A lot of people don't know this, the word Maxwell House, it actually is a chain of hotels. Some of them are still in existence. And so Maxwell House started from the Maxwell House Hotel in Memphis, Tennessee. They served breakfast and they had really good coffee and it became really popular. It became very famous, and then eventually it became its own brand Maxwell House, and then it ended up getting acquired by corporate conglomerates. And that really good tasting coffee just turned into [not-great] coffee.

So that's really what happened to coffee in the United States. At one time, back in the 1920s, 1930s, 1940s, people would really appreciate good coffee and then just kind of lost sight of what good coffee was.

From a coffee lover's point of view, what would you say to convince them to give your coffee a try?

That coffee really is an enjoyable drink to be appreciated and enjoyed for the flavor of what it is. It's not just something to wake you up. But really coffee and all the different varieties, there's a lot of flavor notes, a lot of different flavors to be enjoyed. A lot of it depends upon the different regions. My recommendation is try it out and get some good coffee with some flavor notes that you enjoy. Like, for example, Ethiopian coffees, they have a lot of berry notes, a lot of fruit tones, even red wine notes. Some of those things can really open up people's perspective on coffee.

Before we jump more into coffee, I wanted to ask you about your background as far as the work you did before Volcanica Coffee

My career was in marketing specifically I was in the wireless telephone industry. It really was just about creating a brand. I was part of the startup team at TracFone Wireless which is now a part of Verizon. I was the National Director, I created the brand. In fact, there's still a lot of things in the brand that I created. I had a passion for marketing.

It was kinda like, "Hey, gee whiz, what if I created my own brand and just created a business?"

And so I actually was on a hunt for a couple of years thinking what would be a good business? And then I just kind of stumbled on coffee because it was staring me in the face.

There's such a message in there. The success you're currently riding is because you took industry knowledge of marketing, a personal passion for coffee, and took the risk of putting them together in a business start-up.

Yep, that's true. It was a risk because I was making a good living, I had a young family, I didn't wanna affect any of that. It was something part-time, working nights and weekends, that's how it all started out. I

How did your family feel about that?  Was there anxiety?

It was definitely a struggle and I loved spending time with them and being with them. But part of how I resolved that was I would just wake up early in the morning and spend 1-2 hours before I had to go to work doing this. I didn't want to neglect my family and I didn't.

There's so many people out there who aspire to take those steps and they always find reasons not to, but you found a way.  When people are drinking your coffee, they're not just drinking delicious coffee, they're supporting someone who took a huge chance, who followed his passions.

So segueing to the actual coffee part now.

Your website mentions coffee regions and how the region's soil contributes to the taste.  A lot of our audience who's into food and wine will realize the terroir aspect is very familiar to that.

Can you pick two or three regions and explain their soil and how it contributes to the taste?

I'll start with African coffees. Their soil is very unique. Coffees from Africa tend to have a lot of berry notes, a lot more flavor of fruit which is very unique and very different compared to coffees from Indonesia.

Indonesian coffees tend to be lower in acidity. Acidity provides flavor but they're still very good tasting coffees, even though they're lower in acidity.  

Also the coffee in Indonesia, Sumatra, for example, Papua New Guinea, and even Hawaiian Kona coffees, those tend to have a lot of boldness. When you taste the cup, your mouth just tends to [recognize] that bold flavor, which you don't get in African coffees. So those are a couple examples.

So really it is like old world wine versus new world wine. A noticeable difference in mouth feel depending on what region you're going after.

When people ask, Hey, what kind of coffee should I buy? I always ask, what kind of flavors do you like? Start there. Then for people that are experimenting, try different coffees from different regions.

You mentioned that you're from Costa Rica.  So tell us more about the Costa Rican volcanic regions.

It's the most popular coffee growing region in Costa Rica, the Tarrazu area, which is very mountainous, goes up to 5,000 feet above sea level south of San Jose. Very steep. 

The coffee beans, because of the volcanic soil, have a lot of flavor. It's a very mild flavor, but very flavorful as well. And because of the elevations, the beans are also very dense. They're a harder bean. In fact, there's a designation strictly hard bean that is used in the industry because of that. 

Being from Costa Rica I came here [to the U.S.] when I was a baby.  My mom would tell stories about how she would assist with her father, which is my grandfather, in the harvest. Because my grandfather was a teacher, he would work out in the rural areas of Costa Rica where the coffee bean farmers worked. They would assist during harvest time with picking coffee beans off the tree. There was the connection going back a couple generations in our family.

There has been a coffee influence throughout generations of your family.

Yes. For decades, maybe even a century, coffee was the number one product for Costa Rica. Today it's tourism.

I'm glad you brought up tourism. We cover a lot of travel. If somebody wanted to visit Costa Rica, maybe even a specific coffee lover, is there a place you can recommend to come visit?

One of the farms that we work with actually has an Airbnb right on their plantation. We've had several customers that have made trips there and have gone and stayed at the house. It's gorgeous.

More people are working from home and making coffee at home. A lot of us making coffee wrong. Can you just walk us through step by step the best way to grind and brew your coffee?

The single largest improvement in the freshness of your coffee is by grinding your beans at home.  A lot of people don't know this: buying ground coffee, because it's in smaller particles, tends to deteriorate very quickly. So you're not enjoying the best of what coffee can be. 

So first of all, grind at home and it's the type of grinder.

We recommend a burr grinder. The other type of grinder is a blade grinder, which is a cheap type grinder, which does not do as well as a burr grinder. 

Second thing is you wanna match your grind type to how you're brewing. So there's different levels, how fine or how course you want the coffee.  If you're doing a French press, you want to have a coarse grind.  The opposite spectrum is an espresso grind. It's almost like very fine sand. So if you had coarse coffee and an espresso maker, you'd have a bad cup of coffee. And the opposite too.  If you had a French press where you're using espresso ground coffee, you would not have a good tasting coffee. A lot of it has to do with the extraction and this is the chemistry behind coffee.

Then in the middle of that would be like a traditional drip grind, which most people have which is a medium coarseness of a grind type. That works best to pour over or a drip grind.

Once you buy the equipment, you're saving quite a bit of money by doing this all at home. More value and quality out of doing it at home?

Oh yeah. A cup of coffee outside can cost $3-6. At home, 50 cents per cup. Plus you're controlling the flavor, how hot it is and how fresh it is.

How many cups do you think the average coffee person drinks per day?

The average is between one to two cups per day. Wall Street Journal says 66% of Americans have had coffee within the last day.

So with volcanic, you've mentioned low acid. Tell us more.

Low acid coffee is actually a natural occurrence. There's no additives that need to be added, at least we don't add anything to our coffee. It's just how it's sourced. How it's brewed also affects acidity. 

So for example, the cold brew method tends to lower the acidity of coffee. Even more than if you brewed it traditionally in a drip grinder. It benefits people who suffer from acid reflux; and different types of indigestion abnormalities can benefit from low acidic coffee just because the pH is a higher number. 

We have a lot of customers thanking us because they could not drink coffee before they heard about our low acid coffee, so now they can drink coffee again. 

We have a blend of different coffees called the low acid coffee, plus 12 or 15 other coffees that are also rated as low acid. We rated them, we've done the pH levels on all of them, and all of them fall into that category of being lower in acidity.

Volcanica has built up a really strong community on your social media avenues.  What have the results been like?

We're on all the major socials: Instagram, Facebook, Twitter, TikTok. It's very easy to find us.  We take customer feedback really seriously. We're always looking for input and ideas. 

We'll get a request [to] carry a type of coffee or coffee from a region and we'll always look into it. 

We offer 100% customer satisfaction. We take returns, even when the customer just didn't like a coffee, which is no fault of ours.

When someone does suggest a new bean, a new region, is that an easy outreach to investigate, or is that a whole process?

It is a whole process.

What's a great online shopping strategy for finding the right coffee beans?

Align yourself with a brand that has a quality product. Look at customer reviews, their roasting technique.   Then it's a matter of what type of coffee do you like? What flavor notes? Something mild? Berry notes? Lower in acidity?

So I go onto your website to buy some beans.  What's a safe way to pick a bean that I'll probably enjoy?

We carry over 150 different coffees, which is a lot. Visiting our website you have to know your preferences. Having some [filtering/search ] tools out there would be beneficial to people helping the selection process, that's actually on our roadmap for the future.

Part of the reason why we have 150 coffees is because we've been listening to our customers over the years.

Tell us something about Volcanico Coffee that not everyone knows.

We love to give back. We've been blessed, we've been very successful, so we donate 1% of our website sales to an organization called Charity Water. They build water projects in impoverished communities around the world. This year we're actually sponsoring a well in Ethiopia for a particular town. We know that we buy a lot of coffee from Ethiopia and we'd love to give back to them.

What is the future of coffee?

The future of coffee is specially curated lots. We call them our "Private Collection". Farmers that are actually fermenting their coffee with mango, peach, different types of fruits. We have a few of them right now. We're hoping to be carrying more in the near future.

Our audience is listening right now. What would you like them to do?

If you're interested in finding out more about coffee and experiencing coffee, start exploring. We offer a great cup of coffee. Great different flavors and varieties. We even offer decafs, flavored coffees, something for everybody.

Website: https://volcanicacoffee.com

Facebook: https://www.facebook.com/gourmet.coffee.beans

Twitter: https://twitter.com/VolcanicaCoffee

Instagram: https://www.instagram.com/volcanicacoffee 

Ilan Bluestone & Andrew Rayel + More June 25 at Echo Stage

The trance lineup of your dreams.

Dreamstate presents: Ilan Bluestone and Andrew Rayel

Dreamstate presents: Ilan Bluestone and Andrew Rayel with Jerro, Jerome Isma-Ae, Maor Levi, & Adam Stark at Echostage on Saturday, June 25th!

Ilan Bluestone

Since bursting onto Anjunabeats with his debut solo release back in 2012, London-based producer ilan Bluestone's whirlwind journey through the international dance music scene has been nothing short of monumental. With a string of recent hits such as 'Will We Remain?', 'Let Me Know' and 'I Believe' under his belt, he now has an impressive array of career live performances at prestigious venues including London's Wembley Arena, the Bill Graham Civic Auditorium in San Francisco, EDC Las Vegas and New York's Madison Square Garden to boot.

In the past year, ilan released his highly anticipated debut studio album Scars, with subsequent world tour, and performed at some of the biggest festivals worldwide including Tomorrowland, Ultra Europe and EDC Las Vegas with his performance at ABGT300 in Hong Kong with Above & Beyond still to come. His productions continue to be a staple in Above & Beyond's DJ sets, and gain frequent support from other international DJ's including Armin van Buuren, Axwell and Seven Lions.

At the core of ilan's meteoric rise is his fanbase – a loyal and dedicated army of growing followers – who continue to flood to his shows to catch a glimpse of ilan's explosive, uplifting sets. His fans have had much to savour this year with the release of Scars, and ilan shows no sign of letting up with a host of new material coming out of Bluestone Studios. He will also continue his heavy touring schedule for the remainder of the year with performances at Electric Zoo, Transmission Prague, and London's Brixton Electric.

ilan continues to impress both fans and new listeners all over the world with his distinct blend of bass-driven grooves and uplifting synths. With countless Beatport chart-toppers in his already impressive catalogue, ilan looks forward to making an indelible mark in dance music history.

Andrew Rayel

He's the modern-day Mozart — today's leading talent in the ever-growing electronic dance music scene.

He's the pride of Moldova, known for his unique and very own sound. He is Andrei Rata, better known as Andrew Rayel.

Born on July 21st, 1992, his young age never stopped him from taking the lead amongst the next generation of EDM producers. Developing strong musical skills, he studied orchestral music and kicked off his producing career at only 13 years of age. It didn't take long for the passionate music lover to translate his ideas into sounds. He created a truly unique sonic signature – one of piano power, harmonic balance, and euphoric tales. And so, years later, his originals and remixes are praised by many and loved by more. But, rest assured, the Andrew Rayel story has only just begun.

"Trance was the perfect solution, as it is a combination of melody, harmony and energy, elements that I prefer the most", says Andrew Rayel. Having Armin van Buuren supporting his tracks on the world famous A State of Trance radio show had always been a dream of Andrew. And sometimes, dreams come true. His tracks '550 Senta', 'How Do I Know' ft. Jano, 'Aeon Of Revenge', 'Once In A Lifetime Love', ' My Reflections', 'Horizon', 'I'll be there' , 'Dark Warrior' , 'One In A Million' and much more all made it to the show, often voted Tune of the Week and Future Favourite. The trance scene embraced Andrew's refreshing sound, giving him a very warm welcome.

Oryx Desert salt brings Taste, Health and Social Good to Your Gourmet Experience

Oryx Desert Salt Taste

In the crowded world of salts and condiments,  Oryx Desert Salt is working hard to separate itself from the crowd and more and more people are noticing.

Come have a taste and a closer look….

Oryx Desert Salt has a heightened taste, even when compared to other gourmet options.  Subtle, yet bold.  It adds a zest to the bite while being gentle on your palate.  A finishing salt who's magic is pulling out an extra bit of dimension from most dishes.

I tried it on poultry, rib eye and salmon.  Bringing out the juice and flavor.  Each time the taste was noticeably enhanced.  

With its distinctive flavor profile using less salt will achieve that enhanced flavor and Oryx is still going, creating more exclusive flavored salts for exciting new taste experiences

So far I've only sampled their white salt, but judging by that experience, I'd LOOOVE to try their variety.

"Salt is the smallest ingredient in any meal yet it has the biggest impact"

Oryx Desert Salt's Flavors

SMOKED SALT –  cold smoked over French Oak shavings

WINE SALT – soaked in Shiraz red wine and sundried

BRAAI/ BBQ SALT – free from additives, flavourants, preservatives, wheat or gluten fillers.

Oryx Desert Salt's Health Benefits

Oryx Desert Salt has all the essential minerals and trace elements that exist naturally in salt, including magnesium, zinc and potassium.  

It's 100% pure, crystal-white, natural desert salt.   Sun-dried, unrefined, no additives, no anti-clumping agents, no preservatives. Dried by the hot African desert sun. 

Why is this important? To really understand, let's put on our science lab coats and get into the specifics.

There are two elements of salt – sodium and chloride – and they each play vital roles to your healthy body.

Sodium helps your nervous system, controls your taste, smell and touch, helps your muscles (and heart) work and helps your brain talk with the rest of your body.

Chloride is key for digestion and helps keep your blood moving.

Okay, science class is over.  

But, yeah, that's how important salt is to us.  And how important Oryx Desert Salt recognises their role. 

Some of us, honestly, haven't put that much thought into what kind of salt we're using.  And now we know we should.

The Oryx Desert Salt Story

Back in the Summer of 2020 inspiration struck CEO / Founder Samantha Skyring when she took a 7 day walk through South Africa's Namib Desert.

During the journey, she had several up-close encounters with Oryx Gazella (large antelopes) and learned the Oryx go a lifetime without drinking water.  

How do they survive it?  

The salt plays a big part.  The animals get the necessary minerals and trace elements vial by licking native salt. 

If you look on Oryx Desert Salt's packaging, you'll notice the Oryx, with its striking coloring and presence, because became the symbolic icon for Oryx Desert Salt.

Oryx Desert Salt Cares About Our World

They support small, local businesses, build partnerships and advocate for eco-awareness

.

Oryx Desert Salt believes in impact sourcing which is choosing to source locally where  possible and supporting small, often women-owned businesses.

They also work to build collaborative relationships (from their chefs, cooking schools and beyond) seeing them as valued ambassadors.

Their cotton bags, aprons and shopper bags are manufactured by a women's home industry community group.

They partner with organizations like the Ukama Foundation, Macassar Pottery,    Khomani San and Mier communities who own !Xaus Lodge in the Kgalagadi Transfrontier Park in the Kalahari Desert.  

Where To Buy

Available at Whole Foods throughout the county, on Amazon and on their website here.