Incredible Bordeaux wines from Chateau Haut Grelot leads the way with Julien Bonneau
Today Chateau Haut Grelot's Julien Bonneau visited to talk Bordeaux winemaking, their legendary wine region, his family's pioneering legacy, his favorite food and wine pairings.
Can you tell us a little bit about what inspires you about the wine business? Maybe a memory or wine celebration.
Julien: As you imagine in Bordeaux, or even in France, most of the wine business is a family business. It's very father and a son or daughter. There's always this kind of takeover. 
I grew up with my father and he was always into wine, tasting wine. 'Oh, you should smell the wine and making me discover the wine from when I was a very young child. And so I didn't want to take over the company. 
I didn't wanna take over the story about the wine, but I had one weakness:  I love wine actually. I like wine very much, so it was very hard to say no. 
I don't want to take over. But I like wine anyway. I went to business school. I went to New Zealand and England to learn the wine trade.  It was a very nice experience. 
Then I came back to the wine business and started again to make wine, to discover the wine business through the company. That was probably my first step. When you start taking a foot in the wine business, then you never go back.
Obviously, it's a passion to grow and grow because making wine is like growing a child. You start from the vineyard and then you go to making wine and then to age the wine in barrels. Then you put it in a bottle just to show your wine to your customers.
Looking at your winery's history.  1920, 1927 was a big year for your vineyard. 1975 was a big year for your father. 
Can you tell us a little bit about the background of the vineyard?  Up to the more modern technology your vineyard has pioneered.
I'm the fourth generation in my family's wine business. So my grandfather used to have cows for breeding. Vineyards, asparagus, as well. So it was just a culture after the war. 
My father started in 1978 and he focused on the wine business.
He wanted to make and grow quality wine. Very tasty wine.  [His goal] changed a lot of things about the process of winemaking to develop very aromatic, long aging. So we started to make a range of wine:  white wine, rosé, a bit sparkling as well.
He went to see the customer directly in the north of France, in Europe. He tried to sell directly and not through negociants. That's the main story because in AOC Blaye which is north of Bordeaux on the right bank of the river, negociants were necessary through the distribution to sell the wine.
The big challenge was, 'No. You don't want to pay more for my wine, I'm going directly to the customer. I don't want to go and to carry on sitting through a negotiation because you don't trust me on quality wine and you don't pay more for the wine. So we'll stop sending to negociants. And go directly to the customer, private customers, wine shop, restaurant, wine importers.'
That was 1984 and 1985. It was a very different direction. It changed a lot compared to what happened in Bordeaux at that time. We started to control our distribution. From that time, he developed a lot of quality wine, he invested in new vineyards, bigger and bigger, and also buying some barrels and new equipment to make very good quality wine. 
He loves saying 'I was the first in 1990 to make green harvesting.' Green harvesting is cutting some grapes in August. So one month earlier than the harvest to remove a bit of quantity and to make better quality. So he removed grapes in the vineyard to produce better concentration on the grapes left on the field.
That was his focus, it was an improvement in quality wine. From that time, we carried on. What I changed is, I make more wines, different wines, different quality wines. But still focusing on quality wine. I do more than 30 wines –  different quality, colors, and winemaking process. 
Let's talk about your region, and how those elements inform the wines that you're making?
Julien: We are located in AOC Blaye, north of Bordeaux, one hour driving up.
On the right bank of the river. So opposite to Saint-Estèphe, you have AOC Saint-Estèphe, you cross the river, the main river, and you are in AOC Blaye.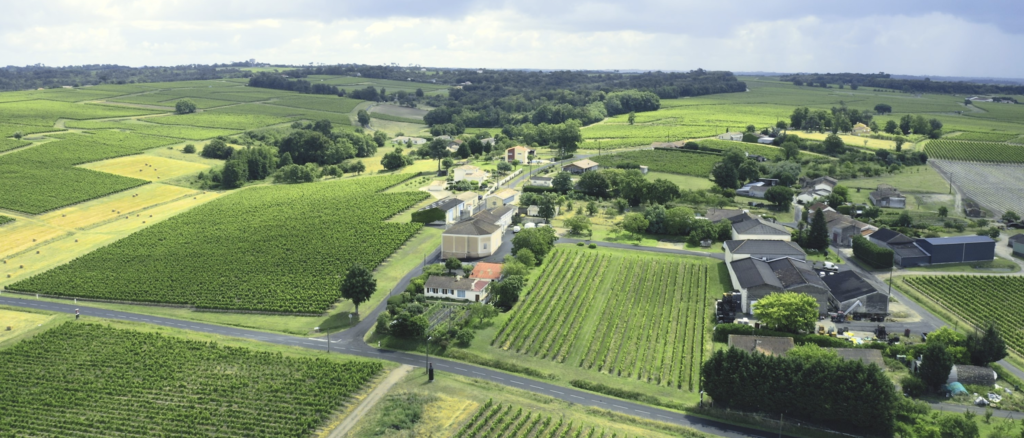 Where we are located we are mostly very gravelly. We have two types of terroir.  For the red grapes Merlot, Cabernet Sauvignon, Cabernet Franc, Malbec. 
Gravelly soil to help have early harvesting and early maturation for nice harvesting. The second is more on clay soil, for the Sauvignon Blanc for the Semillon and Muscadet to make more powerful wine. Two very distinguished terroirs.
The climate is very moderate, oceanic influence but also very warm during the summer. We are very hot right now. It's a very hot summer so that's helped a lot to have very ripe grapes.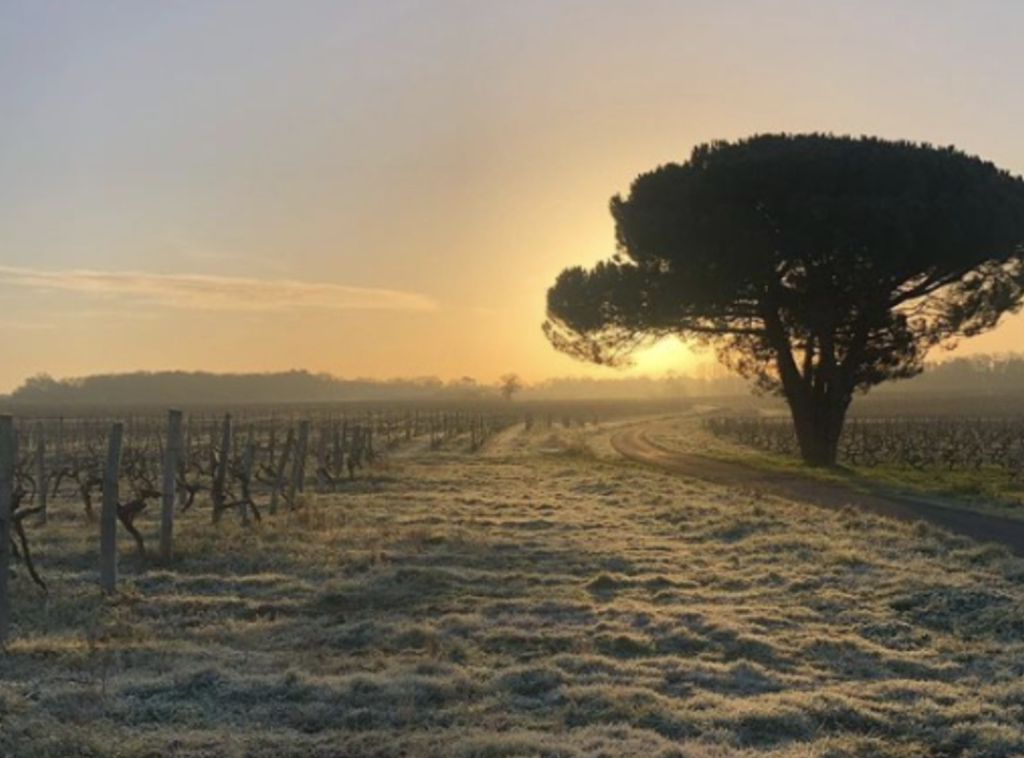 North of Bordeaux is quite hilly so it helps to have very nice exposure to the sun. For us, it's very important to have ripe grapes. So we need to look for the sun and remove the leaves in front of the grapes.  It helps to keep the freshness in the wine and still have very ripe grapes.
Let's talk about your winemaking process.
AOC Bordeaux or AOC Blaye Côtes de Bordeaux, we have very strict rules. We need to have the vineyard on a hill.  You need to respect 6,000 bottles per hectare of production. 
Then we have nine months of winemaking before bottling it. So for us we make one year, even sometimes two years after, focusing more on quality wine.
AOC rules are just a basis. We try to make higher quality by aging and also to decrease the quantity of grapes per hectare to focus on sun contact for the grapes to have very ripe and very juicy grapes before harvesting. So we are very much challenging and controlling this aspect. 
For example, in September, I walk every day, all my vineyards, just to check on the quality.
We try to get the aroma window. According to the evolution of the aroma on a grape, on a palate, we say 'the window is there', so we need to get it. It's not only analysis from a laboratory, but it's mostly from the palette.  'How's it taste?'
It's the same as when you cook, you taste your sauce all the time. 
Let's talk about your wines.  Can you talk us through some of the wines that you have? 
Première Cuvée Red 2020,
Blaye Côtes-de-Bordeaux
Ruby red in the glass.  Lovely nose with red berries, vanilla and spicy flavors.  Very drinkable.  Fruit forward with medium body. Well-balanced with long and aromatic finish
Château Haut Grelot Sauvignon Blanc Côtes de Blaye 2022
Classic Bordeaux blend: 90% Sauvignon Blanc, 5% Sémillon & 5% Muscadelle. Floral, crisp, elegant.  Exotic fruit on the nose with grapefruit and wild herbs.  Generous  citrus on the palate. Full body, almost velvety with a decadent finish.
Perfect to pair with seafood, chicken, fresh salads and cheese boards.
Pin Franc Red 2020, Blaye Côtes-de-Bordeaux
Big gush of red fruit, red currant, raspberry, blueberry on the nose.   Big body, well-balance.  Very muscular with silky and structured tannins.  A long finish.
Enjoy as an aperitif or pair with game, pigeon, lamb, turkey, or as a dessert with chocolate.
Chemin de l'Estuaire Red 2020, Blaye Côtes-de-Bordeaux
Powerful, bold, muscular. 100% cabernet sauvignon. A v ery special bottle, aged for 16 months in small oak barrels. A lush, velvety mouthfeel with medium tannin and a long, vanilla finish. 
Boir Pour Voir 2020, Blaye Côtes-de-Bordeaux
100% Sauvignon Gris
On the nose, citrus and orange zest aromas.  Light body, light tannin.  A tart bitterness on the palette with medium finish. Enjoy as an aperitif, or pairs with hard cheeses and desserts.
Julien: We have a wide range of wine. But I'm going to start with…
[Première Cuvée Red 2020, Blaye Côtes-de-Bordeaux, red wine]
Which is very fruity wine. This one is more classic Bordeaux style. 
For the white is [Château Haut Grelot Sauvignon Blanc Côtes de Blaye 2022].
For 90% and very fruity, juicy, very aromatic fruit, grapefruit, and also passion fruit and it's very easy drinking very easy drinking, very crisp.
The red is 70% of Merlot, 30% of Cabernet sauvignon. Wine aging on the lees a bit just to bring a bit of fatness.  Strawberry character. 
Both wines are very drinkable. Don't need to age too much. Lovely with sushi, seafood, tuna, all fish.  It works pretty well with meat. So that's my two first classic range of Bordeaux style. 
Then I have Parfum, which is 100% Malbec.  [Chemin de l'Estuaire Red 2020, Blaye Côtes-de-Bordeaux]. Fruity, easy drinking, not too heavy as Argentina wines or Malbec wine.  It's more of a freshness and very licorice character. 
The Cabernet Sauvignon is aged in barrels for one year, very select grapes.
We make a very good balance between the fruit from the Cabernet and the barrels. From aging typical from wine. That's two different wines which is this one a bit more on the liquorized fruit freshness side, and this one is very elegant. 
Lastly is orange wine. Bois Pauvoir, which is a sauvignon grape. [Boir Pour Voir 2020, Blaye Côtes-de-Bordeaux]
The story of this wine was Bois Pauvoir. It's orange wine. I never made it before, but I wanted to make a wine which says let's try to see how it's going. And that means in French, "let's try, you will see."
Going back to cooking, what are some of your favorite things to eat with these bottles?
Julien: I'll say for Sauvignon Blanc,  this one is lovely with tuna. Rare tuna. Even tataki tuna. It has a very fresh character, very nice acidity and it's very well matched with tuna.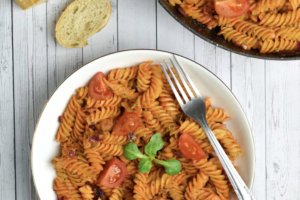 This is one who can match pretty much with many things, but if you like pasta with tomato.  Easy drinking freshness. Very drinkable. Not too heavy and you have acidity in a tomato with pasta and that keeps your freshness.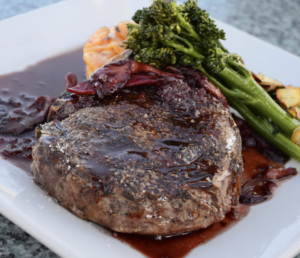 It pairs well with game. I like pigeon with a side of onions.  Even lamb is very nice. It works pretty well with white meat. You can say beef as well. Roasted beef on a barbecue with carrots and peppers. 
That's very long, which is very a bit unusual, but it's lovely with cheese.  Even with fish in tomato sauce.  Sea bass or grilled octopus. Yeah, it could be a very nice match. 
How can we find more about you and your wines?
It would be fantastic to go on Instagram and follow us and follow our story about how we try to develop in the U.S.  You can also visit our website to learn more.