Thompson Washington D.C. brings Style, Sophistication and Gorgeous River Views
A collection of weathered wood, glass, and dark grey brick rising from the historic Washington Navy Yard, Thompson Washington D.C. stands at the intersection of nautical history and industrial sophistication.
Bike along the Anacostia River Trail, explore a nearby Smithsonian Museum or two, and stroll along the National Mall. Then, cap off the evening at their signature on-site restaurant.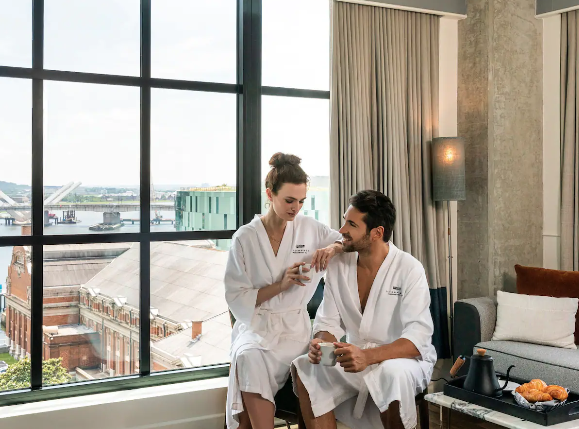 Rooms + Suites at The Thompson Washington D.C.
You'll discover subtle nods to the neighborhood's nautical roots among the eclectic, mixed-media interiors within their 208 rooms and 17 suites.
Curving tables evoke a ship's cabin while rigid symmetrical lines frame the windows overlooking the river or ballpark.
Settle in with a book beneath the soft glow from industrial sconces framing the bed or, select a modern suite — many with parlors and balconies for reveling in Washington, D.C. days and nights.
Thompson Washington DC Suite
Sweeping views through floor-to-ceiling windows frame this expansive midcentury modern suite. Revel in the energy of the Navy Yard from your private balcony while inside, enjoy the king bed outfitted in crisp white linens, the separate living room and the dining table with seating for four.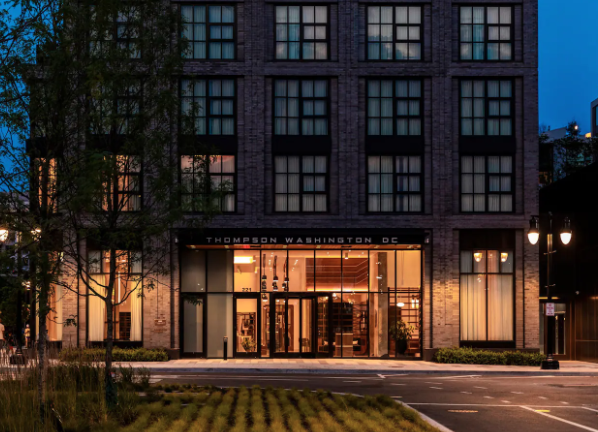 Thompson Suite Ballpark View
Step inside this 805-square-foot suite and take in sweeping views of D.C.'s professional baseball team's national ballpark through the floor-to-ceiling windows; the suite offers one king bed, a separate living room, a balcony, and guest bathroom.
1 King Balcony
Enjoy the breeze from the walkout balcony of this spacious retreat. Take in the energy of the Capitol Riverfront neighborhood, then head inside, where a king bed, separate work area, hardwood floors, and large industrial windows make this a stylish escape.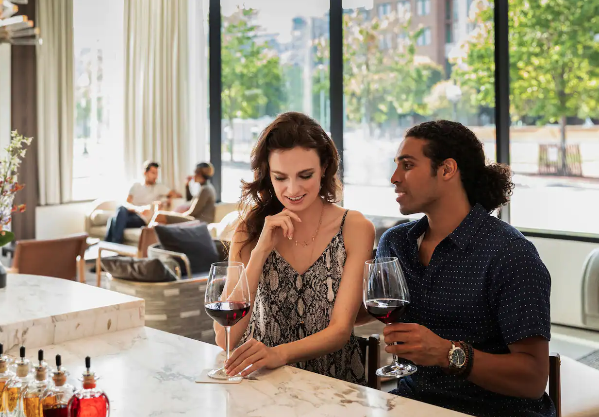 Culinary Experiences at The Thompson Washington D.C.
The Thompson Bar Room
Open daily for lite bites and libations.
Rooftop at The Thompson
Featuring floor to ceiling windows and outdoor seasonal space, join us at Rooftop at the Thompson for 360-degree cool views and sunset hues.
Nestled alongside the Anacostia River, the all-season social anchor of the Navy Yard is the go-to bar for year-round waterfront vibes, after-work bevvies, private events and gatherings.
Surveyor at The Thompson
Newly opened!
Surveyor is a true-American-inspired supper house, drawing inspiration from traditional American dishes and classic spirit-forward cocktails.
You Might also like
Zayn Malik joins Mixoloshe as Chief Creative Officer and Co-Owner

The global superstar launches a custom Lychee Martini flavor, with a unique can design inspired by his own tattoos.

The fast-rising, award winning non alcoholic beverage brand, made with clean ingredients and nothing artificial will make its retail debut at Walmart, launching across the US with the retailer by end of October

Mixoloshe, a female founded and award winning non-alcoholic beverage brand, announces its partnership with celebrated award-winning artist and entrepreneur Zayn Malik, who has joined the company as the Chief Creative Officer (CCO) and Co-Owner. 

The partnership will center around reshaping the narrative of the non-alcoholic beverage industry, as well as deep creative collaboration on marketing initiatives and upcoming flavor launches. 

Additionally, Mixoloshe will launch in 500 Walmart stores across the country, marking the brand's anticipated retail debut. 

Zayn's first flavor launch is a non-alcoholic Lychee Martini, a refreshing and exotic drink, that is sweet, floral, and slightly tropical. The can design is also captivating and unique, featuring replica illustrations of his own most beloved tattoos.

Mixoloshe was founded in 2022 to redefine the booming non-alcoholic drink category with a clean, alcohol-free take on cocktails and premium spirits that taste like the real thing. 

Their collection offers a non-alcoholic range of popular cocktails, such as a Mojito, Old Fashioned, Gin & Tonic, and Margarita, as well as non-alcoholic Tequila, Whisky, and Gin, all made with real ingredients, and low in sugar, calories. 

Mixoloshe's soft seltzers and non-alcoholic spirits have been recognized globally as best in class, and in 2023 they were honored with the Bartenders Spirits Gold Award, Ascot Award Gold for Taste, and the SIP Awards in Gold, Silver, and Bronze, to name a few. Their collection includes 8 canned non-alcoholic cocktail varieties, including the newly launched Lychee Martini flavor, and three bottled non alcoholic premium spirits.

"The non-alcoholic beverage market is ready for disruption, which can create immense growth potential. We see consumers already shifting preferences towards healthier and alcohol-free alternatives, which provides an opportunity for a brand like MIXOLOSHE to redefine this industry. I could not be more excited about the chance to make some noise in the category of non-alcoholic beverages and build one of the most talked about drinks in the world." – Zayn Malik

"Zayn is a creative visionary both in music and beyond. His passion for innovation and his ability to captivate audiences will undoubtedly help us redefine the narrative around the non alcoholic beverage category, with a fresh perspective on making healthy lifestyle choices and living well, irrespective of your beverage preferences," said Kristina Roth, MIXOLOSHE Founder and CEO. "I'm looking forward to working alongside him and shaping a future for this category where the glass is always half full of possibilities."

Soft seltzers are available in a 12 pack, and retail for $29.99. Non-alcoholic spirits are available in a 750 ml bottle and retail for $29.99.

 For more information, please visit: mixoloshe.com.

Mixoloshe is a female-founded line of non-alcoholic seltzers and spirits that are formulated to taste and smell boozy without the booze. Whether you're booze-free forever or just for the night, these drinks are the perfect inclusive answer to an age old question—what are we drinking? High in flavor and low in calories, MIXOLOSHE packs a party into every can of soft seltzer and bottle of non-alcoholic spirits. With a mission and ingredients that are anything but fake, the brand offers booze-free cocktail alternatives that taste like the real thing. Party tonight with no regrets tomorrow.

 

Love a Quality Martini? Whiskey Old Fashioned? Knox & Dobson Introduces Superior Ready-To-Drink Bottled Cocktails

Knox & Dobson toasts to their new collection of premium ready-to-drink bottled cocktails that are expertly designed to be shared with friends, so simply…

Open, Pour, and Enjoy!

Knox & Dobson's new bottled cocktail collection was meticulously curated with an uncompromising commitment to excellence in quality, craftsmanship, and taste by Knox & Dobson President Rob Levy and Creative Director Peter Lloyd Jones (The Raymond 1886, Everson Royce Bar) who heads Knox & Dobson's formulation and product development.

Featuring a gin Martini, classic Old Fashioned, Improved Whiskey Cocktail with Maraska Maraschino Liqueur, and Rye Manhattan, Knox & Dobson uses the highest quality ingredients including hand-selected barrel aged whiskey, distilled gin, natural cane sugar, and authentic Angostura Bitters.

From the award-winning design of the bottle, these superior bottled cocktails were solely created so expertly handcrafted cocktails could be shared and effortlessly enjoyed anywhere.

"Our mission was to create a collection of cocktails that were equal in taste and quality to those freshly crafted by a skilled bartender. Peter Lloyd Jones was the best choice, and I can't imagine working with anyone better, "

says Levy.

"Pete was Head Barman at 1886 Bar at The Raymond and he was also behind the stick at Everson Royce Bar for several years, so his experience is invaluable, and his passion and creativity make him the perfect partner at Knox & Dobson."

Levy's upbringing in Skokie, Illinois, at Knox Avenue and Dobson Street is where Levy spent most of his adolescence in the '60s and 70's hanging out "on the corner" with neighborhood kids who remain lifelong friends.

Knox & Dobson is as much an elevated on-the-go craft beverage experience as it is a distillation of hometown pride and a love of bringing people together.

Each Knox & Dobson bottled cocktail is 200 milliliters and features two servings. Whether you are a classic Martini drinker (34% ABV), this is a take on the classic combining gin with dry vermouth to create a flavor profile of an aromatic gin martini that is slightly earthy and refreshing to drink. Lloyd Jones recommends serving this cocktail up or over ice, garnished with olives.

Old Fashioned aficionados (38% ABV) can savor this cocktail which consists of straight aged bourbon, natural cane sugar, orange oil and Angostura Bitters with tastes of aged bourbon with bright citrus flavors, bitters, raw cinnamon, clove, and American oak.

The Improved Whiskey Cocktail (35.42% ABV) – made with straight aged rye whiskey, Maraska Maraschino Liqueur and Angostura bitters – has a spiced flavor profile combined with American oak, citrus, along with bright and deep cherry notes.

This is a whiskey cocktail that is meant to be sipped and savored.

Finally, the Rye Manhattan (36% ABV) is made with straight aged rye whiskey, sweet vermouth, and Angostura bitters. The tantalizing pairing of the aged whiskey combined with the aromatic Italian-style vermouth creates a spice, citrus and charred oakwood profile that will have anyone asking for another round.

Who's ready for happy hour? And, if your go-to cocktail isn't on the menu just yet, don't worry. The Knox & Dobson bar cart will be rolling this Summer with more cocktails on the way and no shortage of inspiration.

Knox & Dobson's new collection of superior bottled cocktails are best served chilled or over ice and each cocktail features two servings, perfect for sharing, so simply chill, Open, Pour, and Enjoy!

Knox & Dobson is available for delivery anywhere Nationwide, so visit www.KnoxandDobson to order your new favorite bottled cocktails today. Knox & Dobson is now available at 15 Total Wine & More California stores – Brea, Daly City, Long Beach, Northridge, Pasadena, Rancho Cucamonga, Redondo Beach, Roseville, San Diego, San Jose, San Mateo, San Ramon, Temecula, Thousand Oaks, Tustin and soon to be in all 28 Total Wine & More California stores; Bristol Farms South Pasadena and soon to be in all 14 Bristol Farms California stores; Bar Keeper Los Angeles; Cypress Liquor Los Angeles; Everson Royce Bar Pasadena; Gerlach's Pasadena; Highland Park Wine; K&L Wine Merchants in Los Angeles and San Francisco; and The Ace Hotel in Downtown Los Angeles. To see the full list of locations, please visit Knox & Dobson's Find a Stockist.

1000s of Great White Wines to taste, Wine Pro's Mike DeSimone and Jeff Jenssen's new book White Wine Book, available on Amazon now.

Summertime is hot weather, light meals and adventures outside.  All of which pair incredibly well with white wines.

That's why Mike DeSimone and Jeff Jenssen decided to write a book featuring 1000s of white wine grapes that wine lovers should try.  Some are very common, some are very obscure. But they're all worth a taste – seriously.

Today Mike DeSimone and Jeff Jenssen sat down (over zoom) for a conversation about wine, travel, food and more!

Note: the below interview has been edited for length and clarity.  The full interview is available on YouTube, with clips in this article.

We're talking about your new book "White Wine" today, available now on Amazon and we have a lot of questions. But first, welcome to the conversation and thank you both for being here.

Thank you. Thank you. We're thrilled to be here.

For anyone who's new to wine, these two are absolute wine GOATs. They're the experts. They've written some great books in the past, and their new book is absolutely amazing. Over the past week I've had the chance to show it to a lot of people in my life and what I've loved about it is everybody from the wine geek all the way down to people who are barely wine drinkers, have all found really interesting reasons to love the book.

In the book you mention the word "invitation" several times. You include casual tasting instructions, the food pairing index, the white wine checklist. You do such a good job of making the wine approachable.

How important was it when you were building this book, the idea of making it approachable?

Wine always is very mysterious to people. And it doesn't have to be. We really believe it. It's kind of like our mantra. Open up a bottle of wine, sit around a table together, and there's some conviviality and communal, you know, and, and communality in that bottle. So when you sit down in a circle and you're having a glass of wine together, all of a sudden, we're not so different.

So one of the things that we really wanted to speak to is to make wine approachable. One of things I really appreciate what you just said, is that people from all levels, from wine geeks to wine novices, we specifically set out to write this book with enough information that the geek will be really happy and enough information to intrigue the novice to wanna learn more.

We've always said this is the kind of book that you would buy for your Dad who happens to like wine, or you would buy it for yourself or buy it for a girlfriend or a buddy that wants to learn more about wine.

But I will tell you that we've been honored; our last book, Red Wine (amazon.com), was actually suggested reading list for people who were studying to become Masters of Wine. So we wrote this book with that idea in mind because we'd like this book to be a reference for Master of Wine students.

I think a lot of people may not realize just how much wine you might taste in an average year.

When we are tasting wine, whether it's for a book like this and we're trying to decide what gets include, or when we're writing our articles, it's very easy for us to open up 30 bottles in a day.

But there's also traveling, going to wine regions, and walking into a winery and visiting four wineries a day where people can pour you anywhere between 3 or 4, up to 20 glasses.

One of the things that we have to make a distinction is how much wine do we taste and how much wine do we drink.

Because when we taste wine, we may open 30 bottles, but you just have a sip, you swirl it around your mouth, you get your impression, and then you spit it out. So you can actually taste 30 or 40 wines in one sitting. The alcohol that you actually absorb in your mouth is probably equal to one glass of wine.

We really have to maintain our wits about us when we're writing books and tasting notes. And then out of those 30 wines, we'll choose one or two to put in the fridge and drink with dinner.

So the difference between drinking the wine and tasting the wine is a big difference. Our neighbors absolutely love us because we have these bottles with [2 inches] out of it and put the cork back in and give it to them. So they're very, very happy. But I think one of the things that we had to do for this book is taste.

There's about 2,000 recommended wines. I'm gonna say we we tasted close to 5,000 [wines]. Not everything made the cut.

That's incredible. So speaking of those 5,000, how do we prevent palette fatigue?

One thing for both of us is we both drink sparkling water.

Also, we eat very simple things just to clear the palette, wipe some of the tannins from it. We'll eat sliced baguette or plain water crackers. That kind of thing. Also, try to break it up. Don't drink the same style of wine over and over, because you'll stop noticing the subtleties between them.

It's training too. I can't run a marathon tomorrow because I haven't trained for a marathon, but I can taste 30 wines or 40 wines tomorrow because I've trained my palette to discern the differences. So it's kind of like an athlete, it has to do with training to prevent fatigue.

So staying on the idea of tasting for a second, how do we talk to a winemaker? Any tips for a less-experienced wine drinker?

One of the first, and an easy question to ask, is how much did you make of this wine? Because that actually gives you an indication of how special the wine is, right? If somebody says, 'Oh, we make a million bottles of this every year.' Maybe it's not so special.

If they say, 'Oh, we only made 2,000 bottles of this and it comes from one special vineyard, that sometimes opens up the question of how special it is.

Another question is, if it's a blend, if it doesn't say on the bottle that it's Chardonnay or Pinot Grigio, and you just know that it's a white wine, you can ask what grapes are in this.

But people who visit wineries should ask questions. Take that as an opportunity to learn. Read the book White Wine, get some knowledge, and then you go to a winery, go out to California, go to New York State, go wherever you go, and visit a winery and talk to the winemaker and talk to the people who are responsible for making the wine. They're very generous with their time. They want you to be informed and they want you to enjoy their wine. So do your homework and then learn some more in person, and then go back and read our book again, because you'll learn a little bit more.

Your White Wine book is a mammoth undertaking. There's a lot of information in there. How did you create all of this?

I think actually we were lucky in that we'd already written Red Wine. We worked with our publisher. We actually walked in, knowing that some of our prior books were a little bit text heavy, and said, 'Hey, we want to do some graphics. For the flavor profile, there might be a picture of a peach and a rose and a lemon. For the food pairing, you'll see a little plate of pasta and a pig and a steak.'

We worked with the same editor again. We had the structure already so that was a blessing.

When our editor came to us and said we want to publish this book, we were so excited. But then we looked at each other and said, we don't have a lot of time to write this book. Let's let, how, how are we gonna do this? You know? So we divided and conquered.

If you love wine, you're gonna love this book, whether you're a novice or above.

My old boss used to tease me because back then I enjoyed white more than red. Why doesn't white get the respect that red does?

You know, you're very right. We had to fight for this book.

I'm an equal opportunity white wine and red wine drinker and rose, because there are wines for different occasions. Sometimes when you're having a big heavy steak, you want a red wine, but a lot of times we're trying to eat lighter, more vegetables, lighter cuisine. It's summertime now.  Lighter white wines really go with those foods.

There's so many grapes in this book. Is there one lesser-known grape that you want the world to know about because it's an amazing discovery?

We have a holiday coming up this weekend. By the time this is posted, it will just have passed. This coming Sunday is International Pošip Day, and Pošip is a wine from coastal Croatia. It grows in Dalmatia and on some of the islands. It's this wonderful, delightful, fresh, crisp, citrusy white grape from Croatia that we don't see a lot of in the US. It's in more major urban markets. It'd really worthy of attention.

Were there any unexpected surprises as you created this book?

When we did Red Wine, we did single varieties and regional blend styles, like Rioja which can have three or four different grapes in a bottle and Bordeaux can be up to six different grapes. That actually includes sparkling wine we covered in Red wine.

We covered only nine regional blend styles and 41 single varieties in White Wine. I just did account. I believe we have 14 regional right grape styles. So things like White Bordeaux, White Rioja fall under a style that's not necessarily one grape.

Is there a message that you haven't been asked that you would love to share with a wine loving audience?

You can always learn something. Keep learning, keep asking questions.

Sometimes there are some really interesting questions that people come up with.

We are wine experts, we're authors of six wine books now. We write for different publications. We're mast head at two different magazines, so we really kind of know what we're talking about, but we don't know everything.

So, being able to understand that and admit that, wine is a continuous, ongoing journey and learning about wine is what makes it very exciting. So I'm really happy to have been on the journey so far and I hope have a lot more years on this journey to learn more about wines I've never tried.

So thank you so much for your time. Tell us where to find you, where to follow you, your social media websites.

We are on Facebook and on Instagram as World Wine Guys. We have a website, www.WorldWineGuys.com for a lot of our articles and videos we've done over the last 13 -14 years.

Go to www amazon.com and put in three words, white wine book, it'll pop up.

And then as you scroll down under, 'Usually bought together.' It's our white wine book and our Red Wine book.

We have some friends that have written some great books, Wine Folly, Jancis Robinson.

We're not the beginning and the end of wine knowledge. There are so many of our colleagues that we respect deeply. So there's a lot to learn from everybody.

All I can say is that's what we'd like for people to learn more, enjoy wine, open a bottle of wine with your family and friends and you know, we kind of drop all of our guards, we drop all of our pretenses and the world will be a lot better place.